"It shows that an autonomous vehicle doesn't have to be a neutral design," says Gilles Vidal, design chief at Peugeot, of his Paris Motor Show concept, the e-Legend. By 'not neutral,' he means that a car can still look like an actual car. Not some other-unrelated-object-on-wheels.
The car in question is the lovely early-'70s Peugeot 504 coupe, a Pininfarina design from their golden era. "The e-Legend isn't retro. You might recognize the silhouette, but the form language and details are modern," Vidal explains.
We tentatively put it to him that to spot the 504 within the e-Legend at all, you probably need to be of a certain age and degree of Francophilia. It's hardly the best-known classic in the world. Refreshingly, he candidly agrees: "Yes, the 504 is not an icon—not like, say, the Mini. We only picked it because it happens to be 50 years old this year."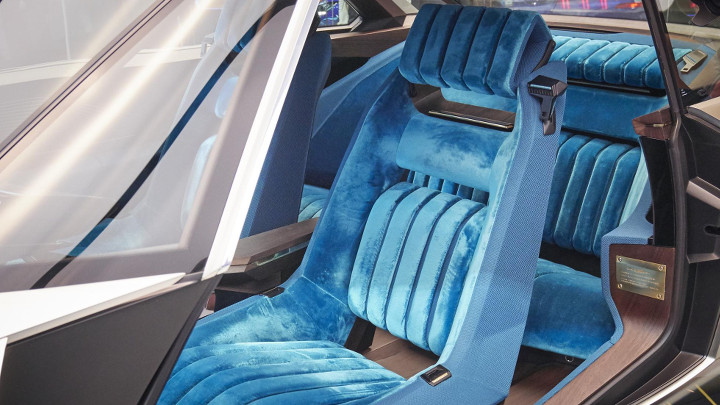 Continue reading below ↓
Recommended Videos
The 504 details sure are rather cute, though. There's ultra-'70s velvet upholstery (you wanna wear flares, man) and those (groovy) head restraints that retract into the seatbacks. Wood, too. Vidal points out how some of the displays, when they're not needed to convey info, default to simulated wood screensavers. 'Digital wood,' he calls it.
"We are looking at how far we can push the idea that in the future we can still use emotional traditional materials," he adds.
The e-Legend has a dash that does a nifty somersault to retract the steering wheel for auto driving, or present it when you want to have your own fun. In pursuit of that fun, you've got 450 electric horses, driving through all four wheels.
Look, it's a concept, right? They can give what power figures they like. But at least Peugeot and the other companies in the PSA Group are actually putting some electrified cars into production from this show—plug-in hybrid 508, Citroen DS 7 and C5 Aircross, plus a pure-electric DS 3 Crossback.
We mention to Vidal the concept's super-elegant thin pillars and glassy cabin. The e-Legend is meant to be capable of autonomous driving. Does that mean we'd no longer need today's thick safety cells? "Well, when 100% of cars are autonomous, then we could remove the heavy structures. But until then, someone could always crash into you," he responds. Not that realistic, then…
Still, lovely car. What do you think, TG commenters? Do you have to be middle-aged to enjoy it?
Note: This article first appeared on TopGear.com. Minor edits have been made.