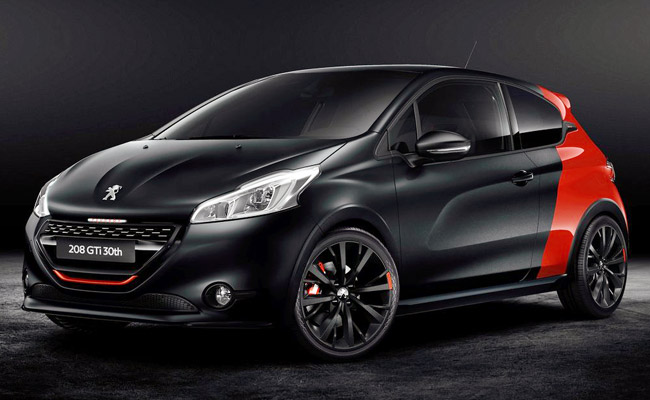 In 1984, French carmaker Peugeot launched what many consider as the original pocket rocket: the 205 GTi. Fast-forward three decades and the company once again has a quick and compact hatchback called the 208 GTi. It is touted as the successor to the iconic 205 GTi. It is only fitting, then, that Peugeot use the modern car to pay homage to the legendary one.
Enter the Peugeot 208 GTi 30th Anniversary Edition. Revealed at this year's Goodwood Festival of Speed, this special-edition model is powered by a 1.6-liter engine (208hp and 300Nm) mated to a six-speed manual transmission. It will be officially introduced to the public at the 2014 Paris Motor Show, with sales commencing in November.
"Following on from the RCZ R, the brand called on the skills at Peugeot Sport to develop a more radical version of the 208 GTi," Peugeot brand CEO Maxime Picat said. "In this way, the 208 GTi 30th celebrates the 30 years of the GTi Peugeot."
ADVERTISEMENT - CONTINUE READING BELOW ↓
The car is equipped with a Torsen differential, and its suspension has been lowered by 10mm, with its track widened by 22mm at the front and 16mm at the rear. The 208 GTi 30th sports 18-inch wheels finished in matte black, shod in Michelin Pilot Super Sport 205/40 ZR18 tires.
As for the exterior colors, Peugeot explains: "The 208 GTi 30th could only be finished in colors that identify the sporting world. The interpretation uniting red and black in a two-tone and two-material treatment is innovative and unique. The front is finished in textured black, contrasting with the new lacquered red at the rear. The two colors are divided by a sharp oblique straight-cut line. But the car will also be available in Pearl White and Ruby Red, historical colors of GTi cars."
"Based on the 208 GTi, itself already a very effective and well-powered car, our ambition was to focus on behavior on the road, by further increasing its effectiveness," shared 208 GTi 30th project manager Pierre Budar. "For this we have developed the traction and a potential for more grip, mainly on the front axle. The benefits are essentially in passing speeds, driving sensations and feedback."
ADVERTISEMENT - CONTINUE READING BELOW ↓
Recommended Videos
Peugeot claims the 208 GTi 30th can sprint from zero to 100kph in 6.5 seconds.
Wouldn't it be nice if Eurobrands Distributor Inc. could bring in a few units?