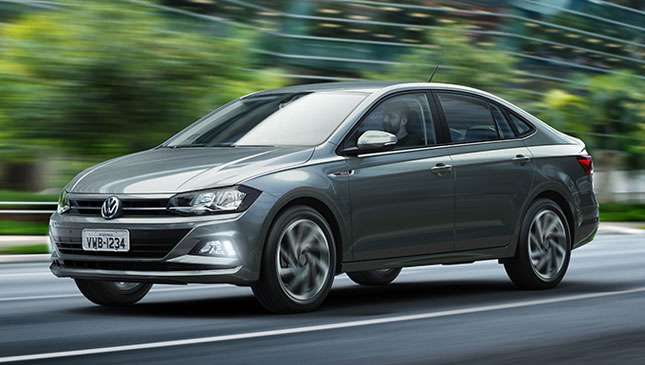 This past June, Volkswagen unveiled its stylish all-new Polo hatchback. This of course only meant one thing: An all-new version of the sedan variant was on the horizon. Fast forward some five months later and that time has finally come.
Volkswagen has recently unveiled its new Virtus subcompact sedan in Brazil. This will be the first model to carry the German carmaker's new more upmarket design language for sedans. It features a long, flowing sleek profile and measures 4,480mm bumper to bumper. It rides on a Jetta-rivaling 2,650mm wheelbase. This of course not only helps with proportions, but it also allows this four-door to have a roomy cabin.
The front half of the sedan is essentially the same as the new hatchback variant. It features the same sporty wide-mouth front bumper design as the Brazil-spec Polo. Its sporty semi-fastback roofline flows smoothly into the neatly integrated 521L trunk. The rear end with its slim horizontal taillights and trunk lid lip spoiler is reminiscent of the current Audi A4's, giving it a nice and subtle premium touch.
Inside, it carries over the hatchback's modern angular horizontal dashboard design and flat-bottom steering wheel. Thankfully, the cool high-tech fully digital Active Info Display instrument cluster is also available. At the center of the dash is a flush-mounted 8in touchscreen. For added comfort, rear air-con vents are integrated at the back of the front center armrest. What's not present in the press photos are the trendy body colored interior panels we saw in the euro-spec hatchback.
The Brazil-spec Virtus will be offered with a 1.0 liter TSI turbo flex fuel mill which produces 115hp and 200Nm with gasoline and 128 hp with ethanol. This little turbo three-cylinder is mated to a six-speed automatic transmission with available Tiptronic manual shift function. Other possible engine options include the 1.6-liter naturally-aspirated MSI lump offered in the new 5-door Brazil-spec Polo.
For its on-board tech, the Virtus features a smart assistant in the form of IBM's Watson. This allows drivers to interact with the vehicle, and being a Brazilian and Latin American-spec model, it's programmed to respond to questions in Portuguese and Spanish.
The Volkswagen Virtus will hit Brazilian showrooms in January 2018. Though there hasn't been any official announcement regarding its availability in other global markets, there's a high probability this subcompact VW sedan will also replace the aging Indian Vento a.k.a. the Polo Sedan.
Recommended Videos