1) There's more power.
Of course there's more power. But this is a Porsche RS, so we're talking incremental here. It wouldn't do that the standard GT3 matches the 500-odd horsepower output of the old GT3 RS, unless the new car increases the stakes even further. So, Porsche has liberated a few more ponies from the 4.0-liter flat-six for a 520hp 'maximum.'
That's pretty conservative; Porsche insiders admit it could have homologated a figure more like 530hp, but the folks there like to be modest. That also means it should be able to produce its quoted 0-100kph time of 3.2 seconds everywhere--whether you're doing so on a hot desert road in Dubai, or the slip road onto an unrestricted autobahn in the GT3 RS's motherland.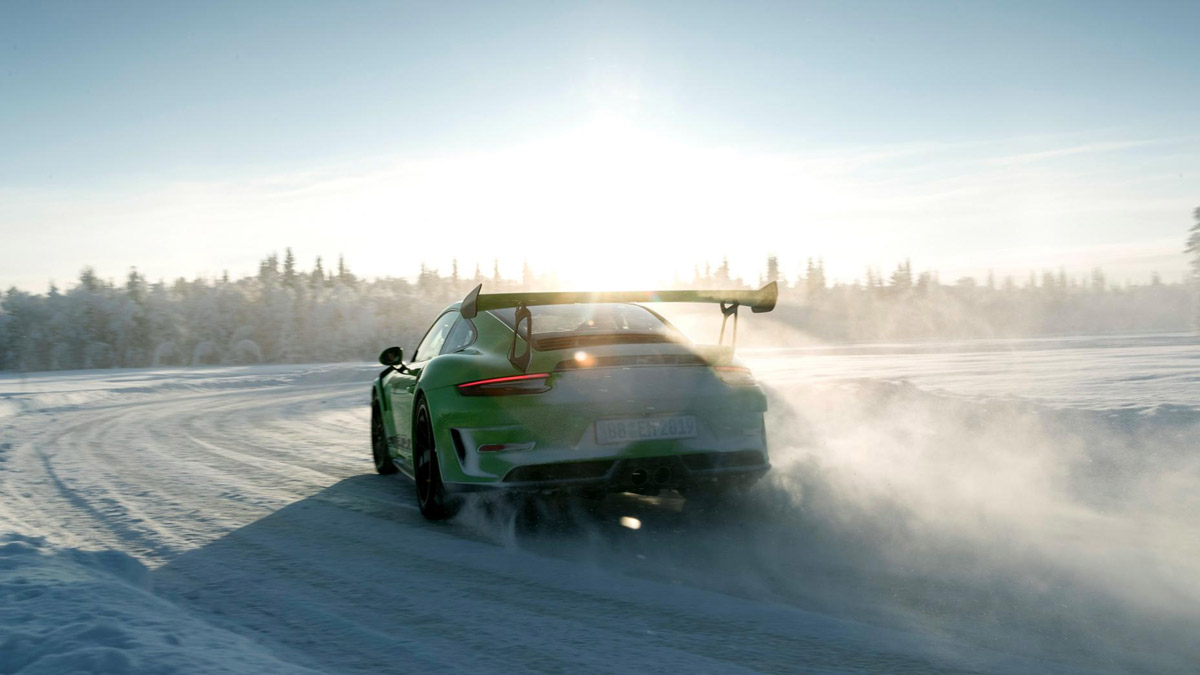 Continue reading below ↓
Recommended Videos
2) It goes up to 9…
That's thousand, revs, and again in line with the GT3's screaming, naturally aspirated flat-six. That's also 200rpm up on its predecessor. In the back of the RS, it breathes differently over the mere GT3, thanks to the Turbo-derived body's intakes in front of the rear wheels, while there's a different exhaust, too.
It's not about power but immediacy, say Porsche's people, so everything—from the breathing to electronics and more—has been worked on to make the engine react that little bit quicker. We've sat alongside Walter Rohrl driving it on a frozen Finnish lake and he tells us it's "much better," and we're not about to argue the toss with a driving god.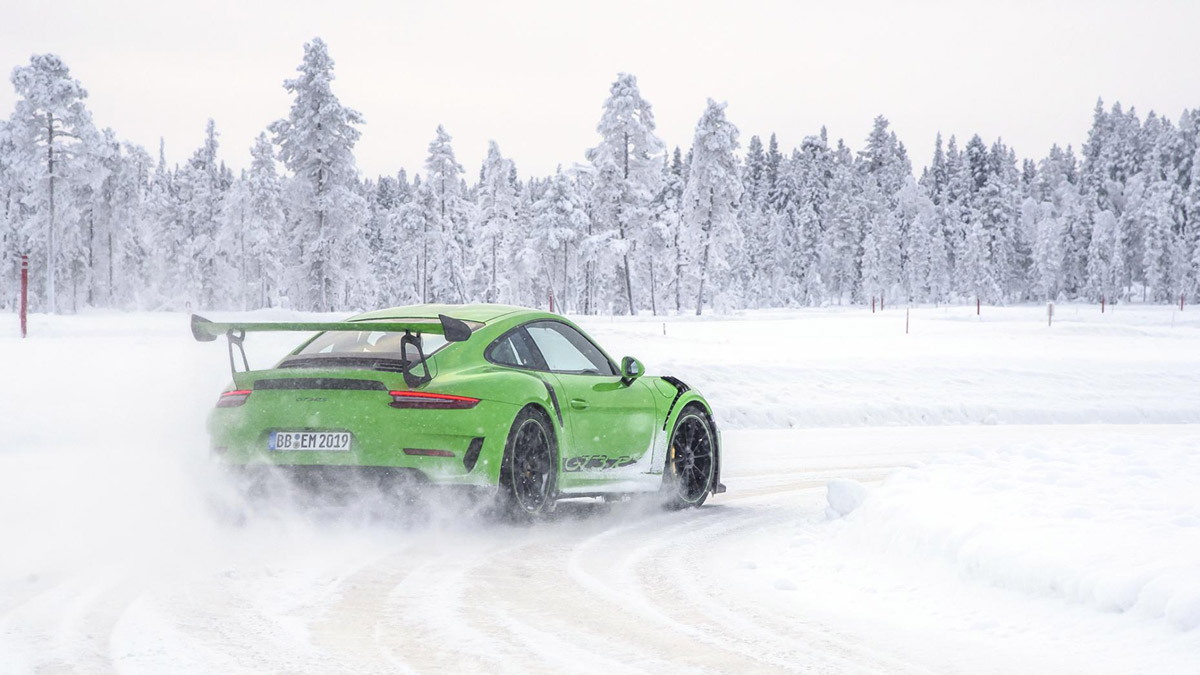 3) It's lighter, naturally.
It wouldn't be an RS without some weight savings, after all. The GT department has taken 5kg out of the carpets alone. Thing is, the internet forums will be ablaze with keyboard heroes, as Porsche won't legally be able to quote its new RS in its very lightest specification, as it has previously. It'll likely be the same weight as the outgoing car on paper, then—1,420kg, if it's not ingrained in your RS gray matter reference library—so get ready for some angry internet people.
It is all apparently down to a change in the way cars are homologated, something to do with options and percentages of weight. Anyway, if you want a super-light RS, there'll be the option of the Weissach Pack, as per the GT2 RS, with magnesium wheels, and carbon body parts (the roof and hood) combining to help shed around 29kg from the curb weight and a chunk more from your wallet.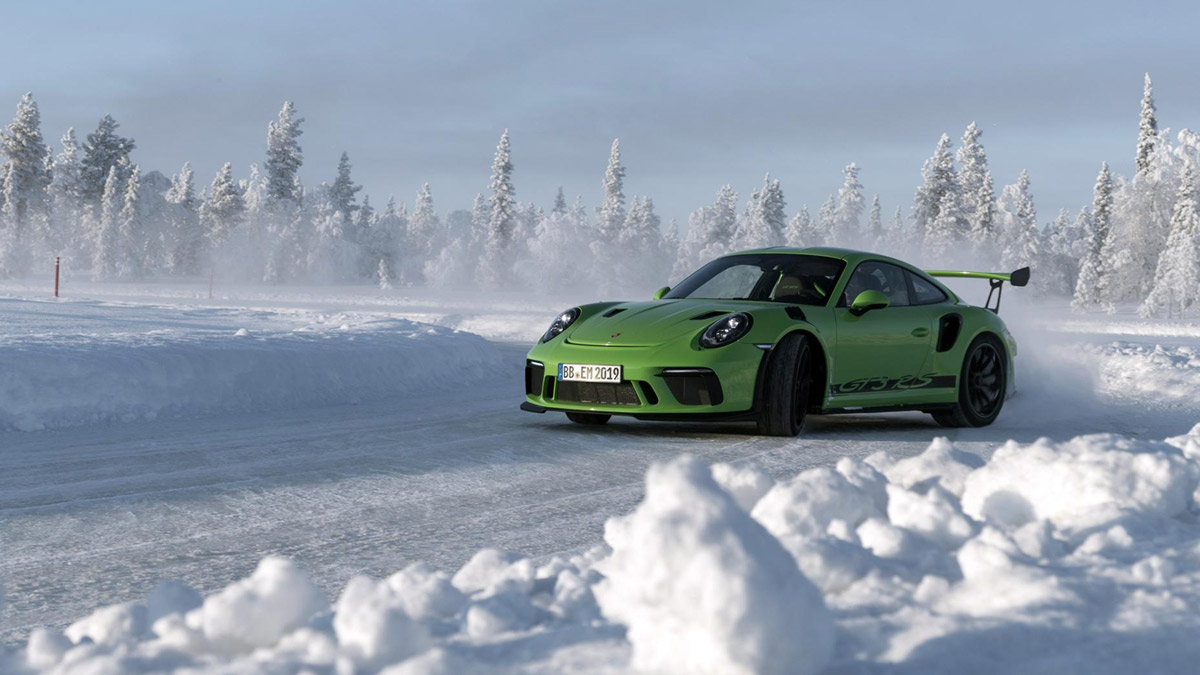 4) The GT3 RS has gone green.
Not in the environmental sense, but the color. Porsche is calling it Lizard Green. The launch color of the GT3 RS is the result of GT car boss, Andreas Preuninger, seeing a similarly colored vintage RS at Rennsport Reunion in the USA a few years ago.
Apparently the production team asked if he was crazy, but Porsche has form introducing, or re-evoking, classic colors with the RS—notably Lava Orange and Ultra Violet with the last 911 GT3 RS car. It's not the first green RS, remember—Viper Green was one of the launch colors of the 997 GT3 RS. Like its 997 predecessor, the new GT3 RS brings back the GT3 RS graphics down the sills, just in case the massive rear spoiler, punctured front wings and channeled hood, and roof aren't tell-tales enough.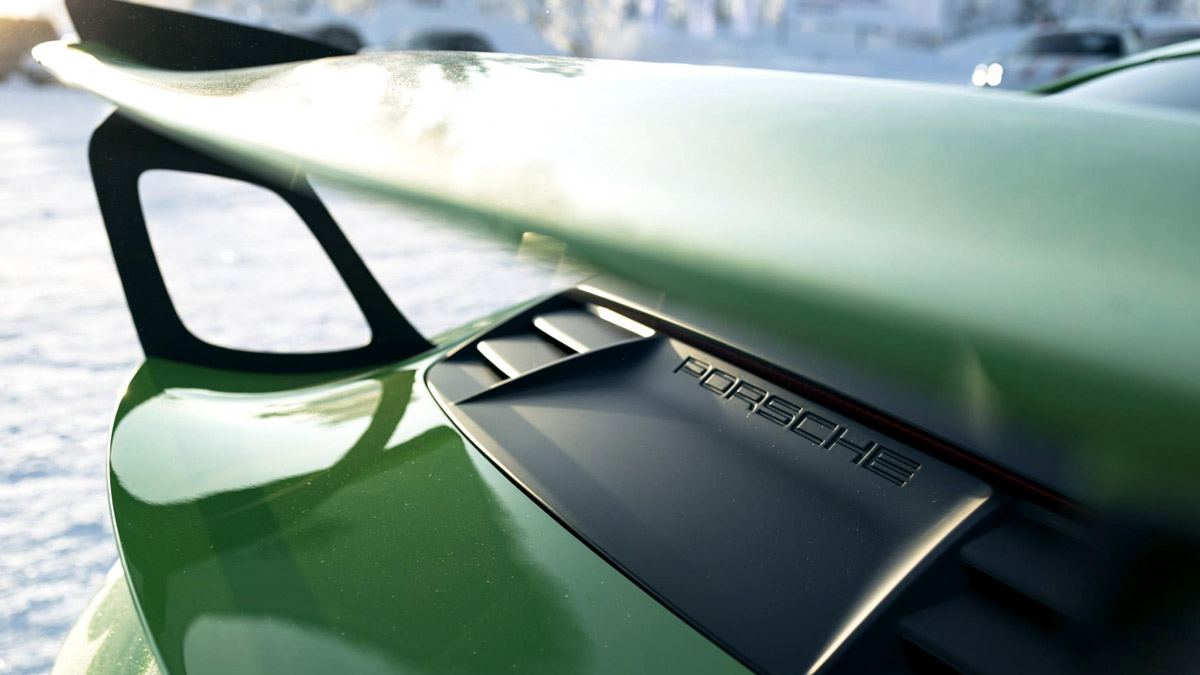 5) Porsche reckons it'll do 7 minutes 5 seconds at the 'Ring.
As sure as GT3 RS follows GT3, the new RS will chase its tire-tracks around the Nurburgring. The standard GT3's lap time is now 7 minutes 12.7 seconds (better than the old GT3 RS's 7 minutes 20 seconds), so it has that to beat.
What is certain is it'll not get close to its turbo-nutter 700hp GT2 RS relation's bonkers 6:47.3 time, but Andreas Preuninger says: "I think it will end up at 7 minutes 5 seconds or something like that. It's hugely quick." Most of that, says the GT boss, is down to the tire and chassis revisions, only around 1 second or so attributable to the marginally increased output from its engine.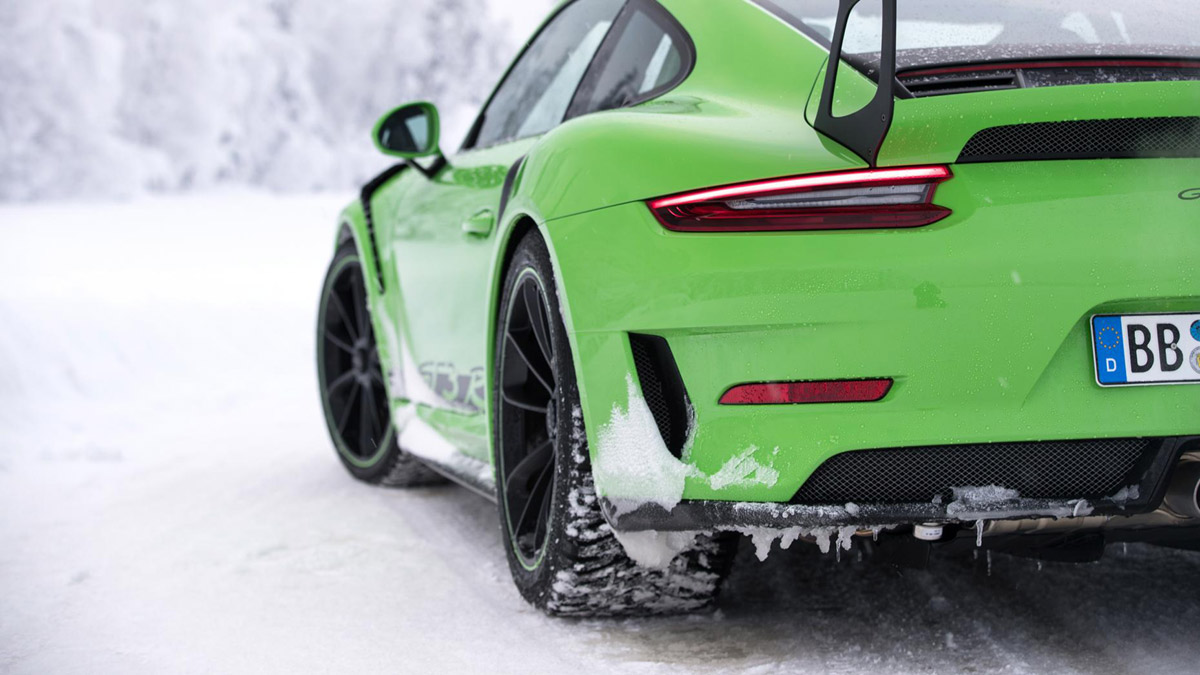 6) It's essentially a GT2 RS underneath.
Basically the bits underneath are GT2 RS, so that means every joint in the suspension is solid-mounted—bar a single one that's related to the rear-wheel-steering system. That rear-axle steering itself has been finessed to improve speed and turn-in response at lower speeds, as well as aiding stability at higher ones.
The spring and damper rates are all but identical to its big brother, too, and having driven that on UK roads, it achieves a beguiling mix of composure yet authoritative control. It'll ride even better still if you option that Weissach Package, as the magnesium wheels shave a total of 12.5kg off the unsprung weight. Spend more on the PCCB (i.e. carbon ceramic) brakes too and you'll drop about the same amount again.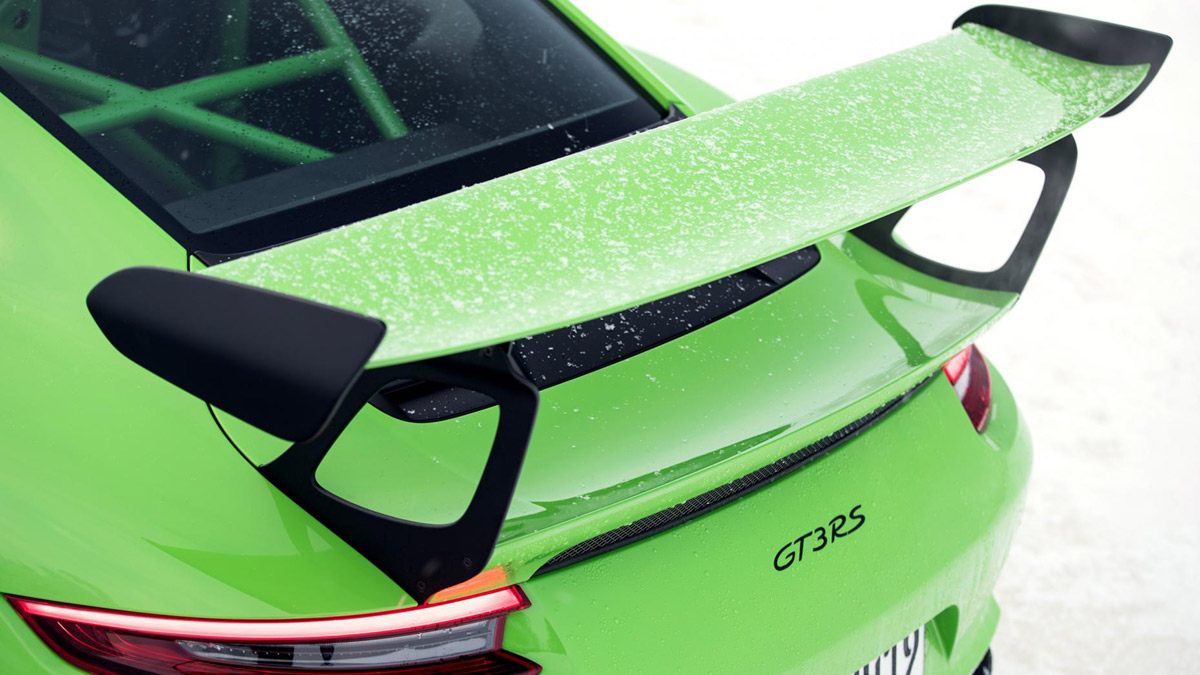 7) The aero's been honed.
True to RS form, the way it exploits the air traveling up, over, around, through and under it has been finessed. The biggest change centers around those new NACA ducts on the hood. Again, they're derived from the GT2 RS, channeling air though the body to help cool the front brakes. That helps airflow under the car too, while also cleaning up the air up and over to the body to the rear wing.
The effectiveness of the NACA ducts still surprises the GT department—the initial goal was merely brake cooling. Those other benefits are useful, unexpected gain. As Preuninger admits: "You wouldn't believe how much empirical stuff is still involved; despite all the computers, you have to try it out."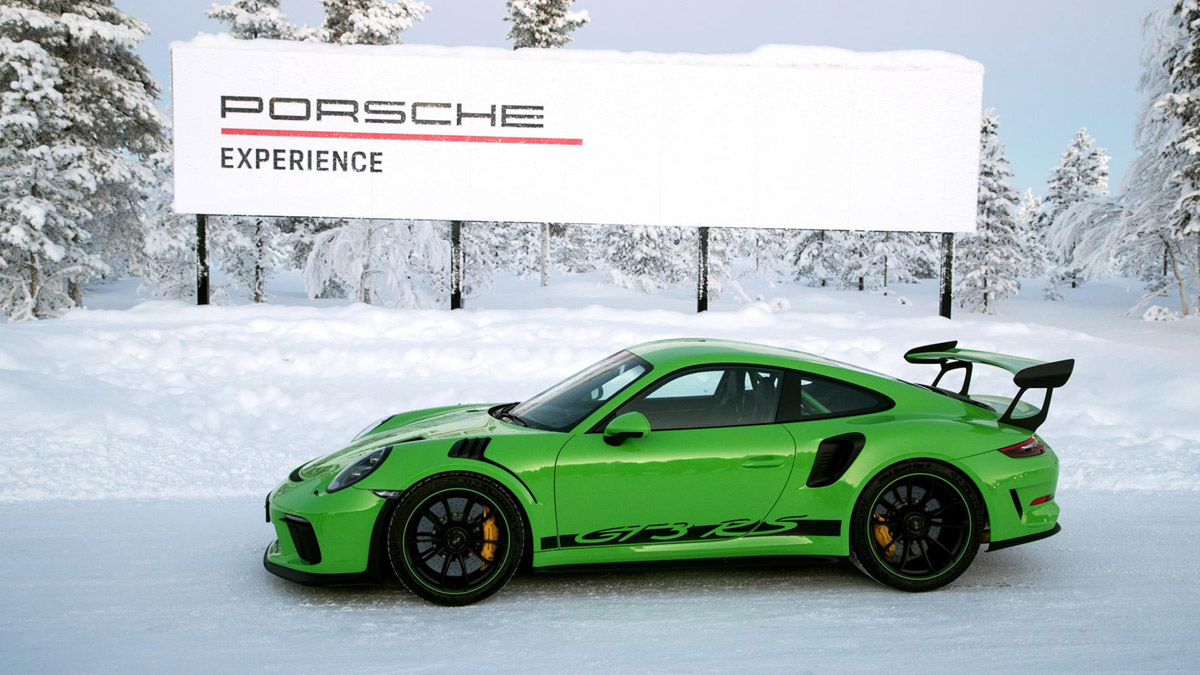 8) It's good for business.
Every time Porsche releases a new GT model, it cannot build them quickly enough. That'll certainly be the case here, with the GT3 RS likely to be over-subscribed. The previous car sold nearly 5,000 units globally, and Porsche is always looking at ways to increase capacity on the 911 line.
For UK customers, that's likely to mean, as with the previous RS, that early customers will have to stick with the standard range of colors. That's because Porsche's Paint to Sample option, which gives customers the choice to have it painted any color they like, would slow the build process too much. Likewise, delays in production for the magnesium wheels with the Weissach Pack mean it'll be a two-stage option, with the earliest customers unable to order their car with those lightweight wheels.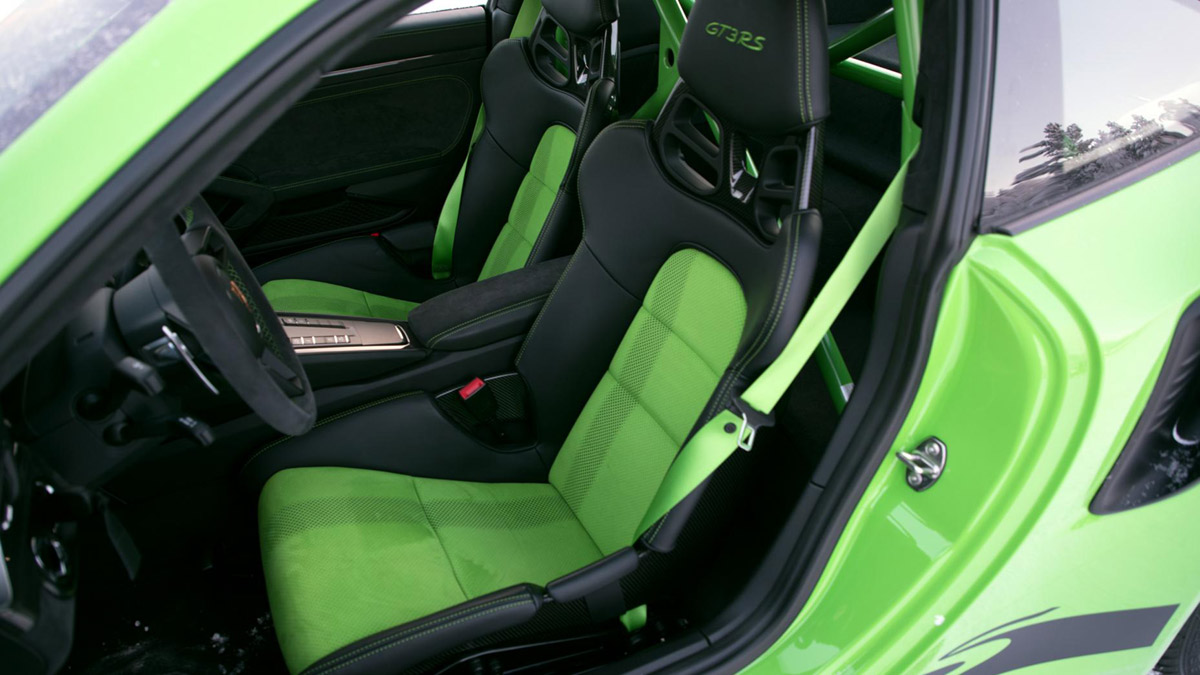 9) It will only feature an automatic gearbox.
Yes, as it's an RS, forget any hope of doing any old-fashioned three-pedal foot and hand work in the stripped and caged interior. There's always the GT3 Touring for that, or a GT3 without the no-cost PDK option. There is a man in America who had the previous GT3 RS converted to a manual by using a 911R six-speeder, but that's something that's unlikely to ever happen again—unless you know any different.
Quite simply, the PDK is faster; finger-flipped paddles and seven gears mean that not a lot, short of a hypercar or GT2 RS, will have the capacity to come close on track. The PDK has, of course, been honed for the new GT3 RS, featuring different bearings inside, while the rear axle ratio differs to compensate for the larger (21-inch) rear wheel and tire package the RS brings over the standard GT3.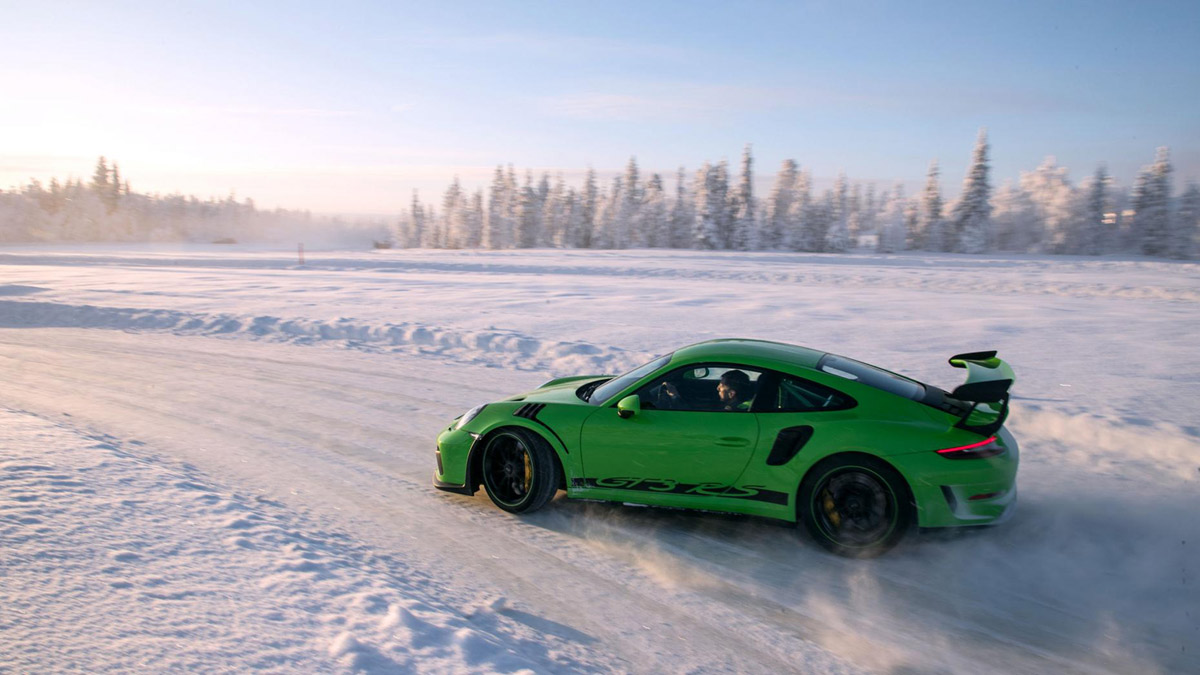 10) The man behind it isn't your typical idea of a German engineer.
He's been associated with Porsche's GT division cars since the second-generation 996 GT3, but Andreas Preuninger isn't what you'd imagine a typical engineer to be. He rides KTM dirt bikes in his spare time (taking the number plates off so dog-walkers can't serve him up to the law), hand-builds electric guitars and amps with his son, competes in rifle- and pistol-shooting competitions, and has a bright yellow Dodge Ram pickup with a 5.7-liter Hemi in it that he's considering supercharging. That's his 'gardening truck,' apparently.
If he's not busy with all of that or putting miles on development GT cars, he'll be on his 600hp boat dreaming up the next GT department creation. Apparently, the 911R was a product of such big-horsepower aquatic pondering…
NOTE: This article first appeared on TopGear.com. Minor edits have been made.