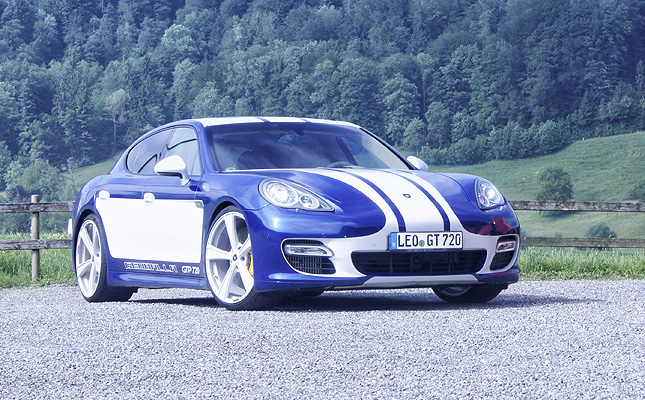 Porsche tuning specialist Gemballa claims that its Panamera-based GTP 720, which has an output of 720hp, has set two new records.
During independent tests at a closed-off airport, the GTP 720 reportedly set a new acceleration record for cars in its weight category of approximately 2.3 tons by reaching 300kph from a standing start in 26.4 seconds. To put that in perspective, Gemballa claims that the GTP 720 hit 300kph an incredible 33.6 seconds faster than the production Panamera.
Another record that Gemballa claims the GTP 720 set is the lap record for Panamera-based cars around the Sachsenring race circuit in Saxony, Germany, which it supposedly did in one minute, 37.08 seconds.
"This exceptional performance is not only due to the car's horsepower but also to its torque, raised by 255Nm and available over a wide range of revs," said Gemballa chief executive Andreas Schwarz. "Our customers want our engines and cars to be high-performance products, but the cars still have to remain roadworthy and usable on a daily basis. This requires a huge amount of development work. And this has indeed been our input over the past few years."
Continue reading below ↓
Recommended Videos