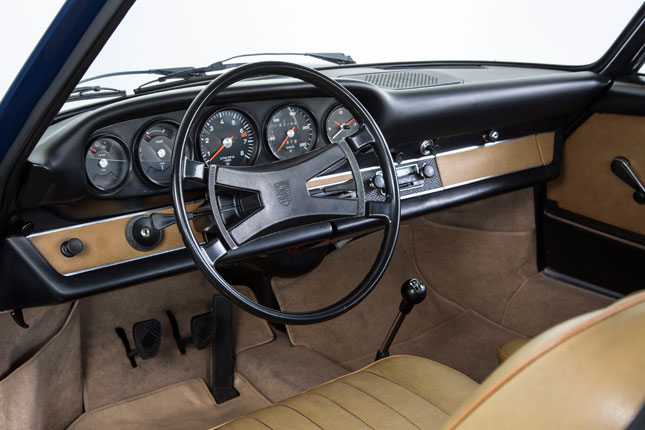 The Porsche 911 is that rare model that doesn't seem to have a weak link in its lineage. Sure, there were some laments when the 996-generation engine became water-cooled, and some gripes about the new 911 GT3 RS lacking a manual gearbox, but Porsche's most popular product is still a machine coveted by gearheads.
These minor criticisms can be seen as proof of the popularity of the very first 911 generation--internally designated as, well, 911. To many car nuts, this was the ideal driver's car, and a classic 911 is as desired as any old-school Italian exotic.
If you own the very first 911 generation, or you're planning to restore one, you will be glad to know the German carmaker's Porsche Classic division is reproducing the dashboard of the 1969 to 1975 model year 911. It is a reproduction of the original surface design, but built to modern manufacturing standards. Porsche says the fluted texture, the tactile feel, and the gloss and shade of black are designed to be as close as possible to the original.
ADVERTISEMENT - CONTINUE READING BELOW ↓
This solves a dilemma of classic Porsche owners, wherein vehicle interiors are subjected to solar radiation and fluctuations of temperature and humidity over time. Thanks to advances in material construction, today's dashboards hold up better to wear and tear. Porsche has also done extensive tests to make sure the reproduced dashboard is a precise fit for the classic 911.
ADVERTISEMENT - CONTINUE READING BELOW ↓
Recommended Videos
Since this is technically an original equipment part, it can only be installed via the original assembly procedure--and this requires removing the windshield. Hence, Porsche Classic recommends having authorized Porsche dealers do the installation. The cost of the recreated dashboard is $1,353, or about P61,000. That's before any applicable taxes and shipping and handling fees, of course. It can be purchased at any authorized Porsche dealer in the US.
This isn't a bad idea at all. Although we can't help fantasize about a classic 911 being redone according to modern manufacturing methods. That would be lovely.
ADVERTISEMENT - CONTINUE READING BELOW ↓