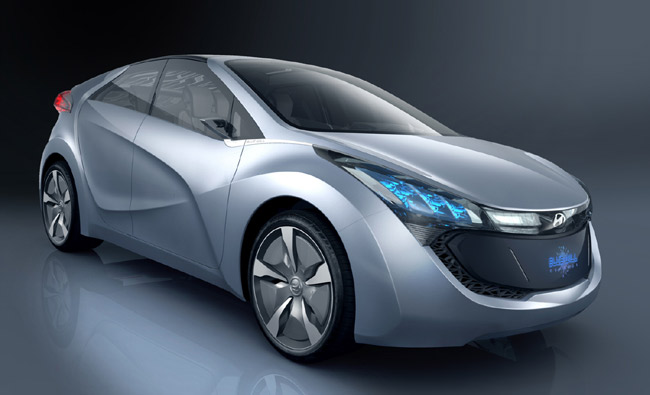 Ford and Hyundai are no hybrid newbies. Ford has been making hybrids since 2004, while Hyundai has been making such cars since 2011. This time, though, it looks like the American and Korean carmakers have finally decided to take the dedicated hybrid route for their incoming compact hybrids.
Now, how is this different from the two car manufacturers' current hybrid offerings? Unlike their other hybrids that are based on conventional models, a dedicated hybrid such as the Prius is a vehicle designed to be a hybrid from the beginning.
AutoGuide.com recently posted photos of Hyundai's test mules of its first dedicated hybrid. The test mules are based on a couple of Elantra GT hatchbacks (aka i30) with modified rear ends, one longer than the other. This suggests that it may be offered in different body styles to compete with the regular Prius and the Prius V wagon.
It's still too early to tell how the final car will look like, but Hyundai's Blue Will hybrid concept (above photo) from 2009 could give us some hints. This concept was powered by an all-aluminum 152hp Gamma 1.6-liter GDI engine with a 100kW electric motor.
The American carmaker, on the other hand, once decided to go against the Prius in 2011. It worked with the European Ford C-Max MPV, retrofitted it with a hybrid system, and sold it in North America as its Prius-fighter. Its real-world performance turned out to be poorer than expected. This can be attributed to the fact that the C-Max wasn't designed to take a hybrid system from the start. This time, Ford is planning to develop a more effective Prius-fighter.
According to a report by Reuters, Ford plans to introduce its first "true" dedicated hybrid in 2018. It will be internally known as C240 and will use Ford's incoming C2 global compact platform, which it will share with the next-generation Focus and Escape.
Some of Ford's current hybrid technology will find its way into the auto company's dedicated hybrid, but it's expected to be more fuel-efficient and be able to offer improved range compared to the carmaker's current hybrids.
According to the report, it could be offered with more than one body style. The carmaker plans to manufacture the hybrid vehicle at its Wayne assembly plant in southeastern Michigan.
Do you think the hybrid cars of Hyundai and Ford have the potential to enjoy the same success as the Toyota Prius?