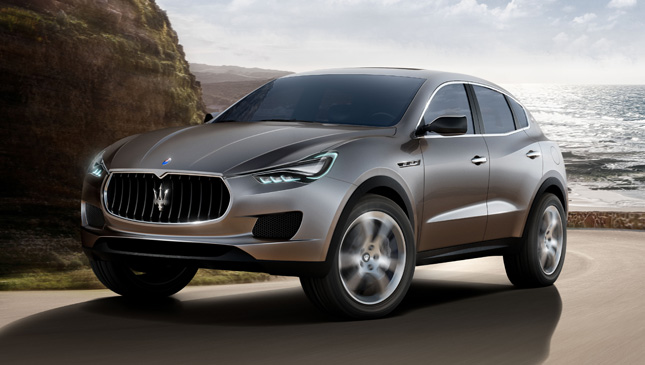 We just reported that Aston Martin will be joining the luxury crossover segment, with its DBX concept set to go into production. This comes just a few months after Rolls-Royce and Bentley had announced their own plans of fielding their respective entries into this hotly contested vehicle class. Well, another luxury carmaker is joining the fray--and it's Italian.
If you thought Ferrari, well...almost there but no cigar. It will be Maserati's turn to jump into the crossover ring with its Levante model. A report by CarAdvice says that the luxury carmaker is convinced that such a vehicle will be good for its bottom line. In fact, Maserati forecasts that the Levante will account for around half of its sales once the crossover hits the showroom floor.
There are no final details about specifications. Yet reports suggest that styling cues will be based on the Maserati Kubang concept, which came out in 2011. This means the crossover will have the trademark sporty looks, mixed with a bit of opulence and ruggedness to boot.
ADVERTISEMENT - CONTINUE READING BELOW ↓
Being a Maserati, luxury will abound in the interior. Soft-touch leather and an 8.1-inch Touch Control interface are expected to be thrown in as standard fare. Needless to say, driving performance will likewise be part of the mix--it has a trident badge after all.
The driving fun is expected to come from either the latest diesel-fed motors, a pair of gasoline V6 and V8 engines (the latter might just put out 560hp), and a hybrid drivetrain. Either way, expect that the Italian automaker won't sacrifice power and fuel economy.
Maserati says that the Levante will debut at next year's Detroit Auto Show, which is slated for January 12, 2016. Sales will reportedly begin in March of the same year. We've said it once and we'll say it again: It is definitely an exciting time to be in the market for a luxury crossover.
ADVERTISEMENT - CONTINUE READING BELOW ↓
Recommended Videos