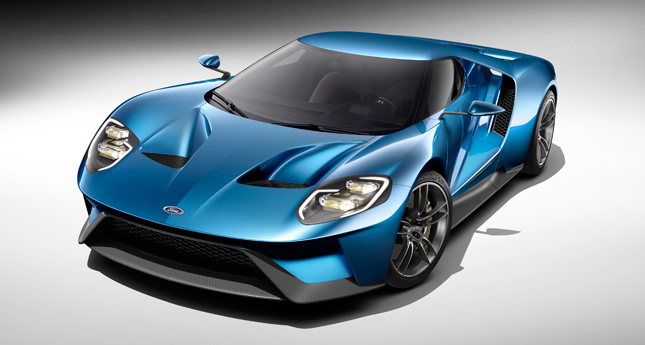 The new Ford GT is expected to go on sale next year, in time for the 50th anniversary of the original GT40's 1-2-3 victory at the 1966 24 Hours of Le Mans. The new GT ditches the previous model's retro looks for a very modern design that still carries the GT40 DNA. Under its skin is a very advanced race car-like exotic construction, which leads us to the big question: How much is it going to cost?
AutoGuide.com reports that during the GT's European debut at the Geneva International Motor Show, Ford's vice president of global product development, Raj Nair, dropped the biggest hint on the pricing of the upcoming carbon-fiber Ford supercar. According to Nair, "price-wise, we'll be facing off against cars like the [Lamborghini] Aventador."
In the US, this V12 Italian exotic costs almost $400,000. This figure is more than double the $150,000 price tag of the last Ford GT from a decade ago. Some people might argue that Ford is not an exotic brand, and that the GT only has half as many cylinders as an Aventador. While that's true, there's more to just the badge and the cylinder count.
The GT's new twin-turbo 3.5-liter EcoBoost V6 engine, said to produce over 600hp, is based on the race-proven powerplant of Ford's IMSA Daytona Prototype race car. Its compact size allows it to fit in a narrow engine bay that permits designers and engineers to shape the body around it, to optimize the car's aerodynamics.
Continue reading below ↓
Recommended Videos
Doesn't the Aventador's massive V12 produce almost 700hp? True, but Ford will challenge other exotics by having one of the best power-to-weight ratios for a production car. Its lightweight carbon-fiber monocoque construction, aluminum subframe, and lighter and more compact engine sounds more like a Le Mans racer than a road car, leading some to speculate that Ford could take the car racing. Expect the new GT to be much more exclusive than the previous model, with only 250 units expected to be produced per year.
Do you think Ford's new carbon-fiber supercar is worth its Aventador-rivaling admission fee?