The Fiat 500 is 60 years old and, as befits the cutest motoring icon in all the world, it's got a birthday present—a collaboration between Garage Italia and Pininfarina. Welcome to the Spiaggina by Garage Italia. As you can see, it's based on a Fiat 500C but, thanks to hefty body strengthening work from Pininfarina, the 500's gone fully topless this time. One roll bar, no roof rails and only two seats.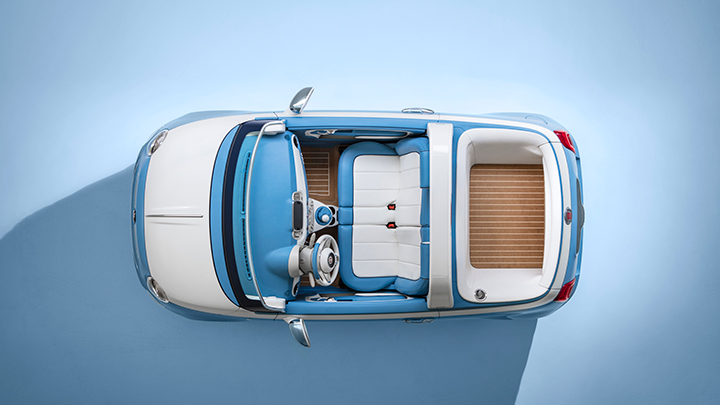 ADVERTISEMENT - CONTINUE READING BELOW ↓
Of course, there's a historical angle to this. Four years into the original 500's life, there came the 500 Jolly, aka the Spiaggina, or beach buggy. Sold between 1958 and 1965, the 22bhp al-fresco-mobile didn't even have doors and cost twice as much as the standard car. However, it became a Swinging Sixties must-have. Garage Italia and Pininfarina have simply brought that topless 500 concept bang up to date, albeit with doors attached.
Inside, you'll find a blue-and-white bench seat in place of the normal 500's chairs, and a cabin that's waterproofed for beach bods. There's chrome trim everywhere, and the back seats have been junked and replaced by a loading bay covered in cork panelling. Yep, it's another luxury yacht reference. And you'll be able to order the Spiaggina with a low-cut windscreen to ape the look of a speedboat's front screen. Yes indeed, we did say "you can order". This isn't just a show car. Garage Italia and Pininfarina promise they are putting the Spiaggina into production, available with any engine in the current 500 range.
ADVERTISEMENT - CONTINUE READING BELOW ↓
Recommended Videos