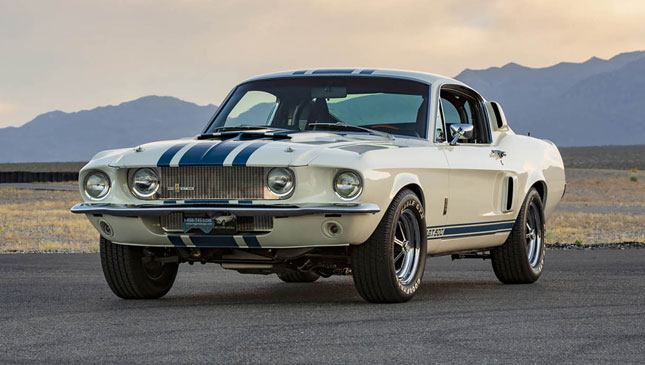 While the Shelby GT500 may be one of the most popular classic Mustang-based Shelbys, there's a special ultra-rare model non-pony car enthusiasts might not be aware of. In 1967, Shelby built a modified GT500 for Goodyear to be used for high-speed tire testing. This special one-off car was dubbed the 'Super Snake.'
It had a 7.0-liter racing V8 which pumped out an estimated 520hp, heavy duty front disc brakes, a Detroit Locker automatic locking rear differential, rear traction bars, and of course the special set of Goodyear Thunderbolt tires. It had a top speed of 274kph, a figure that's still impressive today. Don McCain, Shelby American's former employee, talked to Carroll Shelby about building a limited run of Super Snakes, but sadly its high cost put an end to those plans.

Fast-forward half a century later, and Shelby American has finally decided to fulfill Carroll and Don's dream of building the ultimate Shelby coupe. The continuation Super Snake pretty much stays true to the original car. The most obvious giveaway that this isn't the '67 prototype is the set of modern 235/60R15 Goodyear Eagle GTII tires mounted on period-correct Mag Star wheels.
Stopping duty is handled by the standard front disc brakes and rear drums. The less authentic but better-performing four-wheel disc brakes are optional. Under its long vented hood is a brand new aluminum V8 from the Carroll Shelby Engine Company; this big motor is tuned to produce over 550hp.
A good ol' four-speed manual transmission is standard, but a five-speed manual and automatic tranny can also be specified. It comes in Wimbledon White with blue side stripes and the Super Snake-exclusive triple racing stripes. Inside, you get original-style seat belts and a roll bar. Air-conditioning is optional for those in search of added comfort.
All 10 continuation GT500 Super Snakes will be built using an original '67 Mustang or Shelby donor car, and each will get an official Shelby Registry serial number. Exclusivity isn't cheap; this Snake starts at an eye-popping $249,995 (P13 million). Quite expensive, but you must remember that this is a limited continuation run of a prototype which recently sold for $1.3 million.
There's one little detail inside which makes this car even more special: Don McCain and Carroll Shelby both didn't live to see the revival of the Super Snake program, but they were able to sign 10 of the Super Snake's dashboard plaques. Carroll once said that performance was his business and we're glad the company he founded is still delivering on that promise.