Question: What's better than a reimagined Porsche 911 from Californian air-cooled fetishists, Singer?
Answer: One of Singer's reimagined 911s that's capable of bossing the Baja 1000 or Dakar Rally, and looks like the result of a 964 having a fumble with a Trophy Truck. Yes, this is Singer's take on the 911 Safari—the All-Terrain Competition Study (ACS) to use its full name—and it's quite something.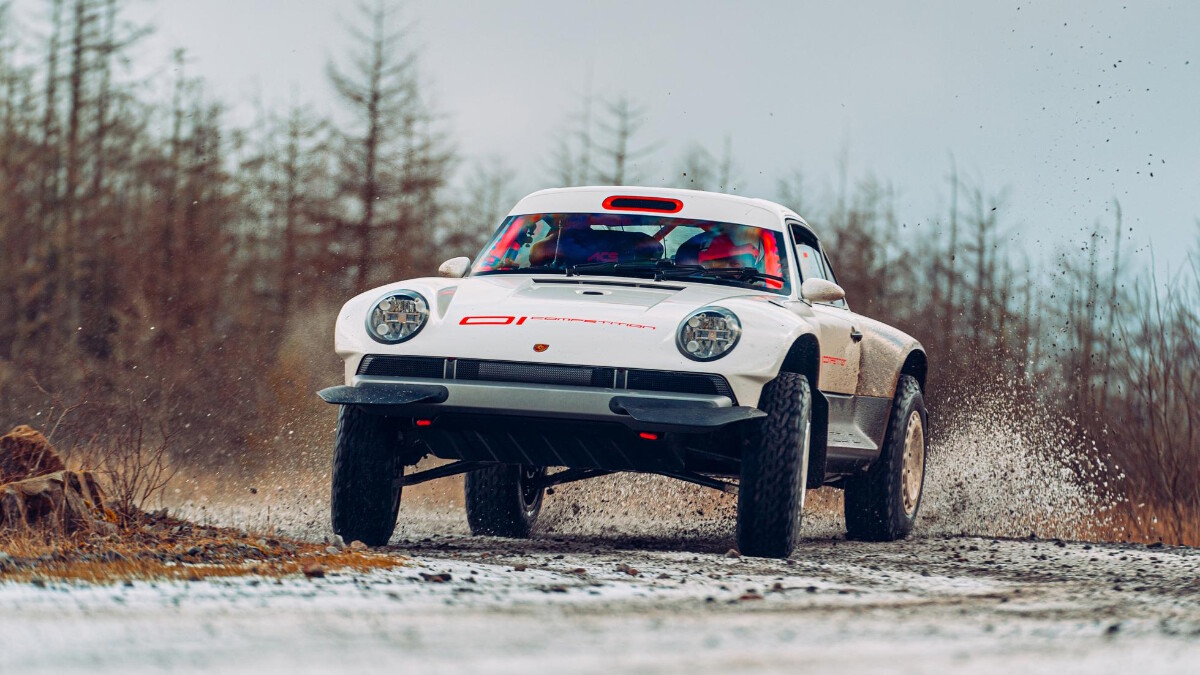 Built at the request of one long-standing customer who wanted an air-cooled 911 that could "compete in off-road racing and demonstrate all-terrain exploration capabilities," the ACS is Singer's first toe in the water of competition cars, and as such was designed in partnership with historic 911 rally expert Richard Tuthill and built as his Oxfordshire base, in good old blighty.
Continue reading below ↓
Recommended Videos
In fact, this well-funded mystery customer has ordered two—the white car here for high-speed desert rallying, and a red one "designed for high-speed, high-grip tarmac events"—and given his personal approval for any future Singer customers to spec their restorations in the same way. Generous chap.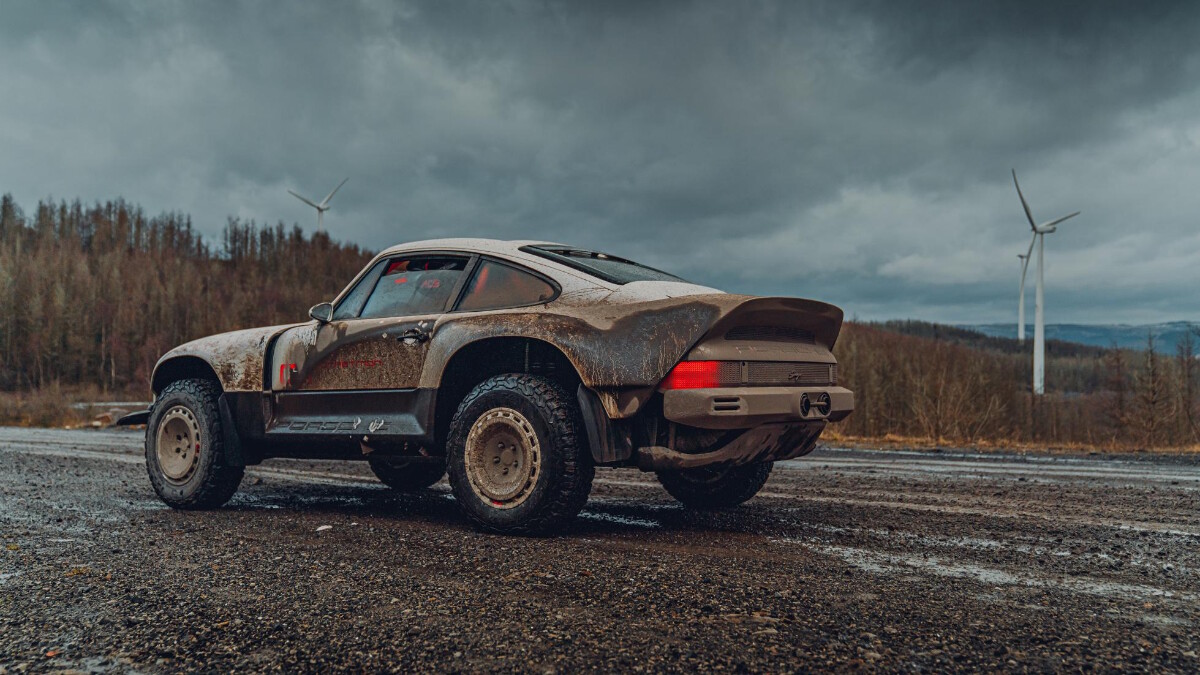 If you're looking at this and wondering why you'd use a low-slung classic sports car as a starting point for a desert racer, where ride height and an ability to absorb punishment are currency, fear not—rallying is firmly imbedded in Porsche's DNA. The first race a 911 ever competed in was the 1965 Monte Carlo Rally (it came fifth, in case you were wondering), which is why a jacked-up 911 on knobbly tires and preferably with a Rothmans livery—like the Dakar-winning 953 and 959 Safaris from the mid-'80s, the latter referenced by this car's wraparound rear deck—just looks so right.
The donor car is a 964-gen 911 from 1990, the engine a 3.6-liter air-cooled, twin-turbo flat-six developing around 450hp, although that can be easily turned up depending on the specific demands of each event.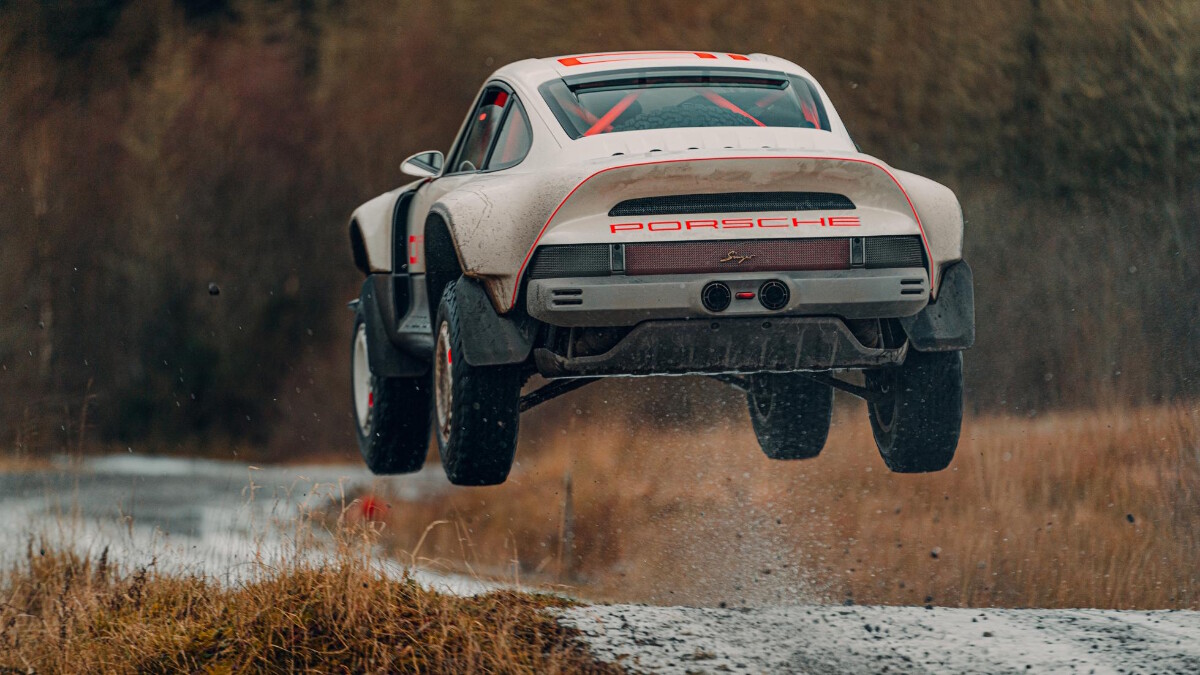 There's permanent all-wheel drive, a five-speed sequential gearbox, a long-range fuel tank, two full-size spare wheels and tires—one in the front, one in the back—and an FIA-spec roll cage. None of which is particularly lightweight, so it's lucky that all the body panels are carbon fiber to offset what they can.
The clamshells at the front and rear look like a pig to engineer, but along with removeable 5mm-thick aluminum underbody protection, they mean you can access the car's guts quickly and easily...however far from civilization you find yourself.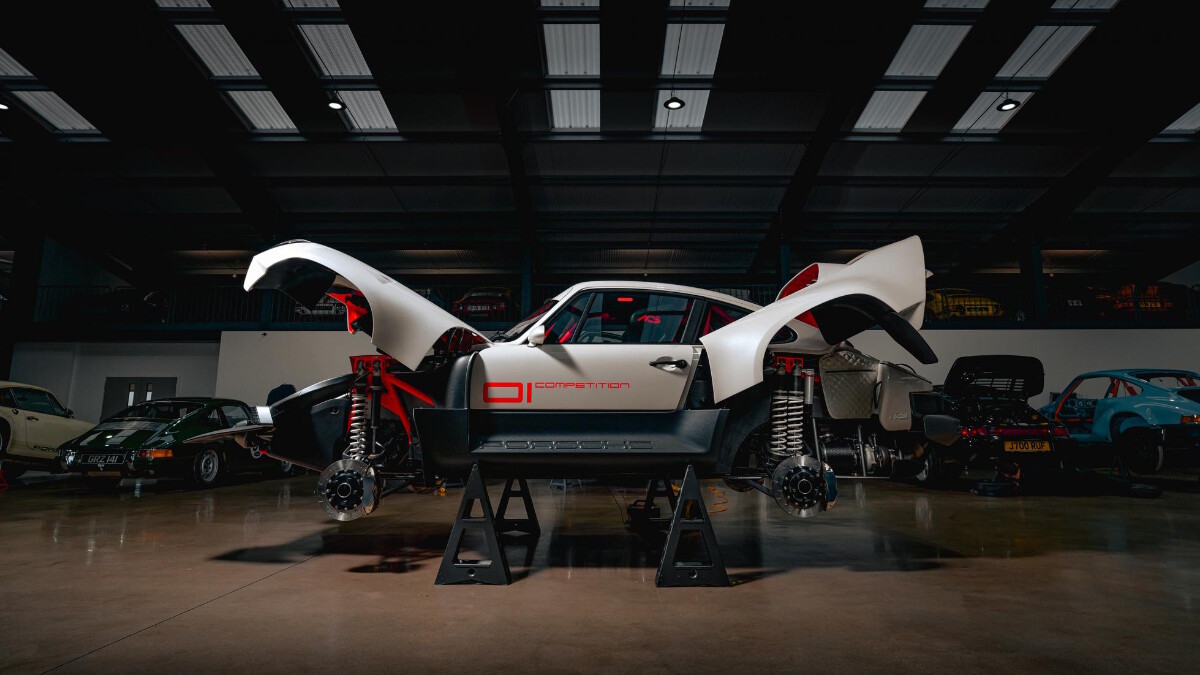 Responsible for the elevated stance and the blown-out arches is specialized long-travel suspension with two five-way adjustable dampers at each corner, steel brakes with four-piston calipers, and fat BFGoodrich tires hugging 16-inch forged aluminum wheels. Contrasting with the narrowness of the 964's glasshouse, the proportions are brilliantly cartoonish and the exterior is peppered with moments of delight. Special mentions for the mutant mud flaps at the front, the embossed Porsche logo on the engine cover and sills, and a rear bumper milled from single piece of aluminum billet.
The interior plays mind games, managing to be stripped back to the bare essentials for beasting any landscape you care to point it at—FIA-approved buckets seats, a full navigation system in front of the co-pilot, a carbon rod for yanking the hydraulic handbrake, and a built-in hydration system for both occupants—but still sumptuous in its execution.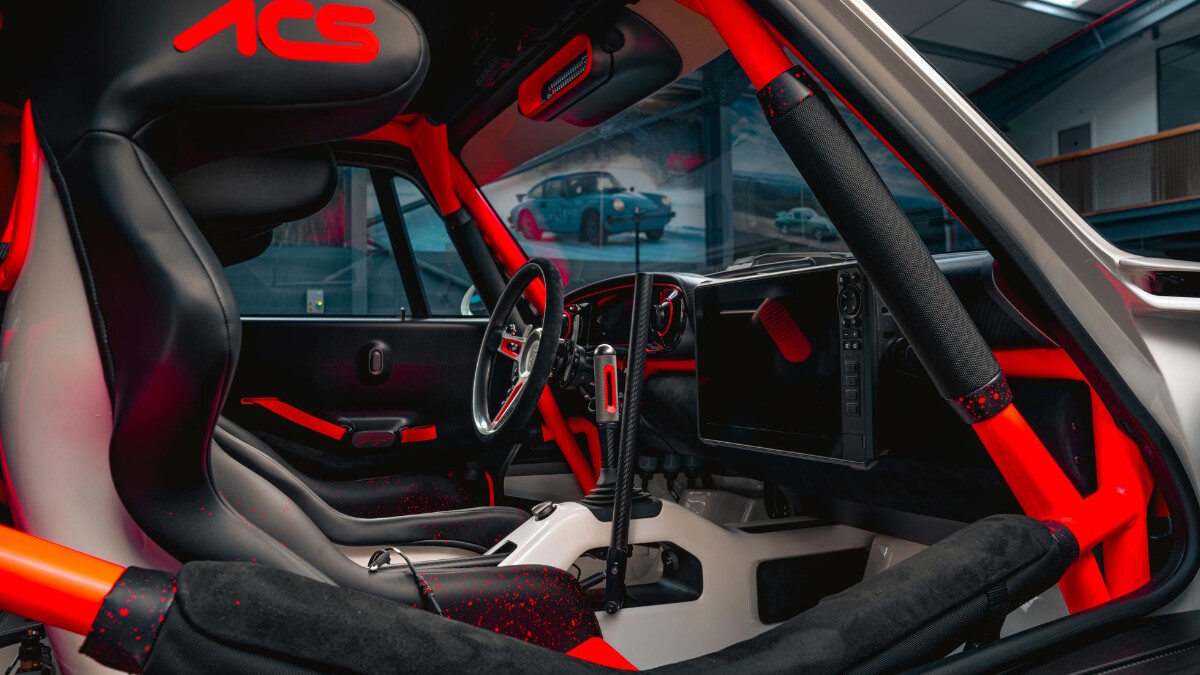 Fluorescent paint splatter on the seats and as a highlight color brings a sense of fun and opportunity for individualization, while everything from the knurling on the gearshift to the obscenely beautiful steering wheel (shared with Singer's other unicorn, the DLS) is slathered in love and attention. Even the tow-eye is worthy of mounting on your office wall.
Price? Let's just say if you're interested in commissioning one, you had better be bringing the cash...and a willingness to take your car to the corners of the Earth for which it was conceived. Speculators need not apply.
More photos of the Singer All-Terrain Competition Study: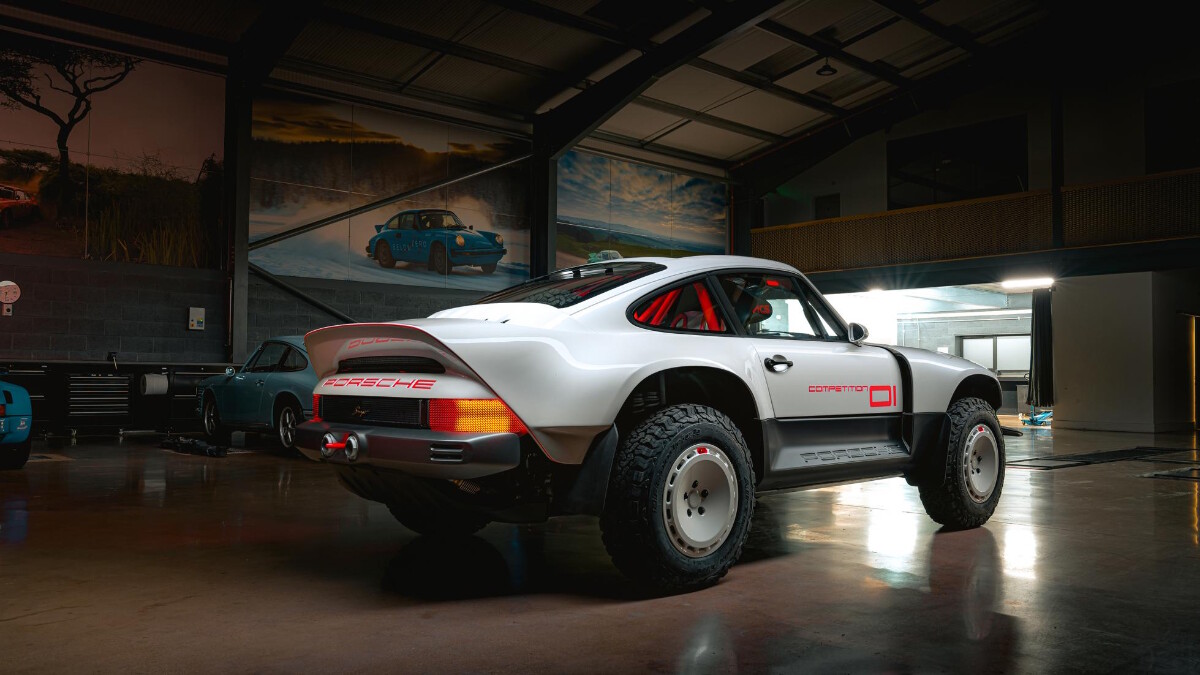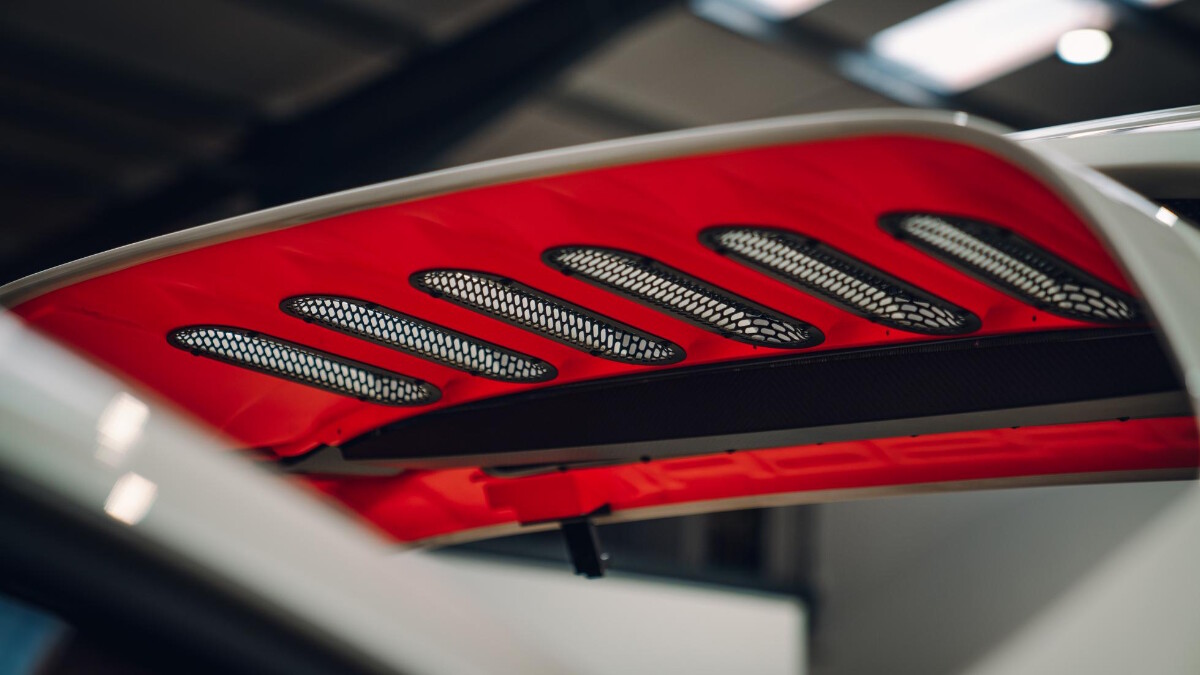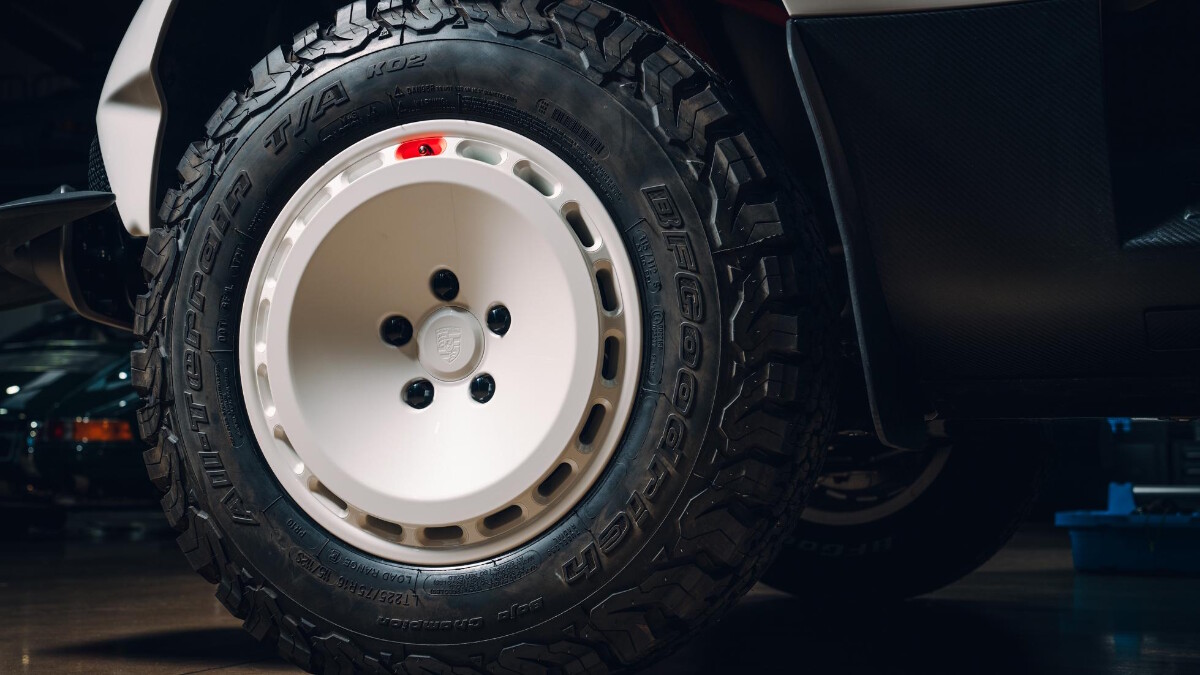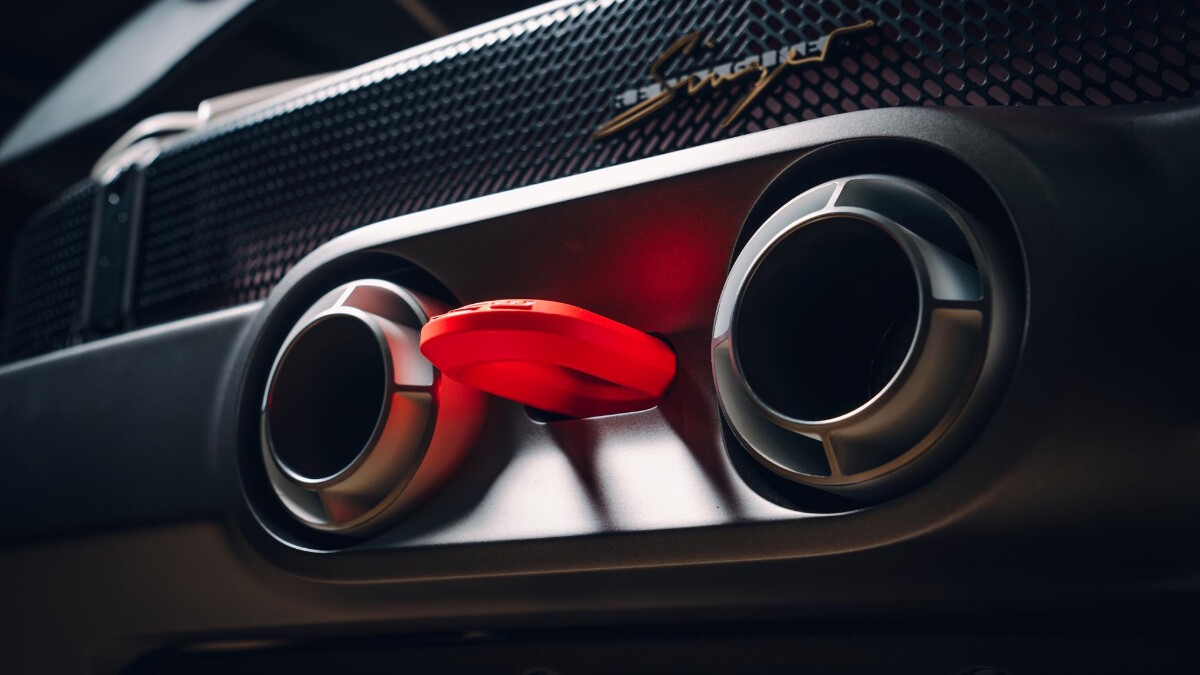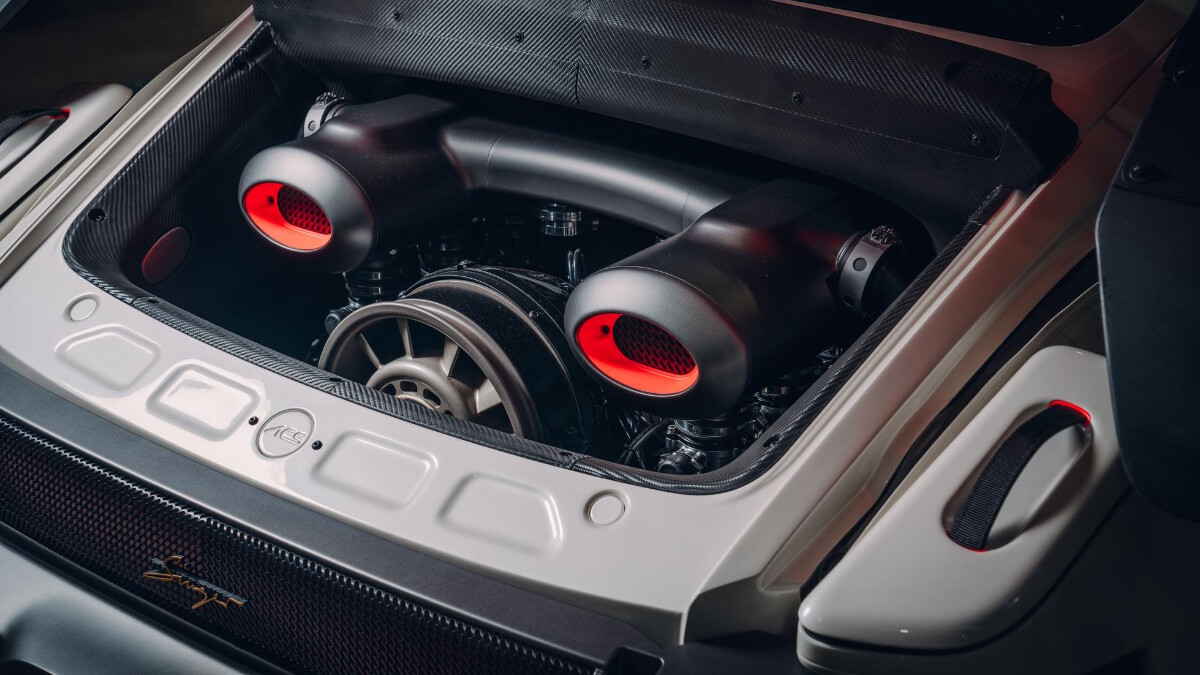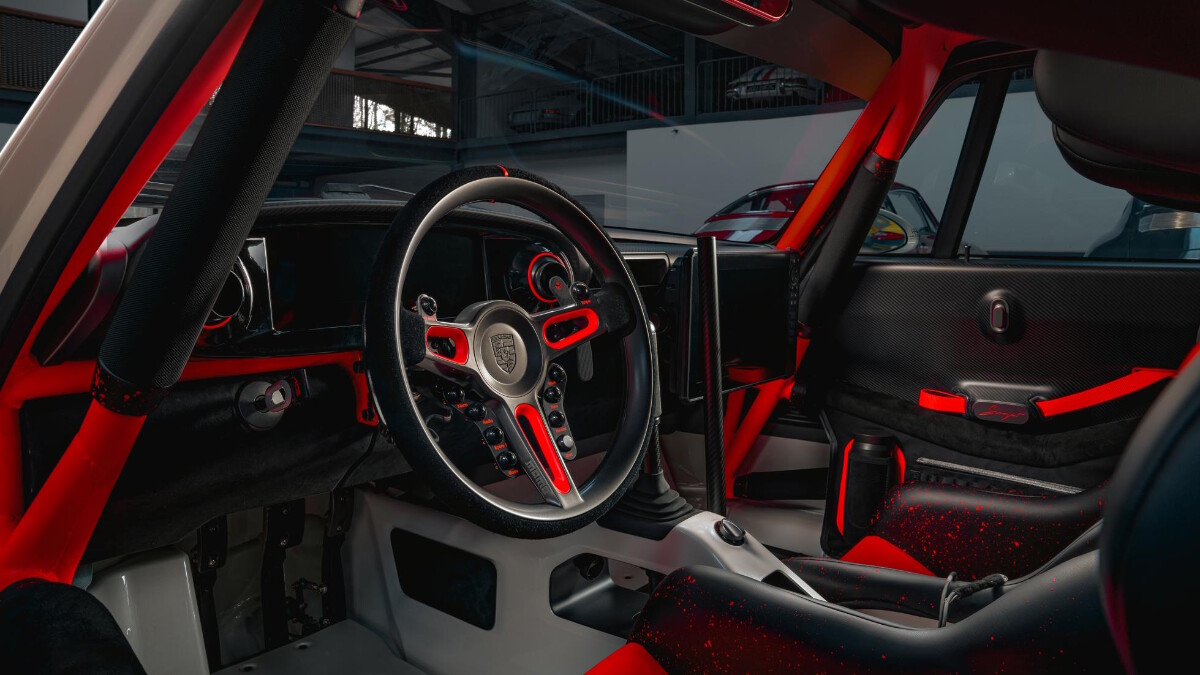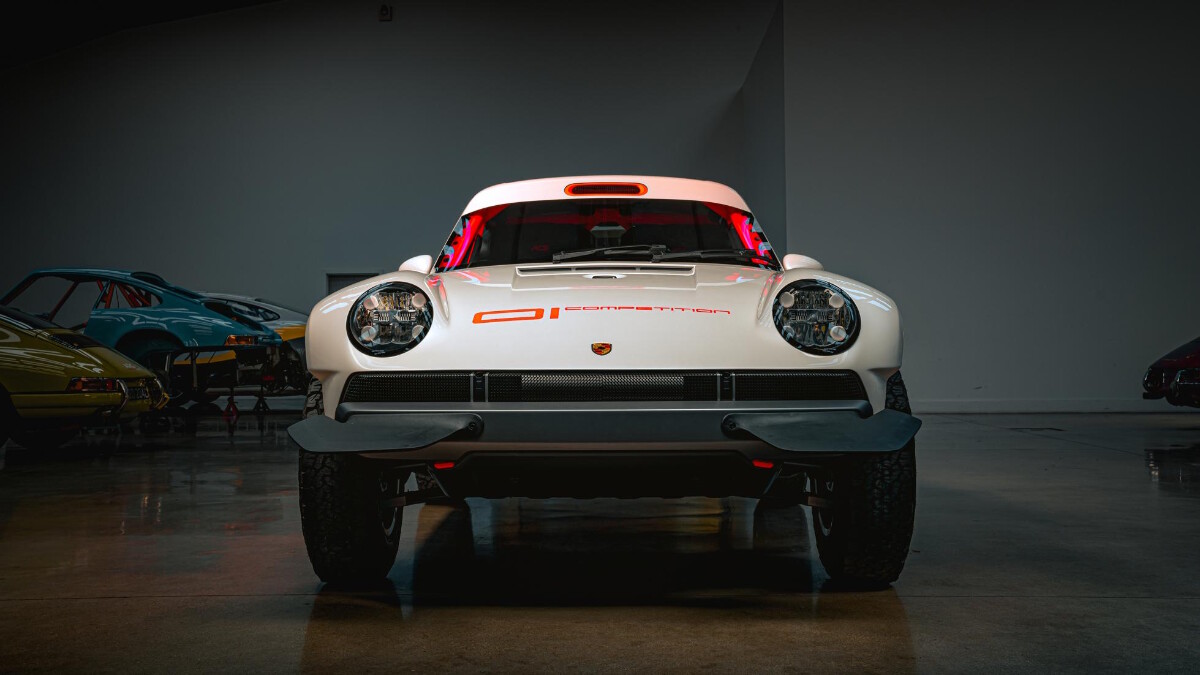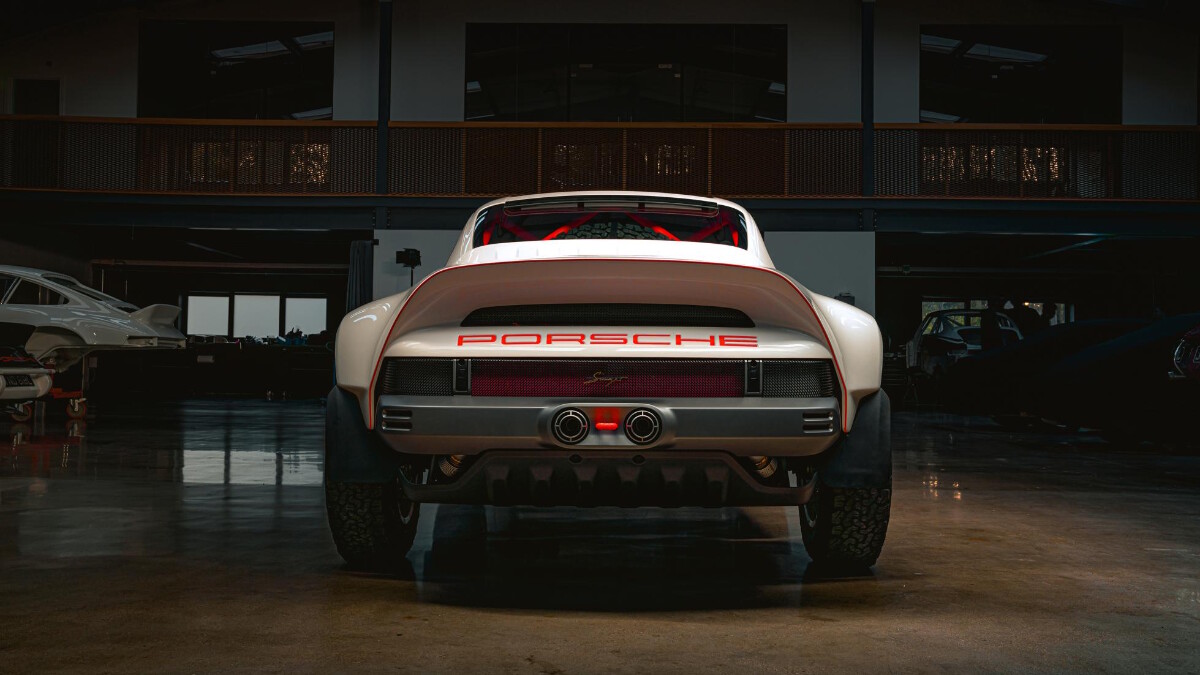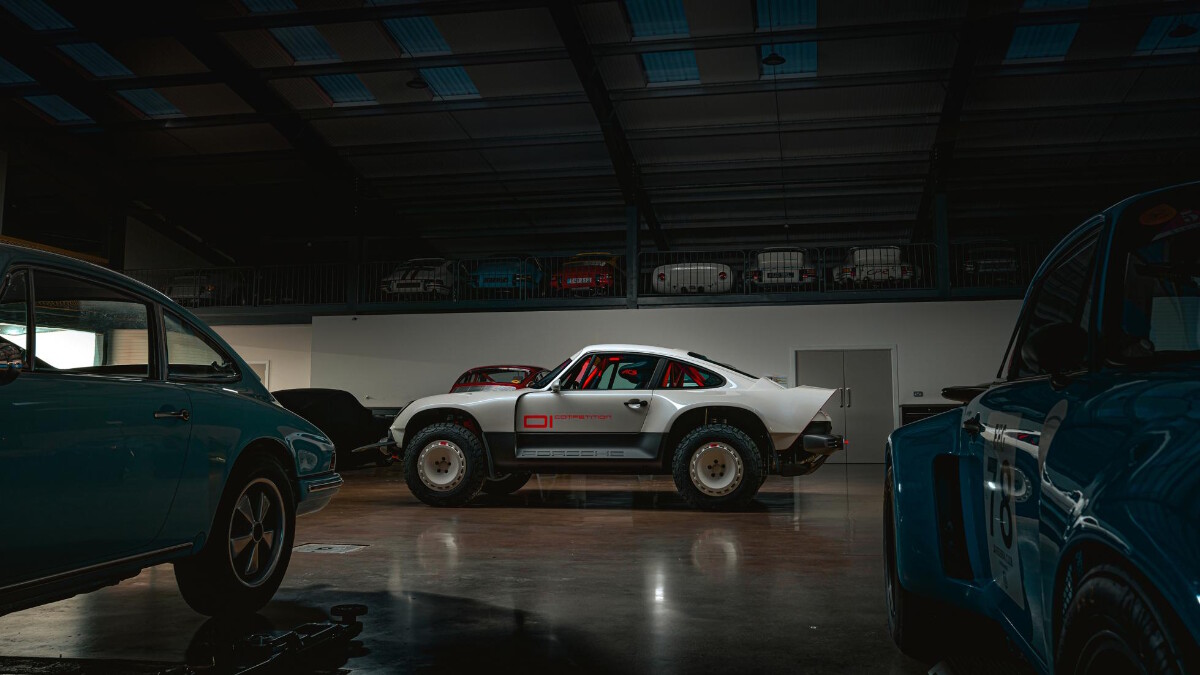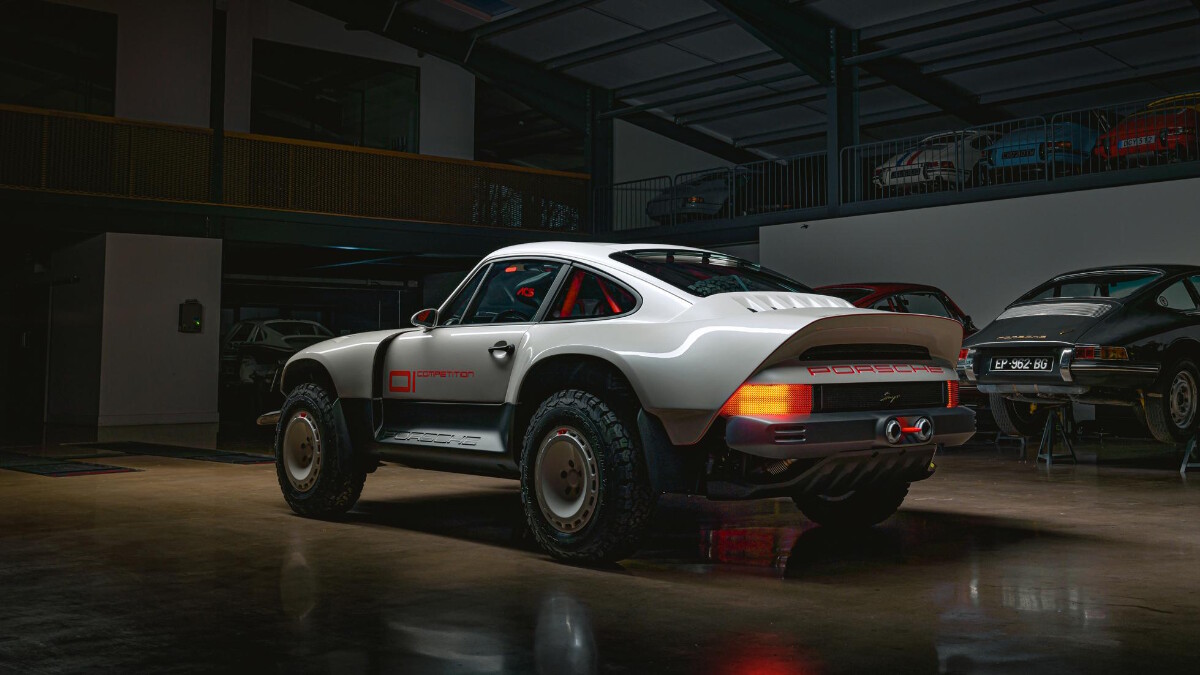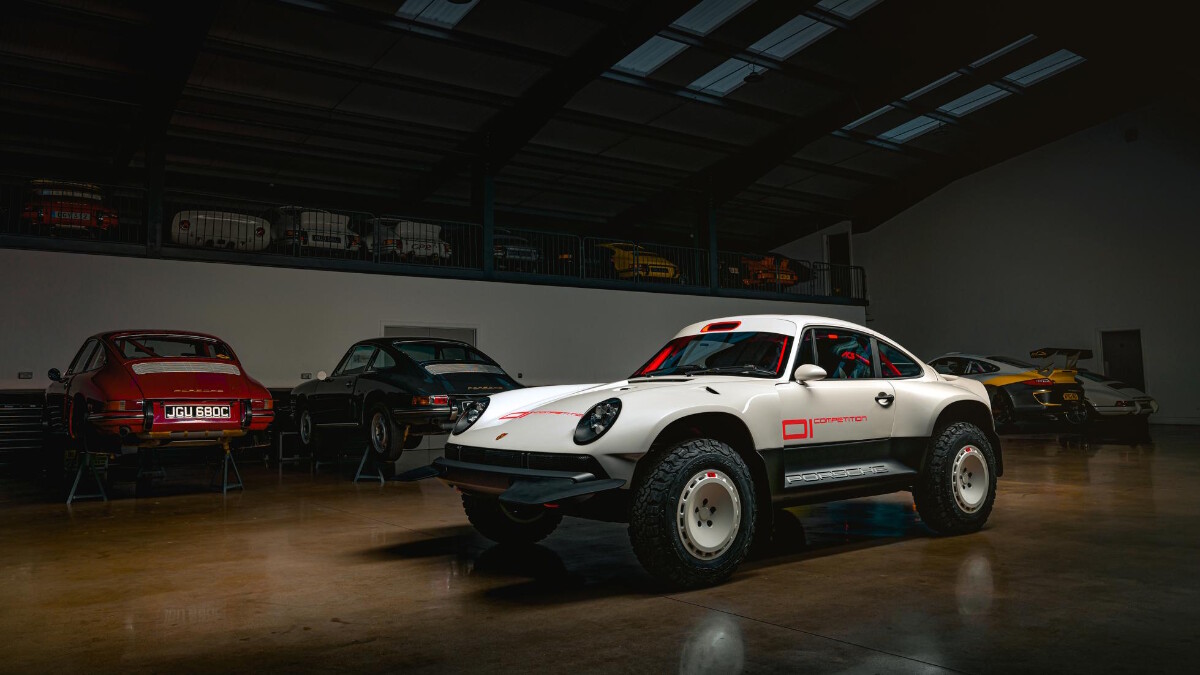 NOTE: This article first appeared on TopGear.com. Minor edits have been made.