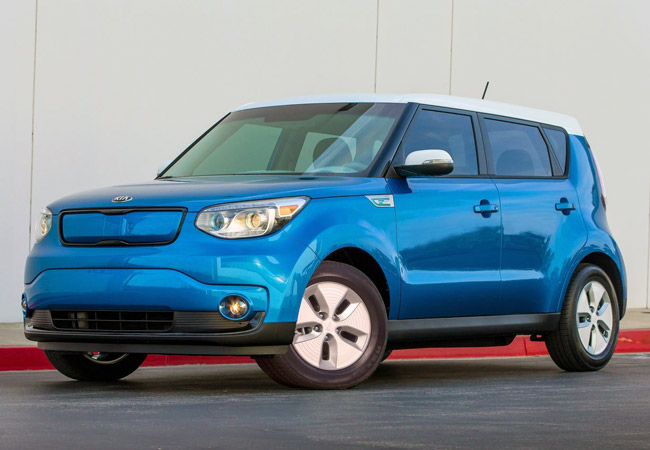 With the exception perhaps of the Tesla Model S, electric vehicles generally look boring. It's like carmakers deliberately give them a dull design to ensure that their environment-friendliness doesn't escape whoever is staring at them.
And then we have this: the all-new Kia Soul EV, which the Korean carmaker announced as early as late 2012. Kia unveiled this car at the Chicago Auto Show this year, and has now said that the car is ready to go on sale in the US by the third quarter. The Soul EV will reportedly be sold initially in the states of California, Oregon, New York, New Jersey and Maryland--all of which have good EV infrastructure right now. The pricing hasn't been revealed.
The Soul EV features a "highly energy-dense lithium-ion polymer battery," placed beneath the floor of the vehicle. A full charge of this 27kWh, air-cooled, 200Wh/kg battery is said to be capable of yielding a range of 130-160km of real-world driving. That's just half of what the Model S can do, but who cares if you can squeeze out all that mileage in a cute package like this?
Describing the battery in further detail, Kia explains: "The 360V 96-cell lithium-ion polymer battery has been engineered for high capacity, thermal stability and safety. Accordingly, the battery features a nickel-cobalt-manganese cathode, which helps increase capacity, and a graphite-based anode, which increases durability while reducing weight. Additionally, the cells use a gel electrolyte, and each cell contains ceramic separators to significantly improve thermal stability and safety."
Continue reading below ↓
Recommended Videos
The Soul EV is powered by an 81.4kW electric motor that produces 109hp and 285Nm. To help extend the EV's range, this Soul is also equipped with Kia's third-generation regenerative braking system, designed to capture up to 12% of the car's kinetic energy. Acceleration time from zero to 100kph has been measured to be at around 12 seconds, and the top speed has been electronically set at about 150kph.
The car may be charged using a US-standard 120V outlet or a 240V EV charger. Using a 120V outlet, a fully depleted battery takes about a full day to charge; using a 240V outlet, charging time is shortened to less than five hours.
The Soul EV's styling has been inspired by Kia's Track'ster concept from 2012. Body colors include Pearl White lower body with Electronic Blue roof; Caribbean Blue lower body with Clear White roof (the unit you see in these photos); and Bright Silver with Clear White roof.
Is the new Soul EV something you'd consider driving should Kia eventually sell this in our market?