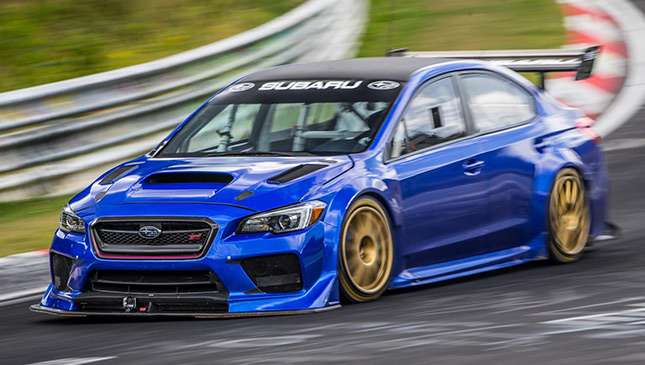 Remember the lightly nutty Subaru WRX STI Type RA NBR we showed you a while back? Subaru tells us the much suffixed STI has set a lap around the Nürburgring in just 6:57.5, making it the fastest four-door to have done so.
In the world of Nürburgring lap times—shadier than a Frank Miller graphic novel—that pegs it at just half a second slower than a Porsche 918 Spyder. Which is a bona fide hypercar featuring much power at its disposal.
It's also comfortably quicker than the Lamborghini Aventador SV nutjob (6:59). We're told the time was achieved "using the Nürburgring timing equipment and was officially verified by track officials."
Still, not bad for a modified four-door sedan. The clue's in the mouthful of a name, really. The Type RA bit stands for 'Record Attempt'—the sole reason for this car's existence. We assume the NBR means, well, the Nürburgring.
For such an attempt, you won't be surprised to learn this little Scooby went to market and came back with a lot of rally-infused aggression. And by market, we mean Prodrive, who built the thing. There's a roll cage and a redesigned aero-pack that includes DRS and enables 295kg of downforce—the only currency super sedans and supercars trade in these days.
Continue reading below ↓
Recommended Videos
Then there's the engine. It's a modified 2.0-liter turbo boxer, featuring a 75mm intake, 25 PSI of turbo boost, and a modified WRC gearbox with paddle shifters (20ms fast) running through all-wheel-drive. The net result is in excess of 600hp. Not bad. Not bad at all.
"We brought the WRX STI Type RA NBR Special here to set a record and call attention to the WRX STI Type RA that we will launch later this year," explains Subaru communications manager Dominick Infante. Ah yes, there'll be a production-spec WRX STI Type RA available to purchase, with actual money, later on in the year.
Sadly, that road-car does without the 600hp of this NBR Special, instead producing somewhere around the 310hp mark. Should still be a riot though.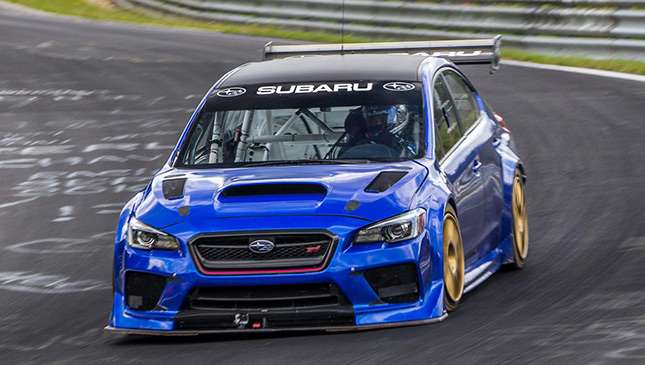 NOTE: This article first appeared on TopGear.com. Minor edits have been made.