"This will probably sell more than the Model S and Model 3 combined." Not our words—these were the words of his holiness, Elon Musk, high priest of the EV evangelists, speaking at the reveal of Tesla's new release at the company's LA design studio. It was inevitable that a sister car for the wildly successful Model 3 would follow. An SUV was the only logical play. So ladies and gents, this is it: Model Y. A small seven-seat, all-electric SUV set to arrive in 2020 from $39,000 (around P2.05 million).
Take a look at the pictures (yes, all three of them—that's all we were supplied with) and there's a lot of Model 3 in there, but then they do share running gear, chassis, interiors, and any other bits Tesla could feasibly carry over. When Musk first announced the Model Y would make its debut on March 14, he tweeted: "Model Y, being an SUV, is about 10% bigger than Model 3, so will cost about 10% more and have slightly less range for same battery." To be fair, that's some good summary right there, so if there's somewhere you need to be, that may be all the info you need.
Still here? Excellent. Yes, it's 10% bigger, but crucially, it also has a hatchback, meaning that extra space is more accessible. Unsurprisingly, it doesn't carry over the massively complicated—and heavy, and expensive—falcon doors from the Model X (a car Musk refers to as a "spaceship," and a car he got "a bit carried away with") because like the Model 3, this is supposed to be a low-cost car, the latest phase in his mission to bring electric cars to the masses.
ADVERTISEMENT - CONTINUE READING BELOW ↓
It's made from high-strength steel, not aluminum like the Model X and the Model S, and carries over the Model 3's interior pretty much wholesale—same ultra-minimalist design, same 15-inch central touchscreen to control everything. The major difference is a higher roofline with seats raised accordingly, and the fact that it can be ordered with seven seats as an option. Bit of a surprise that one, definite 'oohs' and 'aahs' from the crowd when Musk confirmed it.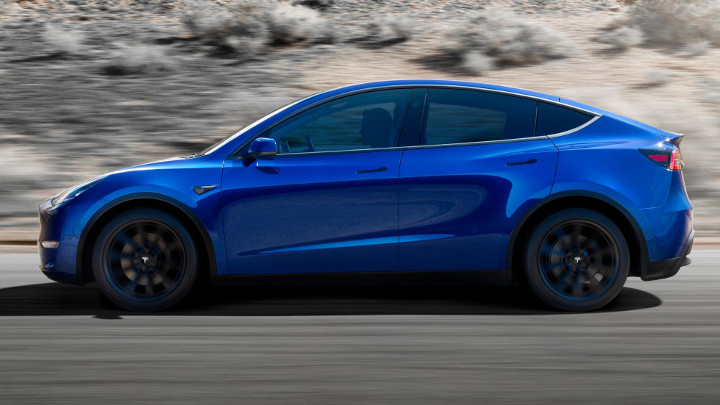 It's not a huge car, being somewhere around BMW X1 in size, so to have a third row is a definite unique selling proposition. Whether humans can actually fit back there is another matter entirely. I'm afraid the only car at the launch party was whisked off the stage, so we didn't have a chance to investigate.
The model range will be familiar to anyone that's thought about buying a Model 3. It starts with the rear-wheel-drive Standard Range version costing $39,000 ($4,000 or about P210,000 more than the cheapest 3), with a range of 370km, 0-60mph (0-97kph) in 5.9sec, and a top speed of 193kph. As usual, you'll have to wait a bit for deliveries of the cheap one—by the second quarter of 2021 in the US, whereas the rest of the lineup will begin deliveries in the third quarter of 2020.
Moving up, you have the rear-wheel-drive Long Range version: $47,000 (around P2.47 million), over 480km of range, 0-60mph (0-97kph) in 5.5sec, and 209kph top speed. Then the Dual Motor version: four-wheel drive, $51,000 (P2.68 million), 450km range, 0-60mph in 4.8sec, 217kph top speed. And finally, the Model Y Performance: four-wheel drive, $60,000 (P3.16 million), 450km range, 0-60mph in 3.5sec, 241kph top speed—and which, let's face it, is the one you want.
Charging is exactly the same deal as the Model 3, so you'll have to pay for your supercharging (boo), but with a global network now of 12,000+ superchargers in 36 countries across the world (hooray), it's still hands-down the fastest and most reliable network out there.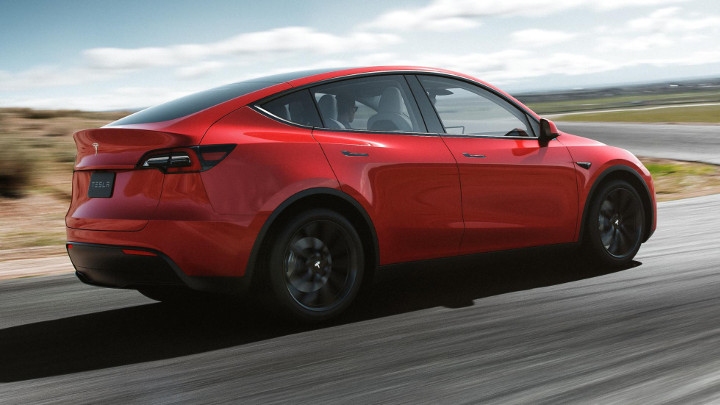 And it's about to get better—Tesla's first operational Supercharger V3.0 was up and running outside the Model Y event. It's a 250kW charger capable of delivering 120km of range in five minutes, or—perhaps a better but utterly irrelevant headline—1,610km per hour. Musk confirmed existing supercharger stations will be upgraded to the V3.0 standard, and new stations installed, starting from later this year.
ADVERTISEMENT - CONTINUE READING BELOW ↓
And just to remind us that the whole 'production hell' thing hasn't put him off electric cars for life, Musk also brought along the Tesla Semi to the Model Y launch—that's the truck capable of 805km on a charge and a Golf GTI-shaming 0-60mph (0-97kph) in 5.0sec without a trailer hitched—and the new-generation Roadster. Still only in prototype form, that's the $200,000 (P10.52 million) sports car that he claims will do 0-60mph in 1.9sec and 402kph flat-out, and beat any other hypercar's acceleration figures in between...and also deliver a 998km range. Production is expected to begin next year—we're strengthening our neck muscles in anticipation already.
But perhaps Musk's greatest trick is something he points out on stage. That 10 years ago, he was labeled a fraud and ridiculed, while now pretty much every major manufacturer (he cites GM, Ford, and VW) has committed to widespread, if not total, electrification of their range. A decade ago he was laughed at, now he's leading the way.
NOTE: This article first appeared on TopGear.com. Minor edits have been made.