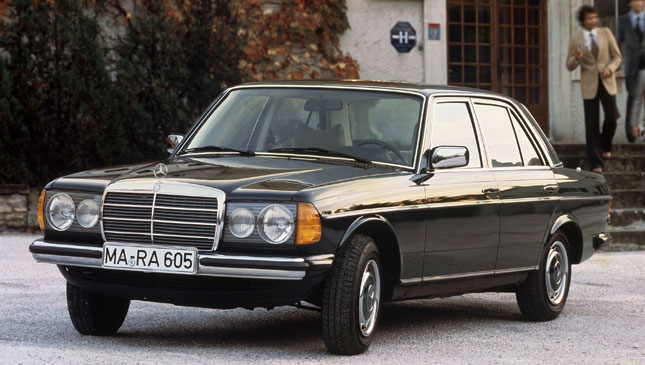 When the name Mercedes-Benz is mentioned, the image that usually comes to mind is that of the W123, the very generation before this line became known as the E-Class. Made from 1976 to 1985, this particular series was one of the most successful models rolled out by the German luxury carmaker. It was the stereotypical Benz of its era, and even of succeeding generations.
After several colorful decades, the W123 celebrates its 40th birthday. It was first unveiled on January 22, 1976, at the Paul Ricard Circuit in southern France. A total of 33 W123 sedans were transported by train from Stuttgart to the track, for the global media to sample. After getting a feel for the car, the verdict was out: This was one of the most advanced cars of its day.
For instance, the shape was unlike anything in the midsize class. The horizontal headlights took their cue from the W116 S-Class. The body may have been squarish, yet it possessed a sturdy structure for optimum passenger protection. Speaking of occupant safety, the W123 offered cutting-edge (at the time) safety gear such as optional airbags (in 1982), crumple zones, and a collapsible steering column, among others.
After the W123 had been on the market for a year, Mercedes-Benz added coupe and station wagon (estate) versions to the lineup. There were even long-wheelbase variants built for specialty customers and markets. But whatever model one chose, it came with tech goodies like the vaunted zero-scrub double-wishbone front suspension from the bigger S-Class. This not only gave the car excellent ride comfort, but endowed it with the ability to tackle the twisties with ease.
Continue reading below ↓
Recommended Videos
When it came to engines, the more notable examples were the M123 2.5-liter six-cylinder gasoline motor that put out 126hp, and the 3.0-liter five-cylinder turbodiesel found on the 300TD wagon. The OM617 oil-burner produced 125hp. Apart from the usual propulsion options, Mercedes-Benz was also offering alternative fuel versions--at a time when these were virtually unheard of in mass-market cars. There was the 280TE with a hydrogen drive system, and a 200 bi-fuel variant that could run on both LPG and gasoline. The latter came out as early as 1981.
Today, after 40 years and some 2.7 million units built, the W123 has become an icon. In many countries around the world (including ours), you can still see many W123s rolling on the streets, many of them in pristine condition. It's a testament to the durability of this specific model and the brand as a whole. And whether it's a white sedan with the proverbial white hubcaps, or a clean-looking wagon, one cannot deny the old-school and timeless charm of our favorite Chedeng.