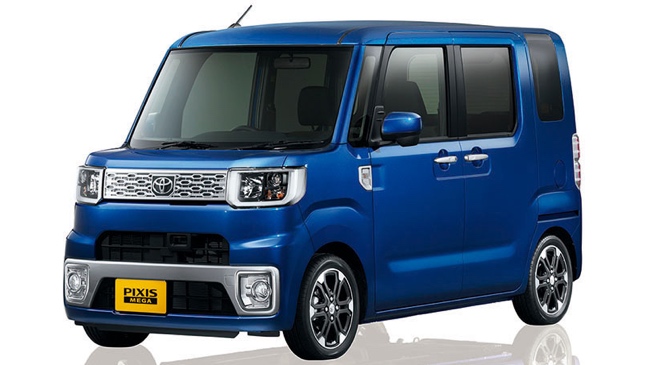 For most of us, growing up with a Toyota was practically a way of life. We all knew about the brand because either we owned one or someone we knew had it in their garage. And the notion of what a Toyota vehicle should be was pretty straightforward: safe, reliable, capable of taking us from point A to point B.
Toyota knows this, which is why it has been trying to change the image of its vehicles. While it still possesses bulletproof reliability, the Japanese car giant has likewise been trying to inject a bit more fun and character into its offerings. The 86 is a good start, and the face-lifted Camry is a fine example of how to lure younger buyers to consider a once-staid offering. But if you really want a funky Toyota, then look no further than the newly introduced Pixis Mega mini vehicle.
Launched in Toyota's home market, the Pixis Mega is a tall city car that gives buyers the utmost in cargo-carrying flexibility, while still comfortably seating four adults. Its tall height and boxy profile give it a ton of room inside, while its tidy dimensions make it easy to maneuver in and around Japan's crowded streets.
Continue reading below ↓
Recommended Videos
The Pixis Mega boasts a vehicle height of 1,835mm, while its internal cabin height is set at 1,455mm. These provide the driver and the passengers the best view from inside. There are likewise extra mirrors at the rear doors, giving a helpful perspective while backing up.
If you're concerned about the tall height making the car a tipsy road handler, you can relax since the Pixis Mega uses a stiff suspension with stabilizers and large shock absorbers. The roof and other panels have also been reinforced, while extensive use of plastics on various parts ensures light weight and strength in crash situations. Finally, aerodynamic fins on the taillamps and door mirrors give the Pixis Mega stability at high speeds.
Being a city car, the Pixis Mega is powered by a tiny 660cc three-cylinder motor. Buyers can choose from either a turbo or a normally aspirated version, and can even opt for an AWD variant. The non-turbo motor can average 25.4km/L, according to Toyota. And thanks in part to this and to such technologies as Eco-Idle, all variants of the Pixis Mega are granted Japanese tax breaks for eco cars.
But the biggest aces up the Pixis Mega's funky sleeve are its cargo space and passenger-carrying capacity. The interior features large storage spaces in front of the passenger seat, behind the center console, and even underneath the cargo area at the rear. Despite its smallish size, this car features electric-sliding doors on either side for easy ingress and egress, even for the elderly and the differently abled.
Supplied by Daihatsu under an OEM agreement, the new Pixis Mega may be one of those Toyotas that will never make it to our market. Still, it's nice to know that the company has a fun and funky side--one that we hope to see more of in the years to come.