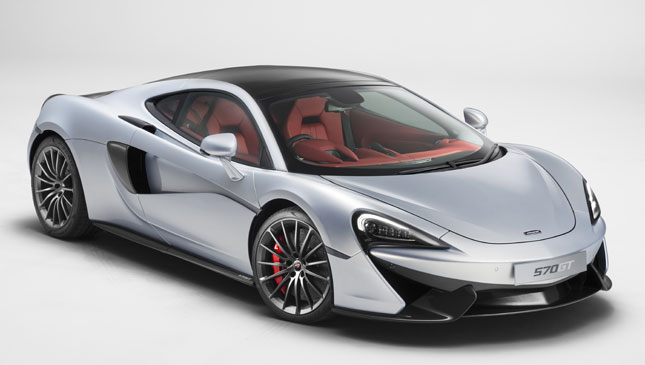 There once was a time when supercars were so focused on performance that they forgot about the comfort of the occupants. All that has changed as today's sports cars and hypercars don't drive like a bat out of hell, and they can be used every day and on long drives. One such example is the new McLaren 570GT. The GT, which naturally stands for Gran Turismo, promises one hell of a time behind the wheel. In fact, the third and newest member of the McLaren Sports Series is even marketed as "the most practical model launched by McLaren."
This press blurb is backed up by touches that make life easier for both driver and passenger. The dihedral doors, for instance, now open wider with a more upward arc. The roof itself is a panoramic glasshouse that extends all the way to the rear engine cover (also made of glass), to give occupants a more airy and less hemmed-in feeling inside. The driver and the passenger sit on electronically adjustable sports seats clad in luxurious leather. And the latest touchscreen interface is used to control infotainment and navigation, among other car features.
Speaking of that glass roof, it boasts Sound and Solar Film technology that absorbs both sunlight and sound to give those inside the cabin protection from the elements and noise pollution. Plus, luggage space is quite generous for a car of this caliber; with 150L up front and 220L behind the seats.
Under the gorgeous flowing lines of the 570GT is the mid-mounted 3.8-liter twin-turbo V8 that was first seen in the 570S. It develops 562hp and 600Nm, and is mated to a seven-speed automatic transmission driving the rear wheels. The driver can even choose between custom gear-change settings of Comfort (normal mode), Cylinder Cut (sport), and Inertia Push (track). And don't let the GT moniker put you off, as this beauty can do the 0-100kph run in just 3.4 seconds, and the 0-200kph sprint in 9.8 ticks. The car has a claimed top speed of 328kph. And yes, one can do this every day, if one so chooses.
ADVERTISEMENT - CONTINUE READING BELOW ↓
There lies the beauty of this new McLaren. It's driving fun with comfort and daily-driver capabilities rolled into one awesome-looking package. If this were our daily ride, we sure wouldn't mind going out all the time. Never mind the horrendous traffic.