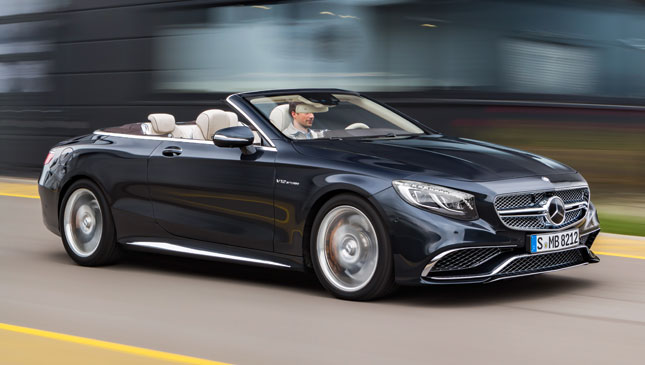 Is it a sports car or a grand tourer? These are the questions that come up when analyzing the Mercedes-AMG S65 Cabriolet. Not many associate the three-pointed star with performance, and this particular model has always been known to be more of an old man's toy. Yet there's something different here.
Under the hood of the stylish open-top four-seater throbs a robust 6.0-liter biturbo V12 that puts out 630hp and an equally stout 1,000Nm. Those earth-shaking figures are enough to propel the stately two-door S-Class to 100kph from rest in a scant 4.1 seconds. Top speed is electronically limited to 250kph, yet this can easily be upped to 300kph just by simply ticking the AMG Driver's Package option box.
If this isn't fast or thrilling enough, the 7G-Tronic AMG Speedshift Plus gearbox has three driving modes to play with. Choose between Controlled Efficiency, Sport and Manual. Each setting brings out the best in the car--whether comfortable cruising or outright driving fun.
Of course, most people who buy this car would do so because of its stunning timeless design. Diehard Merc fans and people old enough to remember are aware that the brand did have a classic S-Class cabrio back in the day. After a 44-year hiatus, it comes back to life in this latest iteration.
Continue reading below ↓
Recommended Videos
This S65 variant is differentiated from its "lesser" sibling by a generous helping of chrome trim on various parts of the exterior. A twin-blade grille greets onlookers, while the sides feature more intake vents for better breathing and that sporty look. The overall appearance is enhanced by the "V12 Biturbo" lettering. Finally, the whole package is completed by 265/40 R20 tires up front, and 285/35 R20 rubber at the rear.
Needless to say, the pièce de résistance of the car is the electro-hydraulic soft top. It can easily open and close at the push of a switch in a mere 17 seconds, up to speeds of 50kph. What's even cooler is that buyers can choose between black, beige, dark red and dark blue. Each shade is designed to suit one's taste and preference, as well as exude tasteful elegance.
And this is exactly what this car is all about. Sure, it may possess the driving characteristics and power befitting a supercar, and you may be tempted to drive it like you stole it. But that's not the point. This is a car to be enjoyed--with the wind in your hair, and with the bellow of the sonorous V12 motor piercing the country air as you blast effortlessly down your favorite road. This is a ride for those who appreciate the finer things in life, and who have the means to attain it.
If you're one of the lucky few, your ride will be available beginning in April 2016.