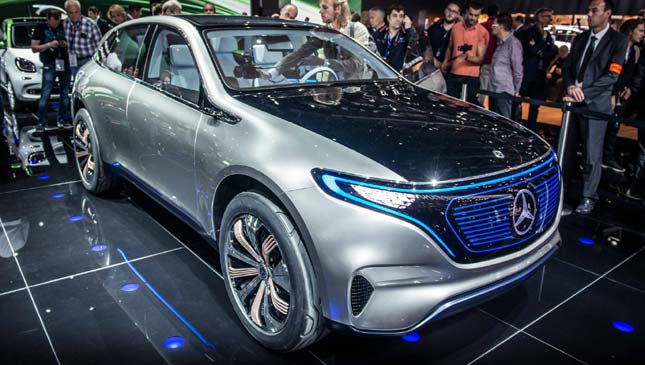 This is the Mercedes Generation EQ, an all-electric "close-to-production concept" that marks the launch of Mercedes' new EQ sub-brand.
EQ stands, says Merc, for 'Electric Intelligence', and will be the brand under which all future battery-operated Mercedes will be marketed. But it goes beyond cars. The EQ brand extends to a "comprehensive electric ecosystem of services, technologies and innovations," it says, like home energy storage and charging systems.
Mercedes' mustachioed CEO Dieter Zetsche revealed the EQ with a very deliberate targeting of the youth vote. Not just by streaming it to Facebook Live, but by admitting that electrical engineering was the new mechanical engineering, and that Mercedes would morph not just into a ride-sharing, connected-car mobility company, but one that supports a young one's lifestyle as well. We're talking social media connectivity, and having all the techno mods of your house (and smartphone) built into your car.
He also promised 10 new EQ all-electric cars by 2025—not including a fleet of new electric vans, trucks and buses—and said that so long as infrastructure improvement continues apace and there are no major financial crises, EQ is aimed at swallowing 15-25% of Mercedes sales.
The production version of this EQ concept will cost the same as a mid-specced GLC, we're told—about £40,000 (P2.51 million), basically. And, in a slightly cheeky swipe at Tesla, he noted Mercedes already has the production facilities in place. No waiting to build a giant factory for EQ; it's all systems go within three years, as soon as the car itself is finished.
ADVERTISEMENT - CONTINUE READING BELOW ↓
Merc's new generation of EQ electric cars will be based on a scalable architecture (made from steel, aluminum and carbon fiber) designed and developed specifically for "battery-electric models". Everything from the wheelbase to the track, number and size of the batteries can be altered to suit either SUVs like the Generation EQ, or sedans, coupes, cabriolets and others.
The Generation EQ has two electric motors, one each for the front and rear axles. Merc promises a little over 400hp and 700Nm for the "most powerful variant" of the Generation EQ, which should see this all-electric SUV to 100kph in less than five seconds. Total battery capacity is 70kWh, and the range is said to be a Tesla-beating 499km. It can be charged wirelessly or via cable.
Predictably, there is much tech to talk about. The Gen EQ knows how sharp a corner is and can adjust your speed and the car's dynamics accordingly. There's car-to-X technology, too; so the Gen X can communicate with other vehicles and the infrastructure that surrounds it.
The exterior is very coupe-cum-SUV, with its tapered CLS-style rear-end and 21-inch wheels. Inside it's all very concept-y. There are no buttons or knobs whatsoever bar the seat controls (even the window switches and door handles are touch sensitive), and a big 24-inch TFT that doubles as the driver's dial set and the main infotainment display. Integrated into the steering wheel spokes are two touch-sensitive OLED screens for flicking through menus. The exterior mirrors are cameras, and their images projected onto screens integrated into the doors.
ADVERTISEMENT - CONTINUE READING BELOW ↓
Recommended Videos
We bet they'll tone it down for production, but it looks promising, no?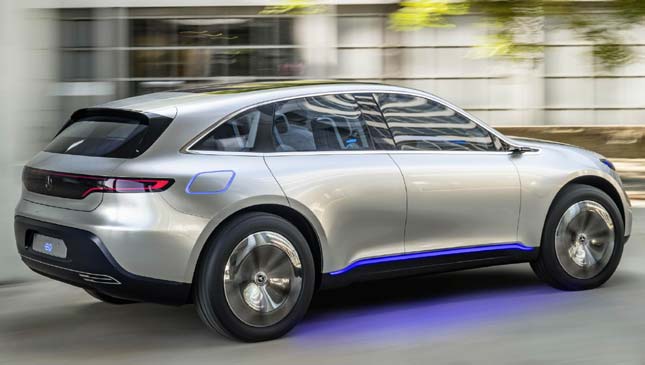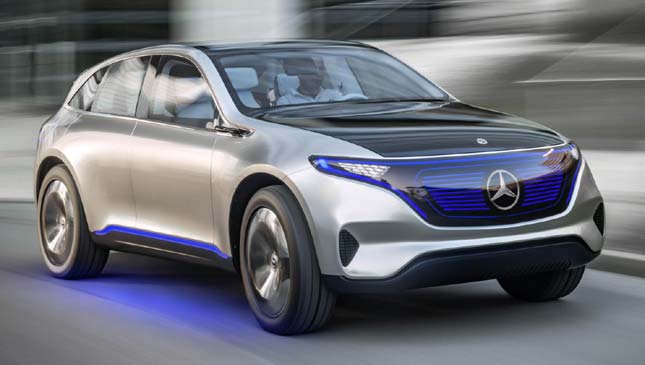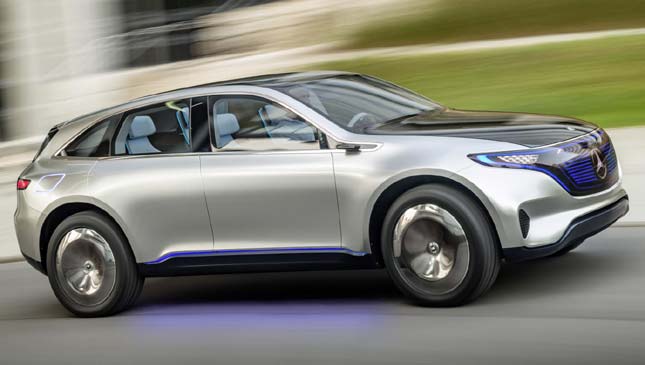 ADVERTISEMENT - CONTINUE READING BELOW ↓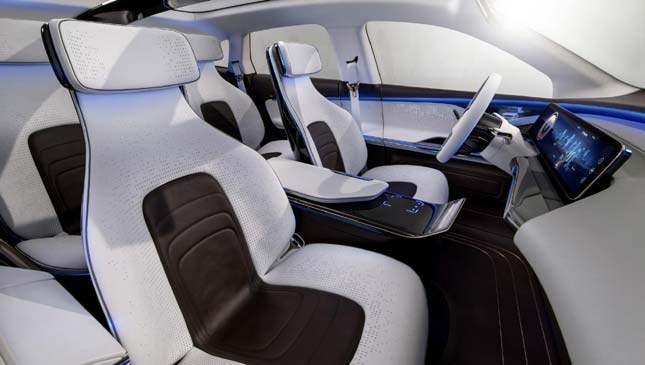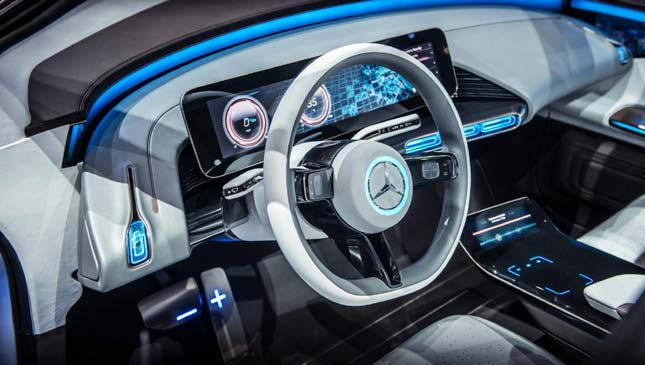 NOTE: This article first appeared on TopGear.com. Minor edits have been made.