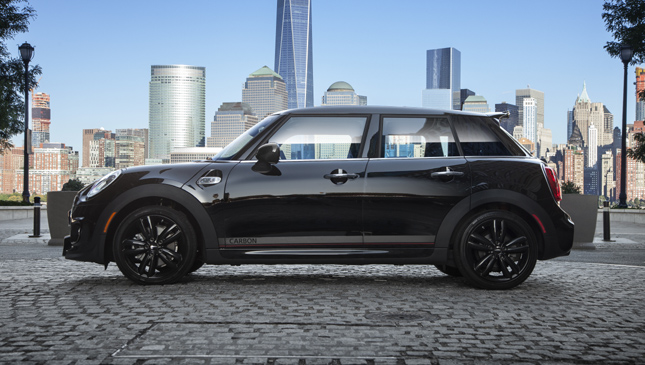 The Mini is not what it used to be. While most people might still remember it as Mr. Bean's car of choice, we think it's obvious that the British vehicle's modern version has left its predecessor's cutesy image well behind in the dust. Gone are the days of the humble, tiny Bean-mobile the moment the brand entered a new era of modernity. Not convinced? Take one look at the new Mini Cooper S Carbon Edition and you will be.
This Carbon Edition is without a doubt the meanest-looking Mini we've ever set our eyes upon. The carmaker took the already impressive Cooper S and made it even sweeter via a John Cooper Works tuning kit, a sick black finish and high-grade carbon-fiber accessories. Because nothing says badass like a pitch-black ride with a ton of carbon fiber.
To be specific, the air-intake, mirror caps and tailpipe finishers are all carbon-fiber. Put those together with the black-line headlight and taillight rings, blackband front spoiler, matte-black rear spoiler add-ons, and 17-inch JCW black wheels, and you've got the makings of one cool-looking automobile.
If its looks aren't enough to make you want this baby, maybe its performance will. The John Cooper Works tuning kit increases this Mini's output from 189hp to 208hp. The car also features a track mode that emphasizes engine sound, as well as a handheld Bluetooth remote-controlled exhaust. The Carbon Edition manual variant goes for $36,250 (P1,715,000), while the AT counterpart carries a $37,750 (P1,785,000) price tag.
Continue reading below ↓
Recommended Videos
As much as we like old-school rides, we have to admit that this iteration of the Mini more than impresses. To say it looks cool is a glaring understatement. Seeing the Carbon Edition in the metal would leave even Rowan Atkinson speechless.