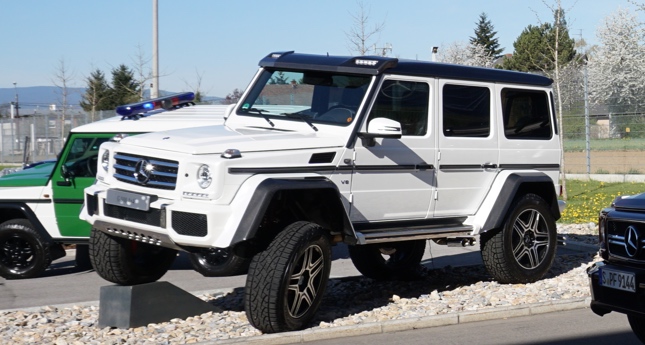 Here in Europe, we became well-acquainted with the Mercedes-Benz G-Class line of vehicles. It's a dream come true to see, feel and drive this iconic 4x4 model. We even had a brief fling with the monster G63 AMG 6X6.
But as awesome as that latter SUV is, when the lust settles, that's when reality sets in. Aside from the ludicrous price tag, moving it around and parking it is like owning a coaster. Thank goodness there's a more, er, practical alternative--especially since the 6x6 is already sold out.
Early this year, the G500 4x4² was announced. Simply put, it's a G63 AMG 6x6 with two fewer wheels. It loses some of the beastly presence, but retains all of the capability and most of the power. You might notice that the G500 4x4² doesn't wear the AMG badge, but its 4.0-liter twin-turbo V8 engine can still generate 422hp of power and 610Nm of torque.
Among the highlights are still the portal axles that give the G500 4x4² its unbeatable off-road prowess. We had a taste of this special G-Class, and we can say that it's more than eager to tackle whatever challenges are out there. The only remaining problem is that this is a showcase vehicle, not a production unit yet.
Continue reading below ↓
Recommended Videos
Since we were in Graz, Austria--birthplace of the G-Class--we asked around if and when the G500 4x4² is arriving. Most of the people we spoke to said it was still being studied, and customer reaction was being gauged. Based on the reactions of the customers who were there with us--most of whom were already asking for bank details from the Mercedes-Benz people on how to reserve a G500 4x4²--it seems as if the "people" have spoken. And the Germans from Mercedes seemed pleased with the customer feedback, the kind of pleasure that leads to green-lighting a new project.
Perhaps a more significant clue can be gleaned from a person we asked about this topic. We were trying to confirm whether no more G63 AMG 6x6s would be made, and the person concurred. But when we did a quick follow-up query regarding the G500 4x4², our source said it would be produced continuously. Whether this was a subliminal revelation or a language barrier wrinkle, we're taking it to mean there's good news ahead for G-Class owners who really want an extreme off-roader.
Based on what we rode, the G500 4x4² feels like a near-finished product. It didn't seem like a test mule or a design study at all. It could do what production G-Class SUVs are capable of, and much more.
Interested buyers will have to pony up though, because having a G badge in your garage is never cheap. What we can guarantee is that the G500 4x4² is worth the wait, and whatever price tag it ends up with is easily justifiable.
Photos by Dinzo Tabamo