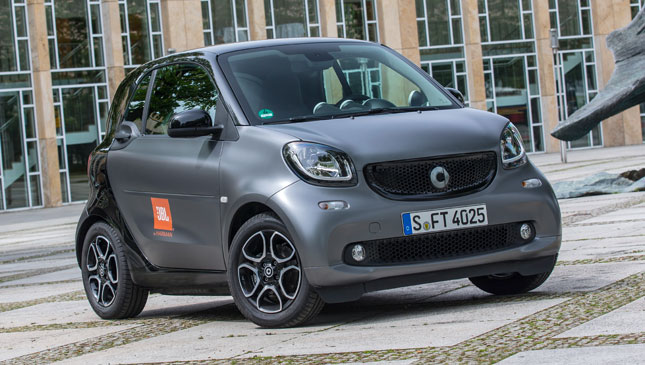 Many car enthusiasts nowadays like to "pimp their ride" by changing the wheels, tweaking the engine, and modifying the look via bodykit. But one of the most modified part of any car is the audio system. In fact, never mind that the car is stock on the outside--just as long as you've got a kick-ass audio setup, you've got it made.
There are many ways to pump up your car's sound system. You can start off by changing the head unit and adding a few high-fidelity speakers. Or you can be a bit more creative and install a few amplifiers and sound processors, and even add video screens to give your car more oomph both on the audio and visuals fronts. But if you're Smart and JBL, you do so by going all the way. This is what these two big brands did via the Smart Forgigs.
What is the Forgigs, you ask? Well, it is essentially a Smart Fortwo city car transformed into a rolling concert hall. Imagine packing some 16 loudspeakers and a couple of subwoofers into a small city car like the Fortwo, and you'll have an idea of what the excitement is all about.
First, you've got a total of four JBL GTO 609 C speaker sets, each made up of two tweeters and two midrange speakers. To complete the sound experience, there are two 30cm subwoofers that provide that rich bass. Smart and JBL mounted the midrange speakers into each door, while the tweeters are cleverly integrated into the dashboard. The subwoofers, meanwhile, are placed in the Fortwo's luggage area (where most subs reside), and likewise have a pair of midrange speakers and tweeters on either side.
All these loudspeakers are driven by three JBL GTO 804 EZ amps that power the numerous tweeters and midrange speakers scattered throughout the car. Two more JBL GTO 751 EZ amplifiers give extra juice to the subwoofers. As if this setup isn't complicated enough, you might be blinded by the 100m of cable as well as 10sqm of insulation material used to connect the whole thing together.
Of course, all this hardware won't mean squat if you don't have a good enough sound source backing it up. This is where Italian sound specialist Mosconi enters the picture. They equipped the mini-concert hall on wheels with an eight-channel digital sound processor that can also process files streamed via Bluetooth or A2DP coming from smartphones, tablets and other mobile devices.
The 5,720W sound system of the Forgigs is likewise backed up by exterior and interior ambient lighting, which can be controlled to go with the beat for that true sound-and-light experience. And it will come in handy when the Forgigs goes on tour in Europe this summer.
While the Smart Forgigs is just a concept, it does give an idea of how a small car can be designed to pack a whopping amount of sound and be turned into a mini concert hall. Plus, Smart and JBL can customize the Smart lineup to give cars like the Fortwo and the Forfour more excitement via a roaring sound setup. And who knows? This might just give owners of small cars like the Toyota Wigo and the Mitsubishi Mirage an idea of how to modify their rides and turn them into rolling sound stages.