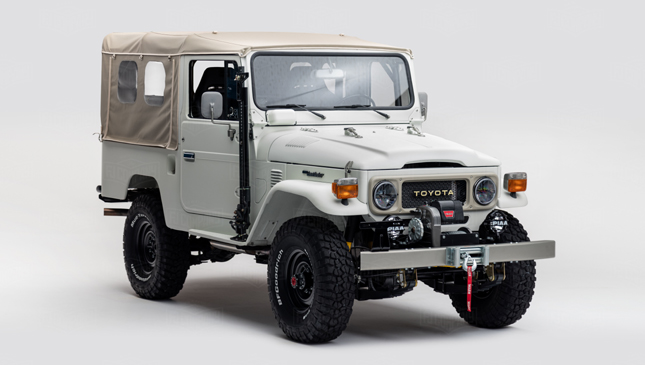 For the most part, the annual Specialty Equipment Marketing Association (SEMA) show isn't known for being subtle. Every year, thousands of car enthusiasts and aftermarket nuts flock to Las Vegas, Nevada, to check out some of the most mind-boggling rides and accessories the industry has to offer.
At SEMA, if it's an idea, then it can ride on four wheels—no matter how absurd it may be. This is why we're really digging this 1982 FJ43 restoration job by the FJ Company dubbed "The Aspen Project". The final product is a clean, modernized, masterfully rebuilt 4x4 monster.
Continue reading below ↓
Recommended Videos
The project began as a full-frame restoration and a few updates to the vehicle's power steering, brakes and AC system—pretty straightforward stuff. It's underneath the hood where, as the company puts it, "the party really began". Powering this beauty is a 4.5-liter Toyota 1FZ engine capable of 210hp with Haltech electronic fuel injection mated to a five-speed manual transmission.
Of course, when it comes to the FJ, there are just some things you'd rather not mess with. The company opted to retain the classic front grille and fenders, while also equipping it with several fitting accessories and updates such as PIAA utility and fog lights, a custom soft top, a WARN 8274 winch and OEM Toyota gunmetal gray wheels, among others. It flaunts a pretty matte white paint finish, too.
The interior is just as neat, with Recaro Speed seats with marine-grade upholstery, a premium sound system, custom dashboard and switches, a digital instrument cluster, LED cabin lighting, and a retro steering wheel. A Rhino Linings bedliner has also been installed for added ruggedness.
All in all, The Aspen Project is a fantastic restyling of an off-roading icon—a perfect mashup of old and new. The guys at the FJ Company definitely got this right and we can't wait for what they'll be cooking up at next year's SEMA.