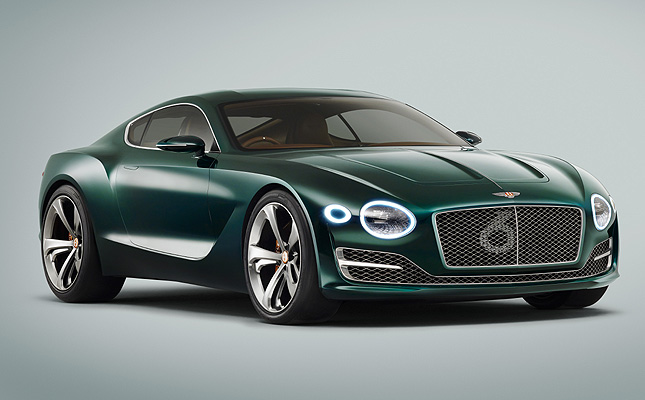 Bentley is giving us its "future direction of luxury and performance" with the EXP 10 Speed 6 concept coupe, which it put on display at the Geneva International Motor Show.
The EXP 10 Speed 6 carries classic Bentley styling cues that have been given modern interpretation, like the brand's signature matrix grille, four round headlights, and a deeper, richer version of the British Racing Green paint. Even the British carmaker's renowned quilted leather pattern for its interior inspired the design on the headlamps. Three-dimension metal printing technology was also used to create with detailed precision the car's grille mesh, exhausts, door handles, and side vents.
To convey the EXP 10 Speed 6's athletic nature, it sports a long hood, low grille and a short front overhang, while the rear is wide, and the greenhouse design is capped by a deeply-cut C-pillar.
A narrow center console that houses a 12-inch curved touch screen separates the two quilted sports seats. The quilted design continues with the interior door panel that's milled from solid straight-grain cherry wood, with each diamond finished with a copper center. The controls on the center console are made with steel and copper, and feature Bentley's traditional knurled surfaces.
A floating 'B' button that's integrated into the non-symmetrical gear lever is used to start the EXP 10 Speed 6, while a mechanical rev counter and a digital display "combine to provide the perfect balance of modern driver information and analog beauty." The rear interior space is divided into two compartments that house a specifically designed four-piece luggage set.
Continue reading below ↓
Recommended Videos
"The EXP 10 Speed 6 is one vision for Bentley's future--a powerful, exquisite and individual concept," said Bentley Motors chairman and chief executive Wolfgang Durheimer. "It could be a future model line, alongside the Continental GT and redefining the pinnacle of another market sector. And the styling could influence the expansion of the Bentley family. This is not just a new sports car concept, but the potential Bentley sports car--a bold vision for a brand with a bold future."
Like it?