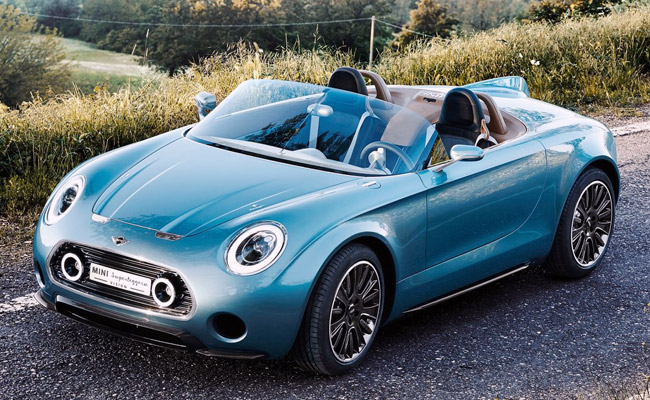 What if Mini built an "Italian car"? A superleggera model, for instance. The term is Italian for "super light." This is the result: the Mini Superleggera Vision concept. The British brand displayed this at the 2014 Concorso d'Eleganza Villa d'Este held last weekend in Como, Italy.
"The Mini Superleggera Vision elegantly perpetuates what the Classic Mini started 55 years ago: reduction to the essentials," said Mini design head Anders Warming. "Its energetic, minimalistic design embodies the dynamic essence of an automobile. At the same time, it creates unique emotional beauty in combining the past and the future of the automotive industry--traditional coachwork craftsmanship and modern design styling. It was a pleasure for me to design a concept like this."
"Touring Superleggera and Mini have much in common: Both companies attach great importance to their history, and this is something that defines their outward appearance to this day," added BMW Group design senior vice president Adrian van Hooydonk. "What is more, they both emphasize iconic design and distinctive solutions. These elements are merged in the Mini Superleggera Vision to create an elegant automobile that interprets a British roadster under the influence of Italian style and hand craftsmanship."
The main features of the car's exterior design include a stretched hood, a long wheelbase and short overhangs. The wheels are set widely on the body, while the passenger cell is slightly set back. Meanwhile, the front features the traditional Mini design icons: two circular headlights and a hexagonal grille. Classic sports-car elements include a wide track and distinctively curved wheel arches.
Continue reading below ↓
Recommended Videos
The classic-looking radiator grille is "a discreet indication of the car's electric motor." It is complemented by two fog lights, circular air inlets, and a flat front splitter made of carbon fiber.
Viewed from the side, there is the characteristic Touring line, surrounded by tight, seamless surfaces, and tracing "a precise, vibrant movement from the front wheels through to the rear." According to Mini, "this reflects the great craftsmanship and longstanding experience of Touring Superleggera in the area of body construction: Ever since it was founded, the company has stood for fine, light sports-car bodies. To this day, Touring Superleggera shapes large aluminium sheets by hand using the most performing frame structures. The hand-crafted style of construction gives the Mini Superleggera Vision an aesthetic form that would be virtually impossible to achieve by machine manufacture."
Mini explains that "there are very few gaps in the body since it is constructed from large sheets of metal. The specially developed exterior paint finish of Como Blue, almost liquid in effect, stands for both classic and modern style. The elaborate rims and the elegant exterior mirrors add exclusive accentuations at the side. And echoing the front section, the discreet CFRP sills underscore the sporty character of the Mini Superleggera Vision."
A striking fin and a pair of Union Jack taillights at the back round out the exterior design of the car.