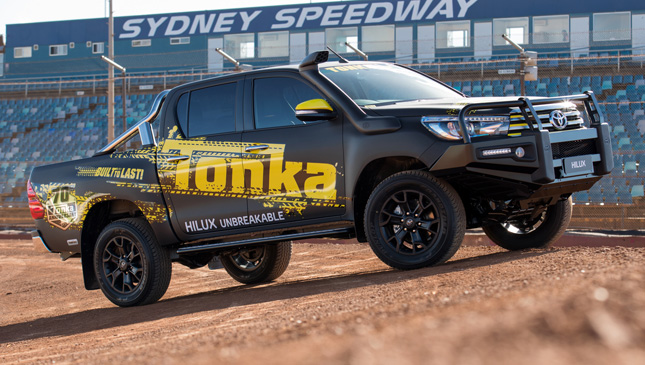 Toyota and Tonka have done it again. The Japanese carmaker and the world-renowned toy company have joined forces to produce another one-of-a-kind off-roader in the form of an "unbreakable" customized Hilux pickup.
The vehicle—a special-purpose Toyota Hilux double cab—made its debut at the Valvoline Raceway in Granville, Australia. It comes equipped with a sports and bull bar, side steps, a protective tub liner, and sick-looking 18-inch black alloys. Sweet.
ADVERTISEMENT - CONTINUE READING BELOW ↓
Unlike the two companies' previous creation showcased at last year's SEMA Show in Las Vegas, this one is essentially just a top-of-the-line turbodiesel 4x4 covered in genuine Toyota accessories and wrapped in Tonka livery. Still pretty cool though.
Toyota Australia executive director of sales and marketing Tony Cramb says the collaboration brings together two companies known for being tough. "This is a natural fit for our brand: Tonka with its enviable reputation for rugged trucks, and the Hilux, which has been a feature of Australia's worksites, rural roads and the outback for the past 45 years."
Next year is going to be a pretty big deal for both brands. There will be a celebration of the Toyota Motor Corporation's 80th founding anniversary, as well as Tonka's 70th anniversary. Both milestones will be celebrated in 2017.
We seriously hope the Toyota and Tonka have something special in the works for this year's SEMA show. It might be a little difficult topping last year's effort, but we've seen how both companies have the ingenuity and the creativity to make it happen.
ADVERTISEMENT - CONTINUE READING BELOW ↓
Recommended Videos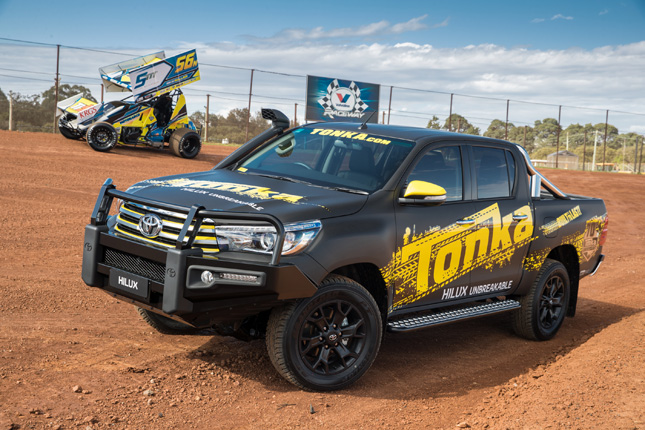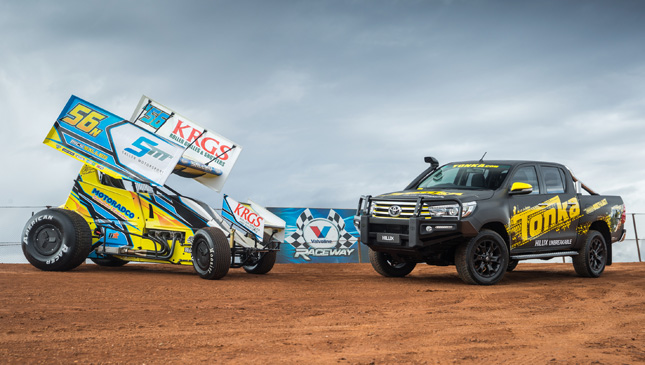 ADVERTISEMENT - CONTINUE READING BELOW ↓