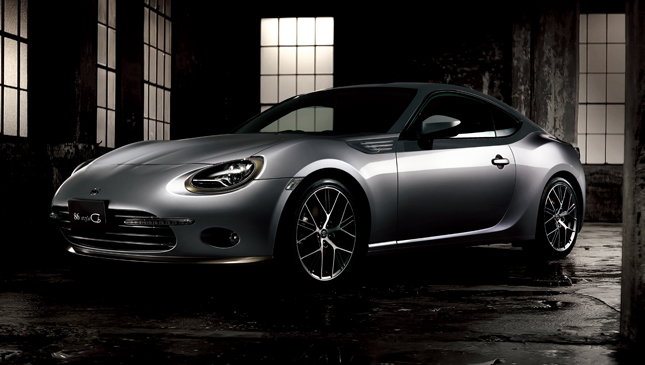 The Toyota 86 has always been promoted as a driver's car, with its balanced handling and back-to-basics approach to driving. That marketing strategy has--pardon the implied sexism--probably alienated members of the fairer sex who want a classier and friendlier-looking coupe.
To address the female market, Toyota will sell a special variant of the 86 in Japan, called the 86 Style Cb. The "Cb" apparently means, er, Cool Beauty. At a glance, the difference in the front end is obvious. The headlights and the grille are rounder, giving this 86 a softer look. There are also dedicated LED turn signals in front, as well as LEDs on the fins in front of the side mirrors. The rear remains largely unchanged, save for an optional spoiler.
Cabin improvements include a leather steering wheel with a Cb badge, ebony woodgrain panels on the dashboard and white analog gauges with white needles. The explanation for the latter is this: "The analog instrument cluster exudes a warmth that seems appropriate in a coupe designed for drivers with mature and discerning tastes." Which is like saying men have immature tastes. And which is true, by the way.
Lastly, there are now options for a two-tone paint scheme. Ladies can have their 86 in variations of Nuance Beige and Demitasse Brown.
Continue reading below ↓
Recommended Videos
The drivetrain is unchanged, so it has the same 2.0-liter boxer engine. But there are slight tweaks across the 86 line, not just the style Cb. The electric power steering has been upgraded for a lighter and more natural steering feel. The body rigidity and the ride comfort have also been improved.
There's a noticeable price jump from the stock 86 to the Style Cb. From ¥2,488,909 (P925,860) for a six-speed manual, the cost jumps to ¥4,180,582 (P1,555,280) for the Style Cb version.
The 86 is almost three years old at this point, so a change is always welcome. We didn't expect a refresh like this, but we think this is the kind of look that grows on you. Let us know what your thoughts are.