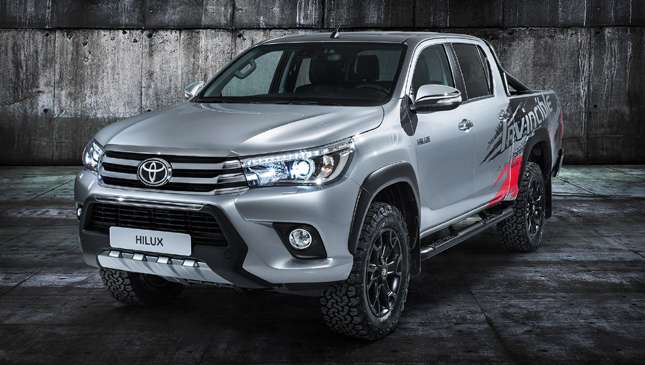 You've seen it plying unforgiving deserts, mud-filled rainforests, and bullet-torn war zones (sometimes under not-so-ideal circumstances). As one of the world's best-selling pickups, the Toyota Hilux has seen its fair share of action in just about every field and situation there is.
So yeah, the Hilux has come a pretty long way since its Japanese introduction as a light-duty truck model back in 1968. Over the years, its reputation has expanded just as steadily as its wheelbase. And a nameplate derived from the words 'high' and 'luxurious' eventually became known as one of the most rugged and durable vehicles on the planet.
Continue reading below ↓
Recommended Videos
"Wait, hold up—1968?" Yes sir, the Hilux has been around for almost 50 years, and sold over 18 million units over 180 markets across the globe within that time.
Understandably, Toyota's treating the nameplate's 50th birthday as a pretty big deal. In anticipation of the Hilux's golden anniversary, the carmaker unveiled the Hilux "Invincible 50" show car at the 2017 Frankfurt Motor Show. It's a simple, albeit much-deserved gesture in appreciation of the Japanese workhorse.
Basically, the Invincible 50 is a double cab Hilux fitted with a doozy of bespoke accessories meant to highlight its versatility and reliability. You've got matte black side bars, black wheel arch moldings, matching custom 18-inch alloys equipped with all-terrain BF Goodrich tires, a plastic bedliner, a large toolbox, and a few special niceties inside.
Like we said, simple. Besides, the Hilux has never been about flash—it's always been a vehicle focused on getting stuff done. The model turns 50 in March next year, so we can probably look forward to more from Toyota then.
What are your special memories with the Hilux? Care to share them with us in the comments section?