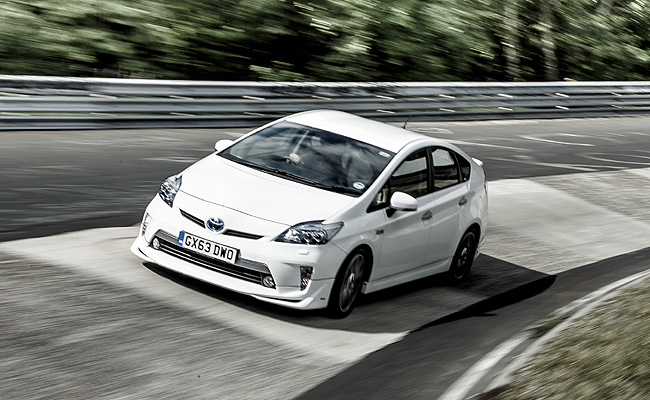 You wouldn't normally associate Nurburgring with the Toyota Prius, but the Japanese carmaker has done just that by setting what it calls a "first-of-a-kind" record on the legendary Nordschleife circuit.
Using a Prius Plug-in TRD hybrid driven at a minimum average speed of 60kph over the nearly 21km track, Toyota was able to record a fuel consumption of 698mpg (296.75km/L)--a 564mpg-difference (239.78km/L) over the car's official combined cycle figure of 134mpg (56.97km/L). The Prius also reportedly achieved the figure while running during a public session instead of doing it on a closed track for its exclusive use. At the end of its run, the Prius had a lap time of 20 minutes and 59 seconds.
Toyota also claims that the entire time the Prius was on track, the only time its 1.8-liter Atkinson cycle gasoline engine kicked in was on one long climb, "and only for a short while."
"Without that, we think we might have even achieved the ultimate 999.9mpg (425.10km/L) readout--the highest figure the display can show," said Joe Clifford, the motoring journalist behind the record-setting run.
Watch the video of the Prius's run below.
If you're viewing this on a mobile device and can't see the video, please click here.