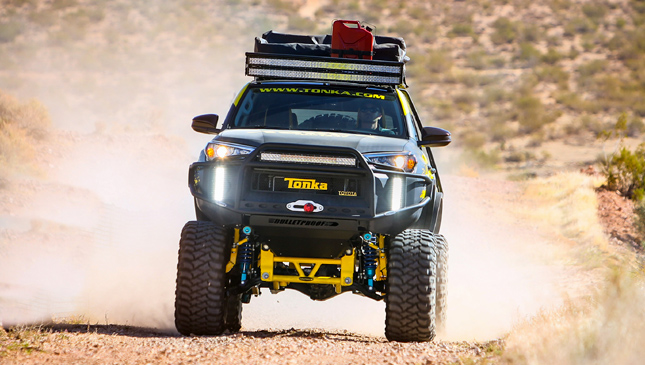 Yesterday, we wrote a story on Kia's Mud Bogger, and called it one of the the crazier vehicles currently on display at the Specialty Equipment Market Association (SEMA) Show in Las Vegas. Well, you can forget about that particular car because the Toyota Tonka 4Runner tops that from whichever way you look at it.
The Tonka 4Runner is what happens when a Japanese carmaker and a toy car company have a little too much time on their hands. Toyota teamed up with Tonka manufacturer Funrise Toy Corporation to bring this beast of a vehicle to the SEMA show. And from the looks of it, this truck towers over the rest of the competition, both literally and figuratively.
It runs on the same 4.0-liter V6 engine as the usual production 4Runner, but everything else is custom. A 10-inch bulletproof suspension lift kit and a ridiculous set of 20-inch Ultra Motorsports Type 250 Colossus wheels endow this truck with enough height to put most tall vehicles to shame, while a bold matte-black paint finish and Tonka graphics provide it with some much-appreciated novelty.
In the dark, you can see this baby from miles away thanks to the Rigid industries LED lights installed over each massive tire. And to top everything off, the Tonka 4Runner's roof packs a pop-up tent that can be set up quickly with ease. Take our money already!
This isn't the first time the two companies have joined forces. The Tonka Tundra fire truck was the first collaboration between the two. Hopefully, they've got more ideas lined up for next year's SEMA Show. What toy car would you like to see brought to life?
ADVERTISEMENT - CONTINUE READING BELOW ↓