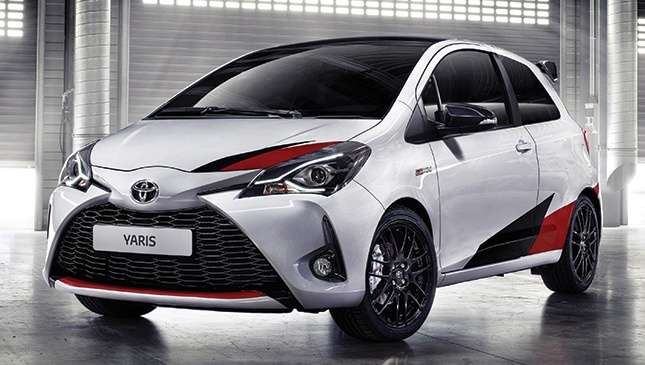 It's fast, packs over 200hp, underwent extensive testing at the Nurburgring and...it's a Toyota Yaris? Yes, you better believe it. The Japanese carmaker has transformed its lovable, mild-mannered city car into a full-fledged high-performance hot hatch, and it's currently on display at the Geneva International Motor Show.
It's called the Yaris GRMN and no, it's not short for gremlin despite the car's small size and feisty, motorsport-inspired nature. The GR stands for Gazoo Racing—Toyota's official factory team for the WRC, which recently took to the competition with an even more extreme version of the Yaris—and the MN for, well, we're not entirely certain. Reportedly, it stands for either "meister" or "master" of the Nurburgring.
Continue reading below ↓
Recommended Videos
At first glance, it's apparent that this isn't just another regular city-slicking Yaris. The GRMN gets a unique paint finish featuring flash detailing on the hood and sills reminiscent of rally car livery. The car is only available in three-door form, features sportier bumpers, a black wing-type spoiler, a diffuser out back, and runs on 17-inch multi-spoke alloy wheels.
The car's sportiness extends to its cabin, too. Inside the dark, minimalist interior you'll find Toyota Boshoku-designed sports seats, a leather-wrapped steering wheel similar to that found in the 86, aluminum sports pedals, and a center line mark to help its driver position the vehicle. What really sets the GRMN apart though is what's under the hood.
Powering the Yaris GRMN is a 1.8-liter supercharged engine capable of 210hp, which Toyota says "promises speed, poise and rich driver rewards." The best part? Driving the front wheels will be a six-speed manual gearbox. Rewarding indeed. Other goodies include a reinforced chassis, additional bracing, performance brakes and a Gazoo Racing-tuned suspension system.
While the Yaris GRMN is a production model, don't wet you pants just yet. As of now, the company says it will be marketed in Europe from early 2018. While GRMN models have previously been sold in Japan, seeing the GRMN here on our roads might be a long shot. We hope we're wrong though.