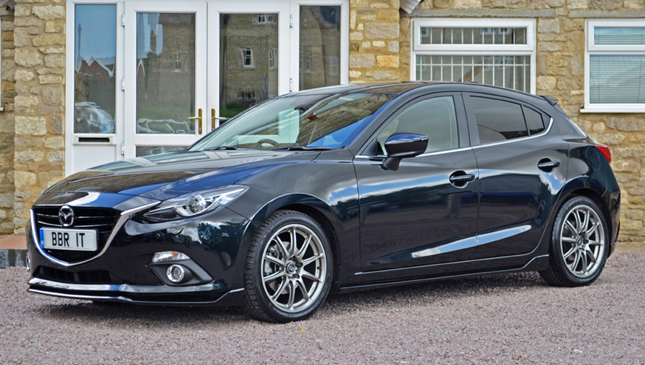 The Mazda 3 is arguably one of the most bang-for-your-buck compact cars you can get today. The mix of sharp handling, ride comfort and utmost driving fun can rival any performance sedan out there. But as any enthusiast knows, eking out just a bit more power from the Skyactiv-G 2.0-liter motor wouldn't hurt, right?
In the UK, Mazda offers the 2.0-liter four-cylinder direct-injection mill that produces anywhere from a low of 118hp to a high of 163hp. Thanks to an intensive 11-month research program, tuning company BBR has found a way to release the powerplant's full potential by removing any electronic and mechanical restrictions.
The BBR Super 170 upgrade, for instance, uses the Starchip ECU package with revised ignition and fuel calibration mapping. This helps optimize response across a wide spread of the rev range--from as low as 2,000rpm all the way to the 7,000rpm redline. This results in a noticeable gain in output: The 118hp variant, for example, can now put out 136hp as recorded by BBR's chassis dynamometer. It can peak at a claimed 169.7hp at a lofty 6,300rpm. Apart from this, torque has increased by some 15Nm to 220Nm.
ADVERTISEMENT - CONTINUE READING BELOW ↓
If this is a tad too modest for you, you can opt for the Super 185 kit. Thanks to the use of a stainless-steel exhaust manifold that employs a 4-2-1 configuration, this seemingly simple fix maximizes the engine's torque throughout the power band. BBR engineers also learned that the stock airbox can restrict airflow, and replaced this with a K&N cold air intake system. This is good for a marginal 3-4hp.
Finally, a modified version of the Starchip ECU is used, giving the 2.0-liter lump a robust 185hp at 6,300rpm, and an equally healthy 234Nm of torque at 4,000rpm. In fact, the motor is now more flexible, with power on tap from 3,250rpm, and 150Nm of the aforementioned torque coming in anywhere from 3,000rpm to 6,500rpm.
If you're looking to further enhance your Mazda upgrade experience, you can go for the BBR Sports Exhaust pack. This includes a 2.5-inch center pipe, a high-flow catalytic converter, and a 3.5-inch silencer with BBR tailpipes. This promises an even throatier note that's music to the ears. Complementing the engine tuning job are BBR lowering sprints and Koni adjustable dampers that give the car a meaner stance.
ADVERTISEMENT - CONTINUE READING BELOW ↓
Recommended Videos
The BBR upgrades are available for the Mazda 3 2.0-liter, as well as other Mazda models fitted with the same mill. Here's hoping Berjaya Auto Philippines, exclusive Mazda distributor in our market, offers this here. Then we can really go zoom zoom.