The Americans among you will know about the Volkswagen Atlas. Presented at last week's New York International Auto Show, the Atlas Cross Sport and Atlas Tanoak (no, we don't know how to pronounce it either) "illustrate how the Atlas range could be expanded into a model family."
The former is a "near-production" five-seat SUV with a "coupé-like rear body design" and hybrid drivetrain. The latter is what Americans would call a "midsize" pickup truck, but what the rest of the world might call a "freaking massive" pickup. At 2,030mm wide, it's bulkier than a Bentley Bentayga. No joke.
The production version of the Cross will be built alongside the regular Atlas and US-spec Passat at VW's plant in Tennessee. In its press release VW talks about two different versions—both hybrids, one conventional and one plug-in—but it's not clear whether these are confirmed for production. Both use a 276hp 3.6-liter V6 and two electric motors, but the batteries are bigger in the PHEV, giving more power (355hp plays 310hp) and more EV range (42km versus 2km).
The Tanoak, which uses the same V6 engine minus the batteries and electric motors, hasn't been confirmed for production. Named for a tree native to the Pacific Coast that can grow up to 45m tall, its bed was designed to "transport bikes, boards and smaller boats," and its cabin can seat five.
Continue reading below ↓
Recommended Videos
What do we reckon? Should VW a) make the pickup and b) bring the Atlas in all its forms to other markets? Answers on a postcard.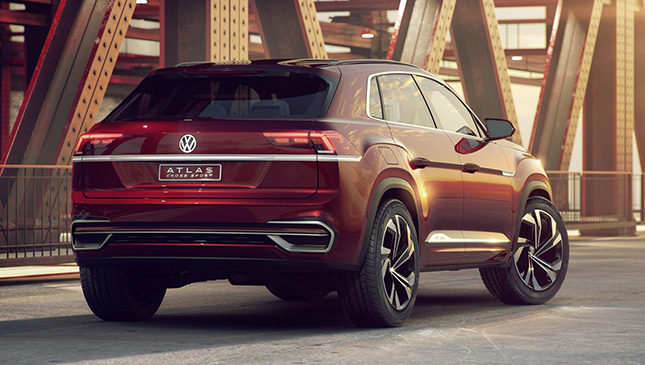 NOTE: This article first appeared on TopGear.com. Minor edits have been made.