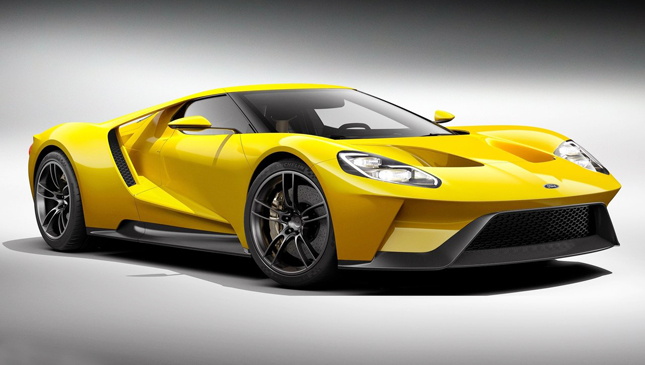 If you ask me, not everyone should be allowed to purchase a special car, no matter how loaded the person is. For instance, I honestly think corrupt Filipino politicians should be forever barred from buying a Ferrari or a Lamborghini. It's flat-out bad not only for the motoring community but more so for humanity whenever an undeserving prick gets to drive a desirable supercar home. It's just so wrong on all imaginable levels.
This can't be any truer than with a superlative automobile like the second-generation Ford GT, which should never have the same zip code as Justin Bieber's residence. When you realize that the American carmaker will only produce 250 units per year, we have to ensure that only the truly qualified will get their hands on this beautiful beast.
Thankfully, Ford Performance has devised a way to screen potential GT owners, and that's by setting up a website dedicated to receiving applications from interested buyers. Yep, you need to file an application online just to even be considered as a possible GT buyer. That website is FordGT.com.
ADVERTISEMENT - CONTINUE READING BELOW ↓
Obviously, Justin Bieber has a laptop and Internet connection, so no one can stop him from submitting an application. I'm just hoping the guys at Ford Performance do not listen to "Baby," "Sorry" and other songs that should never be allowed to permeate the GT's cabin. The only sound the lucky bastard behind the wheel should be hearing is the one coming from the car's 3.5-liter twin-turbo V6 EcoBoost engine.
Now, assuming you'll be picked to be among a total of 500 lucky bastards--Ford is accepting online applications from candidates for the first 500 units--you'll be notified by an appointed local dealership. This dealer will be the one to assist you with your purchase and, I assume, will be the one to service the car. Ford wants the GT ownership experience to be so special and so unique that it has even set up what it calls the Ford GT Concierge Service. With a rumored price of more than $400,000, the GT had better come with Olivia Munn in the passenger seat.
ADVERTISEMENT - CONTINUE READING BELOW ↓
Recommended Videos
When you go to the website to apply, you will find a product configurator, which will let you spec your GT and choose its color. Even if you're not really buying because, well, you don't even have $400 in your bank account, I suggest you still check out the website and waste your time in the office playing with the configurator. After all, it won't cost you a cent to entertain yourself with the online facility.
If--by some weird twist of fate--you get approved but you don't have the means to purchase a unit, find some rich dude and sell him the right. This may be illegal, but you live in the Philippines, where plunder can get you elected as President.
Then again, if you do have the obscene wealth necessary to park a GT in your garage, you're probably wondering why Ford has to make life difficult for salivating buyers like you. Here's the company's answer, which I found on the website while wasting time at work: "Ford anticipates that there will be more potential purchasers than there are available GTs. Therefore, through the program, Ford will select individuals who will be invited to discuss with Ford sellers the potential purchase of a GT on terms to be agreed to by the seller and the purchaser."
ADVERTISEMENT - CONTINUE READING BELOW ↓
If you have questions about your application, you may send them to this e-mail address: applicant@fordgtapplication.com.
I hope you won't take this rare opportunity for granted. Just so you know, of all the markets on this planet, only 19 countries have been granted the chance to field applicants, and the Philippines happens to be one of them. The others are Austria, Belgium, Canada, China, France, Germany, Ireland, Italy, Macau, the Netherlands, Saudi Arabia, Spain, Sweden, Switzerland, Turkey, the UAE, the UK and the US. Not even Japan is included. I don't know what kind of strings the executives of Ford Philippines had to pull to make this possible.
If, like me, you're dying to own a Ford GT, and if, unlike me, you have so much money to burn, you have until May 24, 2016, to submit your application. Let me know if you get picked so I can feel sorrier for myself.
ADVERTISEMENT - CONTINUE READING BELOW ↓