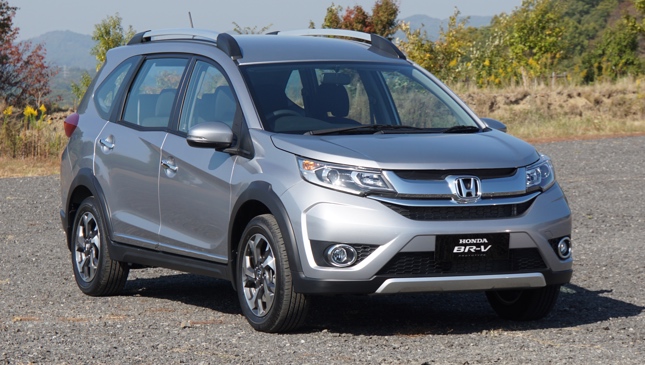 Suffice it to say that the Honda BR-V is one model we didn't see coming. Introduced at the Indonesia International Auto Show this year, the BR-V is a seven-seat crossover that's essentially a taller Mobilio.
We got to drive the new Honda during one of the numerous driving activities the Japanese carmaker arranged for us here in Japan. This was done at one of the safety tracks inside the Twin Ring Motegi complex.
Under the afternoon sun, the BR-V looked better than its Mobilio sibling, although there was a strong family resemblance. The BR-V has the same door creases and wheels, but with a more restrained face and a more handsome rear end. The result is a look that's better balanced than the Mobilio. It's also noticeably higher, with black body cladding to suggest a more rugged stance.
Similarities are also apparent on the inside. The gauges and the steering wheel look like the ones found on the Mobilio, although the latter is expected. But the cabin feels and looks a little more plush. The dashboard has a few beveled edges that lend classiness to the BR-V's cockpit. The more refined interior is impressive considering Honda labeled the units we drove as "prototypes."
On the short track, the BR-V drove like we expected (again, like a taller Mobilio). The acceleration from the 120hp 1.5-liter four-cylinder engine was acceptable, and the CVT did a smooth job of not being jerky at all. The circular track revealed the BR-V's tendency to lean a bit in corners, but it still felt composed. In fact, the BR-V's ride seemed a little more sorted out than its cousin's. Maybe Honda used the time since the Mobilio's launch to tweak the platform. Just halfway through the quick drive, we already felt comfortable trying to explore the BR-V's limits. There just wasn't much to explore, unfortunately.
Of course, one of the things we tried to find out was if this new crossover is coming to our market. We got vague replies and the usual PR terms like "studying the market," "viability," and "leave some snacks for the other Asian journalists, Dinzo." But based on the BR-V's potential and Honda Cars Philippines' confidence in bringing in models, expect to see this crossover in our market next year, but at a higher price point than the Mobilio.
Photos by Dinzo Tabamo