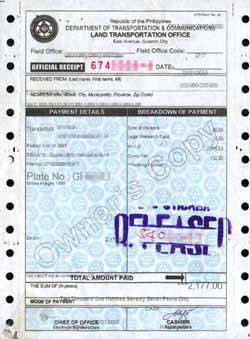 Centralization and computerization are necessary elements of modernization. One can't keep up with the times without adapting to the high-tech methods of doing things. There's just no place for the typewriter in a business that serves thousands of customers. The same is especially true as far as the government is concerned. We applauded the Commission on Elections when it decided to shift from manual to computerized counting in the recent May elections. Everything moved much faster and more efficiently, proving once and for all that some tasks are better left to computers.
ADVERTISEMENT - CONTINUE READING BELOW ↓
Now, the Land Transportation Office and the Bureau of Customs--God bless them for this--are aiming to move in this direction as well, presumably to better serve the people. One of the tasks they're assigning to computers now is the transmission of the Certificate of Payment (CP), which is a requirement in securing car-registration papers. The CP is what the BOC issues to the LTO as proof that proper taxes have been paid for a particular vehicle unit. If the LTO doesn't have in its possession a CP for your newly bought car, it can't process your registration papers even if your car has the requisite Certificate of Stock Reported from the distributor you purchased the unit from. Previously, hard copies of the CP were being manually submitted to the LTO; today, thanks to computerization, they are already being transmitted electronically from one government agency to another.
So, what's causing the problem?
ADVERTISEMENT - CONTINUE READING BELOW ↓
Recommended Videos
Apparently, the electronic system being used to transmit the CPs from the BOC to the LTO is far from seamless at this point. It isn't clear whether the cause is an electronic glitch or mere human error, but we are told the LTO is having problems receiving the CPs from the BOC. For instance, a 100-unit list filed by a car dealership with the LTO for registration would only have CPs for 30 units, leaving the other 70 unaccounted for. As a result, hundreds of new-car buyers now get stuck with unregistered--and thus undrivable--vehicles.
That's not a pretty scenario as we approach Christmas and people get in the mood to buy new cars. We hope the Bureau of Customs and the LTO can fix this problem fast.