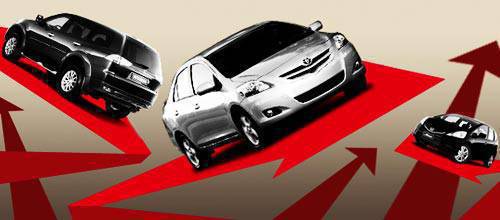 The Philippine car industry continued to post month-on-month growth in sales as access to financing improved and remittances rose.

Data from the Chamber of Automotive Manufacturers of the Philippines, Inc. (CAMPI) showed the industry sold 10,909 units in June, 4.4 percent higher than the number of vehicles sold in May. Last month's sales were 1.3 percent higher than the sales in June 2008.

"We are thankful that the local auto sales are holding up and continue to register some growth month-on-month even amid the global crisis and considering the negative performance of auto sales in the west and even in ASEAN," CAMPI president Elizabeth H. Lee said.

Toyota remains king

Toyota Motor Philippines continued to dominate the market in June with sales reaching 3,688 units representing a 33.8 percent market share. Toyota sold 1,452 units of passenger cars last month, 8.8 percent lower than its car sales in June 2008.

The market leader sold 2,236 units of commercial vehicles, more than half of which are Asian utility vehicles.

Mitsubishi Motors Philippines came in second with a total of 1,904 units sold in June, 93.3 percent of which are commercial vehicles.

Honda Cars Philippines stood on the third spot with 1,519 units sold last month, 86 percent of which are passenger cars.

The rest of the top ten sellers in June alone were Hyundai Asia Resources, Inc., Ford Motor Co. (including Mazda), Isuzu Philippines, Universal Motors, Columbian Autocar (Kia), Scandinavian Motors (Volvo), and Nissan Motor Philippines.

Year-to-date sales

Higher car sales in June allowed the industry to narrow its six-month decline to -2.8 percent from -3.7 percent posted in January to May.

Total sales in the first half stood at 59,910. Total passenger car sales in the first six months of the year reached 21,375 units, 1.8 percent higher than the sales made in the same period last year. Commercial vehicle sales declined 5.2 percent to 38,535 units.

The local carmakers need to sell a total of at least 70,090 units until the end of the year to reach the industry's 130,000 sales forecast.

Manufacturers continue to bank on the disposable income of households supported by overseas Filipino workers (OFWs) to keep auto sales figures afloat.

"With over $16 billion expected from remittances and the fact that two out of three households are supported by an OFW, car sales should remain fairly stable with continued month-on-month growth to be seen in the next half of the year," Lee said.


Continue reading below ↓
Recommended Videos
PHILIPPINE AUTO INDUSTRY PERFORMANCE as of JUNE 2009
Ranking
CAR COMPANY
January to June 2009
January to June 2008
Percentage change
Market share
12
Asian Carmakers Corp. (BMW)
244
355
-31.30%
0.60%
8
Columbian Autocar Corp.
1,596
2,100
-24.00%
3.40%
15
Columbian Motors Corp.
127
160
-20.60%
0.30%
17
Dreamco
48
0
NA
0.00%
6
Ford Motor Company Phils. Inc. (+Mazda)
3,382
3,924
-13.80%
6.40%
11
General Motors Automobiles Phils., Inc
779
1,297
-39.9
2.10%
3
Honda Cars Philippines Inc.
8,683
7,679
13.1
12.50%
4
Hyundai Asia Resources, Inc.
4,902
5,064
-3.2
8.20%
5
Isuzu Philippines Corp.
3,928
5,185
-24.2
8.40%
18
MAN Automotive Concessionaires Corp.
5
5
0.00%
0.00%
2
Mitsubishi Motors Philippines Corp.
10,564
8,365
27.40%
13.60%
10
Nissan Motor Philippines Inc.
913
1,309
-30.3
2.10%
13
PGA Cars, Inc. (Porsche/Audi)
144
105
37.10%
0.20%
16
Pilipinas Hino Inc
117
205
-42.90%
0.30%
14
Scandinavian Motors Corp. (VOLVO)
132
132
0.00%
0.20%
9
Suzuki Phils., Inc.
1,130
1,058
6.80%
1.70%
1
Toyota Motors Philippines Corp.
20,768
22,209
-6.50%
36.00%
7
Universal Motors Corp.
2,358
2,480
-4.90%
4.00%
Total sales
59,910
61,632
-2.80%
100%
Data source: Joint CAMPI and Truck Manufacturers' Association Sales Report