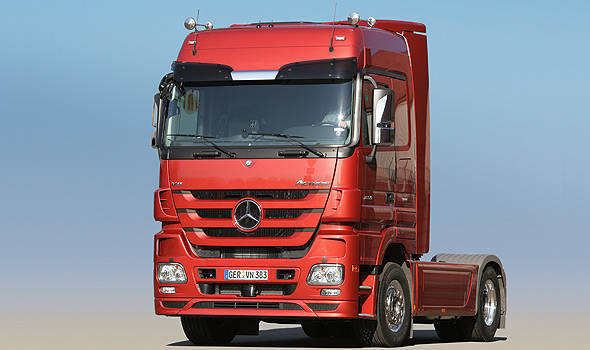 CATS Motors, the exclusive distributor of Mercedes-Benz vehicles in the Philippines, has expanded its business by finally bringing in the German brand's premium-class trucks as well.
"This is the next logical progression of our relationship with Mercedes-Benz. We've been selling Mercedes-Benz cars for so long so it's only natural that we sell Mercedes-Benz trucks as well," said CATS Motors president Felix Ang. "Many local freight and hauling companies are currently upgrading their trucks to Euro 5 standards with safety as their primary concern so it's very timely that we're entering the truck selling business as well with Mercedes-Benz."
Leading Mercedes-Benz's entry into the Philippine truck market is the Actros, which uses the same systems and high-tech devices as its passenger-car stablemates. This includes safety assist systems such as the Attention Assist, which detects the driver's drowsiness and proximity sensors. It also has an automated clutch with mechanical transmission, the same technology used in Formula 1 and the Mercedes-Benz SLS AMG, making the ride smoother and more fuel-efficient.
Despite entering into a new line of business, CATS Motors is well prepared to handle the needs of its Mercedes-Benz truck owners by investing on dedicated teams that will be available and on-call 24 hours a day and on facilities and equipment to assist all Mercedes-Benz trucks.
"Here in the Philippines, we have already invested in new facilities, training, parts and all the other issues that we know are a concern for fleet operators. This is on top of the already operational multi-million Euro parts and training center for this region in Singapore," said Richard Hall, general manager for trucks and commercial vehicles of Daimler Southeast Asia. "It is our clear intention to be number one here in the Philippines, and we are confident that with our huge experience in this business, we know what it takes to earn trust. That is why our motto is 'Trucks You Can Trust'".
The price of the Actros starts at P5.2 million with turnaround time from ordering the truck to delivery of the unit to the customer ranging from three to four months.