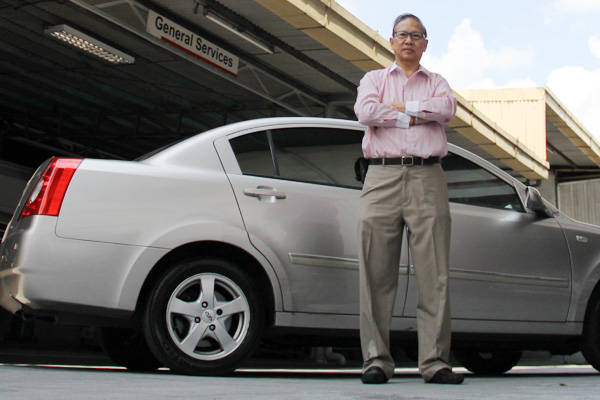 After a long hiatus, Chery Motors Philippines has put on its game face again. In addition to taking part in the upcoming Manila International Auto Show and introducing its new vehicles there, the distributor of the Chinese car brand has also appointed an industry veteran as its new CEO: Leon Herrera.
At an intimate press conference with the media, Herrera sat next to Si-Chung Chang, Chery Motors Philippines' former CEO and now chairman. As the company continues to compete in the Philippine market, it appoints a Filipino who is expected to give the company a new direction.
Chery Motors Philippines' new chief executive is no stranger in the automotive industry. Herrera has been in the business since 1972. He served as vice president and general manager of the previous Volkswagen distributor in the country. He was also an executive of Hyundai Asia Resources and management consultant of Nissan Motor Philippines. He was likewise a former president of rental-car companies Avis Philippines and Nissan Rent-A-Car.
ADVERTISEMENT - CONTINUE READING BELOW ↓
Herrera is bullish on the future of the Chinese brand in the country. "China and Chery are among the biggest players in the world," he said. "It's a no-brainer. No one cannot compete with the volume that China can do. We may be small here now, but we are big. We're small because we're new here as we relaunch the brand."
At the press conference, Chery revealed the competitive introductory pricing of its new line of vehicles to be launched at MIAS. Check out the photo gallery below.
"We will hold the introductory prices for as long as we can," Herrera shared. "We are very competitive. Honestly, we want to steal from the leaders."
The chief executive also expects the number of Chery dealerships in the country to grow. "We haven't even launched the new cars yet, but we already have a number of dealership applications," he revealed.
You're probably laughing or sneering now, but let's be fair and give the company another chance.
ADVERTISEMENT - CONTINUE READING BELOW ↓
Recommended Videos
[gallery]1361[gallery]