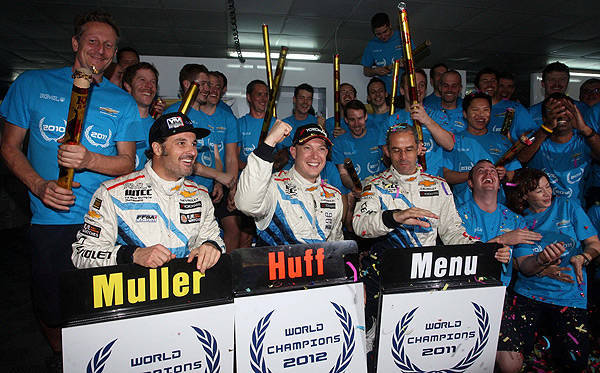 Chevrolet has ended its eighth and final season in the World Touring Car Championship (WTCC) by clinching the drivers' title for Rob Huff, nearly a month after the American carmaker claimed its third straight manufacturers' title in October.
Huff's victory is the culmination of his struggles for the title in the past three seasons, having finished in third place in 2010 and coming in second in 2011. Huff ended the season with 413 points followed by teammate Alain Menu in second place with 401 points, while teammate and three-time WTCC champion Yvan Muller came in third with 393 points.
Chevrolet also ended its stint in the WTCC with a record by being the first constructor ever to pass the 1,000-point mark, finishing the season with 1,025 points. That's 375 more points than second-place BMW's 650.
All in all, in its eight seasons in the WTCC, Chevrolet won 68 races and bagged three manufacturers' and three drivers' titles.
ADVERTISEMENT - CONTINUE READING BELOW ↓
"To finish with a 1-2-3 is really symbolic of how great this experience has been for everyone involved," said Chevrolet Europe communications director Vijay Iyer. "This has been a fantastic program for Chevrolet, which has brought a lot to our brand, and we say goodbye to the WTCC with a sense of pride for our achievements."
ADVERTISEMENT - CONTINUE READING BELOW ↓
Recommended Videos