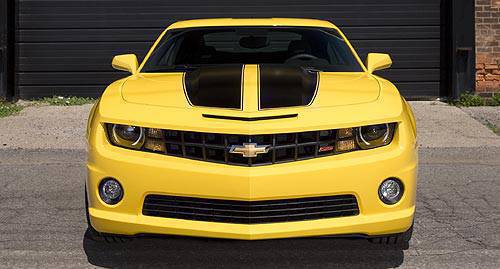 General Motors may still be in the rut but this does not mean the carmaker has lost its sense of fun.

GM announced the release of the 2010 Chevrolet Camaro Transformers Special Edition at the Comic-Con in San Diego.

"When the first Transformers movie was setting box office records, we had countless customers asking to purchase the 'Bumblebee' Camaro. Now, they can buy one with the new Camaro TRANSFORMERS Special Edition. Streets all over North America will be buzzing in no time," said Karen Rafferty, product marketing director of Chevrolet.

The Transformers Camaro comes in three engine options: the V6 3.6-liter, the V8 6.2-liter and the V8 L99; all running six speeds in both manual and automatic transmissions.

While it does not transform into Bumblebee (too bad), the Transformers Special Edition Camaro is packed with cool features from the Hasbro brand. These add-ons include the Autobot shield on the driver and passenger side panel, the center cap on all wheels, and on the interior center console. The Transformers logo is also on the hood, and the sill plates of the driver and passenger doors. The add-ons are packaged at $995 for the Rally Yellow SS or LT Camaro variants.

"The yellow Camaro with the black stripes has become so iconic and closely associated with the Bumblebee character that this edition was a natural fit for both companies," said Samantha Lomow, Hasbro's global brand leader for Transformers.
Check out how the Camaro transforms into a robot in Roll out! or read the review on Transformers: Revenge of the Fallen in Fight scenes and hot girls do the trick.