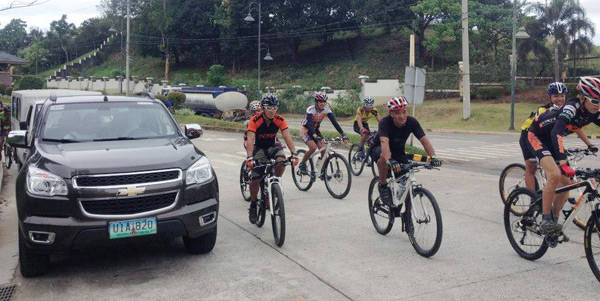 While other companies threw Christmas parties left and right, Chevrolet Philippines and Würth Philippines spent last weekend supporting "The Gift of Light Ride," an event organized by bicycle shop All Terra Cyclery to deliver solar-rechargeable lamps and school supplies to the community of Pintong Bukawe in San Mateo, Rizal.
Due to its remote location, Pintong Bukawe doesn't have electricity, so its residents have been living without the benefit of electrically powered lighting. All Terra Cyclery owner Edmund Mangaser discovered the place during one of his bike rides, and has since been burdened with the urge to help its people. "The children are often unable to study at night, while their parents have to walk more than 10km just to have access to power," says Mangaser.
Mangaser initially invited his fellow mountain-bike enthusiasts to join him in a simple gift-giving event. But how to bring the gifts by bike? Thankfully, Chevrolet Philippines, an avid supporter of the mountain-bike community, provided a 4x4 Colorado pickup to help transport the lamps and other goods through rough and steep terrain. Chevrolet also provided Transformers kiddie shirts for Pintong Bukawe's children.
"Chevrolet cars are for everyday heroes, and we applaud and support such endeavors that aim to make a positive difference in the lives of the people of Pintong Bukawe," Chevrolet Philippines marketing director Lyn Buena explains.
Continue reading below ↓
Recommended Videos
Meanwhile, Würth Philippines managing director Ariel de Jesus tirelessly sought the assistance of industry friends and colleagues to ensure the event's success. Würth also gave cash and school items to the electricity-deprived San Mateo community. "This is just sort of a Christmas dry run," de Jesus tells us. "We will do something bigger in January." Würth is a German manufacturer of automotive tools, chemicals and lubricants.
Several bicycle teams (like 7-11, ABS and KTM) joined the ride event. They also donated books, rechargeable flash lamps, medicine and cash.
"We were very happy just to see the smiles on the faces of the people of Pintong Bukawe when we turned over our gifts to them, most especially the children," Mangaser recalls. "We hope that this will be the start of more eco-sport tourism projects that can help improve lives and create more opportunities for various communities often visited by mountain-bike enthusiasts."
Can we give these guys a round of applause, please?