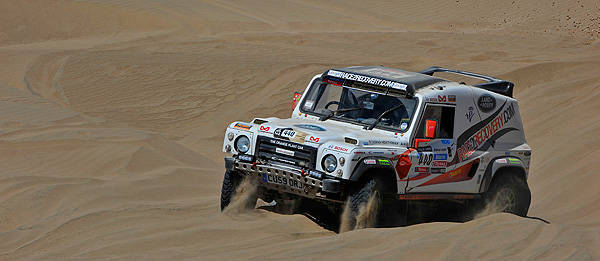 A team composed mostly of disabled veterans from the British Armed Forces has finished one of the grueling races known to man when one of the four vehicles of the Race2Recovery team crossed the finish line in Santiago, Chile, 15 days after the 2013 Dakar Rally started in southern Peru.
Although the team initially fielded four Land Rover Defender-based Bowler Wildcats, various problems ranging from missed checkpoints to rolled vehicles slowly whittled its vehicles down to just one by the midway point of the race.
The fourth vehicle, named Joy, wasn't free from problems as well. Suffering from overheating problems during the first half of the rally, the team led by driver Major Matt O'Hare and co-driver Corporal Phillip Gillespie was regularly forced to do most of its driving at night. The team's mechanics, however, were able to do a lot of work on the vehicle when it wasn't being raced, enabling Major O'Hare and Corporal Gillespie to make great progress through the second week.
Though the team finished at the bottom of the standing in the car category at 90th place, that it successfully finished ahead of 72 other vehicles that didn't complete the race automatically makes it a winner.
"It's not quite sinking in that we've actually done it," said O'Hare. "I'm ecstatic and am so proud and pleased for the whole Race2Recovery team. Our mechanics and support team have kept us in the race, and their work and dedication were second to none. Our other drivers and co-drivers who were forced to retire earlier in the race became an integral part of the support team as we continued the challenge, and so this really is a team success. To complete the Dakar Rally is an incredible achievement in itself, but to become the first-ever disability team to cross that finish line lifts the achievement to a whole other level."
Continue reading below ↓
Recommended Videos