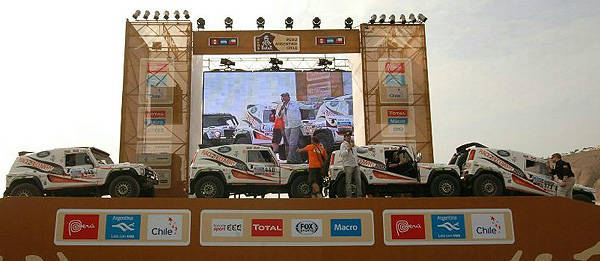 This weekend marked the start of the 2013 staging of the Dakar Rally. The race runs for 15 days and will stretch more than 8,500km "over extreme mountain and desert terrain" through southern Peru, Argentina and across the border into Santiago, Chile.
Joining the hundreds of individuals and teams in running the race is the Race2Recovery team, which is composed of a group of disabled veterans from the British Armed Forces.
The Race2Recovery team reportedly started 18 months ago with a single Land Rover Freelander and a handful of members. The Top Gear TV show even featured the team in July 2011 as part of its 17th season. Thanks to the funds raised by the team, Race2Recovery now has four Bowler Wildcats for its race vehicles, 28 personnel to man the team, and a fleet of support vehicles to aid the team throughout the race.
To perform well in the Dakar Rally, Race2Recovery underwent training in the Sahara desert in November and December, with Land Rover's team of off-road experts "providing essential knowledge and experience in the type of terrain the team will be facing over the next 15 days."
"Having been part of Race2Recovery right from the beginning and having put in so much work, along with the rest of the team, it feels surreal to finally be in Lima and be hours away from revving up on the start line," said Captain Tony Harris, one of the team's rally drivers who is a below-the-knee amputee as a result of injuries suffered while serving in Afghanistan. "There were times this year when we were working day and night on the vehicles, with team members sleeping on the workshop floor before getting up and starting all over again. We really want to make all the people who have supported us proud--our family and friends, our sponsors, our extended team and all the public and media who have been so encouraging and have backed us all the way. We're here to enjoy the experience, but we're also here as a serious team with a serious goal of getting our four race cars across that finish line."
Continue reading below ↓
Recommended Videos
Best of luck to the team then. Meanwhile, you can check out their appearance on Top Gear in the video below where ex-Stig Ben Collins comes back on the show to give the team some driving tips.
If you're viewing this on a mobile device and can't see the video, please click here.