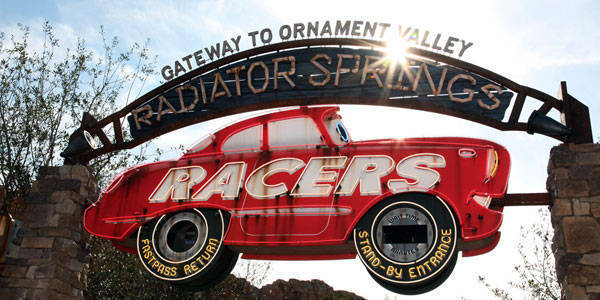 Here's to the child in all of us: Disney California Adventure Park is officially opening this month the newest addition to its sprawling theme park, and it's something even grown-up car nuts would love. On June 15, Radiator Springs (yes, the car town in the Pixar animation Cars) comes to life as the doors to Cars Land formally open.
That's right. The fictional automotive utopia has been rendered in real life. You can now take your obsession with Lightning McQueen several notches higher (read: by flying to Anaheim and buying an entrance ticket to the latest toast of the theme-park industry). Among the main attractions of Cars Land are:
* Mater's Junkyard Jamboree. "Come on down for a tow-tappin' square dance hosted by Mater. Board a trailer pulled by an adorable baby tractor and swing in time to lively music sung by Mater! Mater rounded up a herd of baby tractors for some old-fashioned dancing fun. You'll notice that no two of the 22 tractors are the same. They have different spots, mouths and eye colors. The one thing they all share: They love to dance!"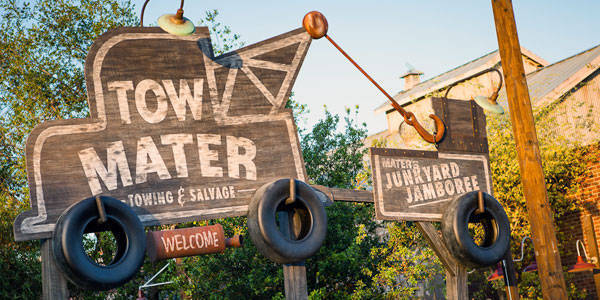 ADVERTISEMENT - CONTINUE READING BELOW ↓
* Cozy Cone Motel. "Pull in for a pit stop and recharge with some fuel-efficient, cone-themed snacks."
* Radiator Springs Curios. "Fill up your trunk and go back to your garage with something to remember us by."
* Luigi's Flying Tires. "Float on a cushion of air aboard a larger-than-life tire. Slide, glide and laugh as you lift ever so slightly off the ground on a 9ft-wide Fettuccini-brand tire. You'll quickly get the hang of soaring around Luigi's 8,000sq-ft Italian garden and tire storage yard. All you need to do is lean in the direction that you wish to move. A total of 6,714 air vents blow over 1.86 million cubic feet of air per minute to keep your tire floating. This marvel of modern machinery provides a completely unique ride experience--it's almost like you're on top of a gigantic air hockey table."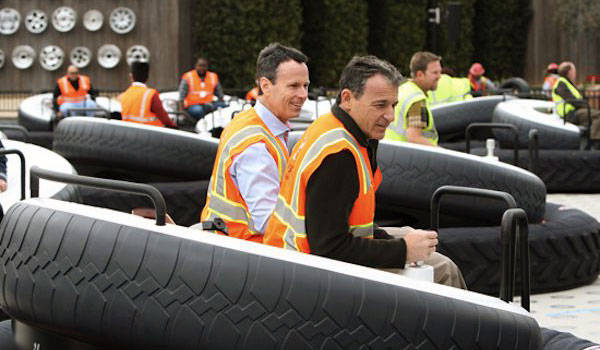 * Fillmore's Taste-In. "Chill out with a sip of my refreshing fuel, man. I've got a variety of all-natural, fruity flavors."
ADVERTISEMENT - CONTINUE READING BELOW ↓
Recommended Videos
* Sarge's Surplus Hut. "This is the headquarters for genuine Radiator Springs gear. Outfit every member of your garage!"
* Flo's V8 Cafe. "Fill up your tank on classic American cuisine with a new spin. Inspired by the timeless drive-up diners along Route 66, Flo's V8 Cafe celebrates the pioneering spirit of the open road. If you're looking for the most popular restaurant in all of Carburetor County, just head toward the signature 27ft-tall neon V8 sign. Get your engines revving in the morning with breakfast favorites like chicken tamales with scrambled eggs or French toast served with salted caramel and bananas. For lunch, try inventive cuisine like Veggie-Tater Bake or indulge in home-style rotisserie classics including pork loin, citrus turkey and New York strip loin. Top off your meal with delicious single-serve fruit pies including apple-cheddar and cherry flavors."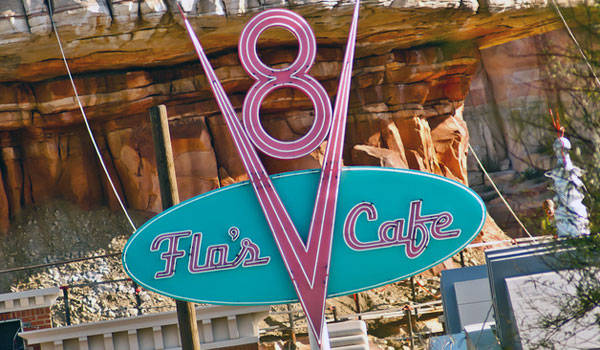 * Ramone's House of Body Art. "Roll in and get hooked up with fresh coats, new tops and other tricked-out gear."
ADVERTISEMENT - CONTINUE READING BELOW ↓
* Radiator Springs Racers. "Start your engines! Rocket through the desert landscape of Ornament Valley in a thrilling auto racing competition. Before you hit the open road, you'll stroll through the original settlement of Radiator Springs. See how Stanley capitalized on a natural cold spring and built a series of ingenious attractions that grew into the lovely town we know today. The journey begins peacefully enough, as you board a six-person car for a scenic road trip through Ornament Valley, including a drive by the valley's famous Radiator Falls. Next, you'll head toward the town of Radiator Springs and along the way you'll encounter some familiar faces, including Lightning McQueen, Mater, Sally, Luigi, Guido, Mack, Ramone and Doc Hudson. To get you ready for the race, you'll fine-tune your car at either Luigi's Casa Della Tires or Ramone's House of Body Art. For the thrilling conclusion of the attraction, you'll be pitted against another car for a friendly competition to see who can get to the checkered flag first. Zip over hills, zoom around high-banked turns, and cruise down camelback straightaways past spectacular red-rock formations."
Excited yet? Watch the video below for some neon-lit teaser.
If you're viewing this on a mobile device and can't see the video, please click here.