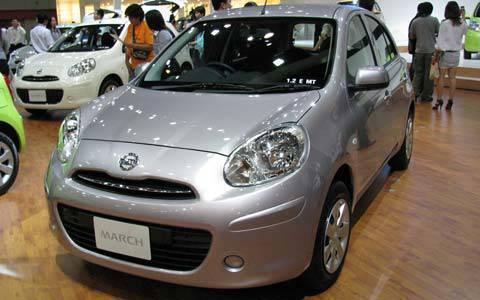 BANGKOK--The first car produced under Thailand's "eco-car" project is hogging the limelight along with other environment-friendly cars as the ongoing Bangkok International Motor Show (BIMS) runs with an eco-centric theme for the third straight year.
The 31st BIMS saw the launch of the Nissan March, a 1.2-liter subcompact sedan which produces comes in five-speed manual and continuous variable transmission. The Thai production of the Nissan March, known as the Micra in other markets, started on March 12, ThaiAutoMaxx.com said.
Thailand's "eco-car" program was conceived as both an economic and environmental measure to entice automobile firms to invest by reducing the excise tax on locally-manufactured environmentally-friendly vehicles from 30 to 50 percent to 17 percent. Nissan, as well as five other carmakers, signed up for the program.
"Nissan is the first to launch its version and it is expected to become highly popular among Thai consumers due to its small size, as well as outstanding fuel economy and low emissions," Prachin Eamlumnow, BIMS organizing committee head said in a statement. "Honda will be the next company to launch the Eco Car followed by Suzuki, Mitsubishi, Tata, and Toyota."
With the rising petroleum prices, the use of compressed natural gas (CNG) and liquefied petroleum gas (LPG) for cars has been rising in Bangkok. To cater to this growing market, the BIMS is displaying CNG- and LPG-fueled vehicles from carmakers like Proton with their Persona, Ford's Focus and Mitsubishi with the previous-generation Lancer.
Mercedes-Benz and BMW are not to be left behind in providing environment-friendly vehicles as their BlueEfficiency and EfficientDynamics vehicle line-up are also present at the show. Both technologies are basically the same wherein lower displacement engines that provide the same power and torque as their much larger predecessors have been designed to produce less carbon dioxide emissions while being very fuel efficient.
Toyota and Lexus also displayed their hybrid vehicles, from the luxurious Lexus flagship LS600hL to the more plebeian Toyota Camry. Both brands also topped off their environment-friendly offerings by displaying two hybrid concept cars: the Toyota RIN and Lexus LF-Ch.