Racecar driver Eddie Marcelo, another pioneer in Philippine motorsports, passed away on July 3 due to cardiac arrest. He was 67.
Marcelo enjoyed his racing heydays in the 1970s. He started with drag racing before moving on to circuit and Formula racing where he competed with fellow Filipino racing legends Dante Silverio, the late Pocholo Ramirez and the late Arthur Tuason.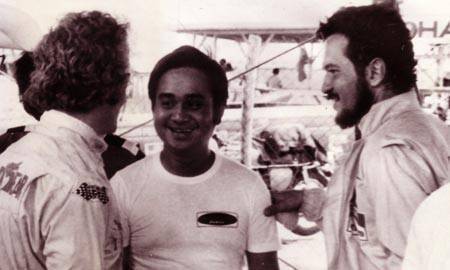 Eddie Marcelo (middle) with Pocholo Ramirez (right).

Marcelo's need for speed was fulfilled not just by four-wheeled vehicles as he was also into motorcycle and speedboat racing.
For the Generation X, Eddie Marcelo may be more popular as the man behind his sons Jovy and John Marcelo--both of whom were also making a name for themselves in motorsports.
Continue reading below ↓
Recommended Videos
Jovy was in the cusp of making Philippine history in 1992 as the very first Filipino driver to compete in Indianapolis 500, America's premier open-wheel racing event.
Unfortunately, Jovy passed away after his car hit the Indianapolis Speedway's retaining wall during a practice lap two weeks prior to the race.
Jovy's brother, John, was also into motorsports but shifted from racing to jet skiing after his brother's death. John was the sports' national champion for three years. He ranked seventh in the 1998 Jetsports World Finals in Lake Havasu, Arizona.
John said the Eddie Marcelo was more than just a father who supported their passion in their love for racing.
"He played a big part in our family's participation in motorsports. He loved it and he was passionate about it, and his passion was passed down to all of us, down to the third generation since my son, Stefano, is now a champion karter himself," John said.
Eddie Marcelo is survived by his wife, Linda, daughters, Anna Marcelo-Revilla and Karen Marcelo, and son John Marcelo.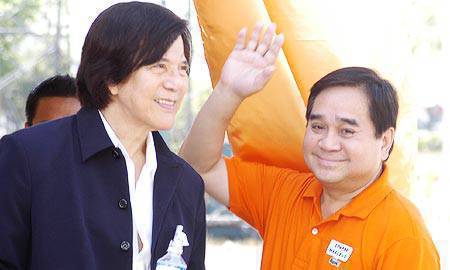 Philippine racing veterans Dante Silverio (left) and the late Eddie Marcelo.