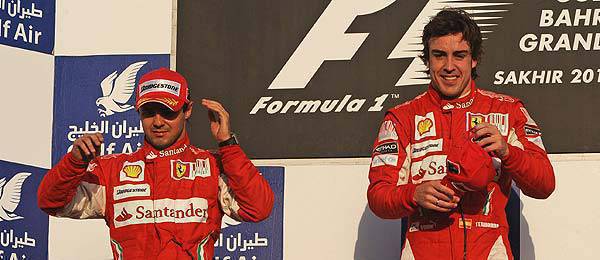 Ferrari's Fernando Alonso topped the Bahrain Grand Prix in a dramatic fashion after Red Bull's Sebastian Vettel, who dominated the first half of the race, started to lose his lead due to a suspected broken exhaust on his RB6.
The young German managed a fourth place finish while Ferrari's Felipe Massa took second place ahead of McLaren's Lewis Hamilton--who snatched the third step of the podium from Vettel with just ten laps left in the race.
Check out some post-race quotes from notable drivers and observers.
Fernando Alonso, Ferrari
"A very special day for me as coming back to the top of the podium is always special but I think it is even more special with Ferrari with all the history behind the team and all the expectations a driver has when he drives for Ferrari. There is no better way to start the relationship." (SkySports.com)

Felipe Massa, Ferrari
"I am very happy. It was also my best start of the season, finishing on the podium, second, in the first race. That is something I never did so it is just a fantastic start."(PitPass.com)
ADVERTISEMENT - CONTINUE READING BELOW ↓
Lewis Hamilton, McLaren
"I feel that we did a good job: our reliability was great and the pace today was pretty good, but we still need to push very hard to close the gap to the cars in front. It's going to be difficult for us to close the performance gap immediately, but I think I'll go back to the factory and give them the biggest push. I know they're all pushing flat-out as it is, but we need to get some upgrades, and we need to bring as many of them forward as we possibly can." (Crash.net)

Sebastian Vettel, Red Bull Racing
"It's a pity today. It was positive all weekend, except for the exhaust failure. It seems something mechanical broke, luckily we could continue and finished fourth, but we should have won today. It cost us a lot, but we've got 12 important points." (F1Technical.net)

Michael Schumacher, Mercedes GP
"I can live very well with sixth position and it gives both me and the team a good base to make progress. I have every confidence that we will improve the car. Working with the team for our first race together was very positive and the guys did a great job so I would like to thank them for their support in my comeback race. We all know that we have some way to go but we will get there. The season is long." (PlanetF1.com)

Andrew Benson, F1 analyst
"It is worth pondering these two facts. The winner of the first race of the season has gone on to win the championship every year since 2006. And the victor in Bahrain has become the world champion four times in the last six years. A long, hard, fascinating battle lies ahead over the remaining 18 races of the season, but Alonso and Ferrari will certainly take some beating." (BBC)
ADVERTISEMENT - CONTINUE READING BELOW ↓
Recommended Videos
Stirling Moss, former F1 driver and F1 analyst
"In Formula One you've got all these drivers of which there are only a few real racers, all the rest are bloody good drivers, but there are very few who really get out there and race. That's what is needed to be world champion and that is what goes through my mind when I assess the field. So Alonso is the better of the Ferrari pair, and for that reason he will probably win the championship." (ESPNF1.com)
2010 Bahrain Grand Prix
Ranking
Driver
Team
Points
1
Fernando Alonso
Ferrari
25
2
Felipe Massa
Ferrari
18
3
Lewis Hamilton
McLaren
15
4
Sebastian Vettel
Red Bull Racing
12
5
Nico Rosberg
Mercedes GP
10
6
Michael Schumacher
Mercedes GP
8
7
Jenson Button
McLaren
6
8
Mark Webber
Red Bull Racing
4
9
Vitantonio Liuzzi
Force India
2
10
Rubens Barrichello
Williams
1
11
Robert Kubica
Renault
 
12
Adrian Sutil
Force India
 
13
Jaime Alguersuari
Scuderia Toro Rosso
 
14
Nico Hulkenberg
Williams
 
15
Heikki Kovalainen
Lotus
 
16
Sebastien Buemi
Scuderia Toro Rosso
 
17
Jarno Trulli
Lotus
 
Ret
Pedro de la Rosa
BMW Sauber
 
Ret
Bruno Senna
Hispania Racing
 
Ret
Timo Glock
Virgin Racing
 
Ret
Vitaly Petrov
Renault
 
Ret
Kamui Kobayashi
BMW Sauber
 
Ret
Lucas di Grassi
Virgin Racing
 
Ret
Karun Chandrok
Hispania Racing