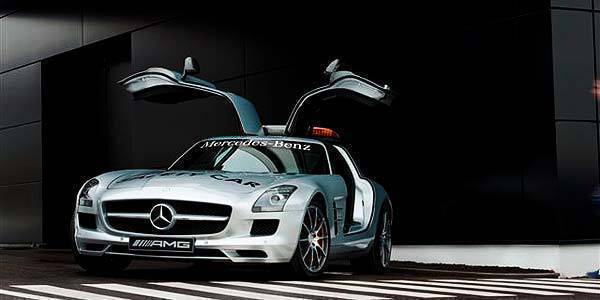 Mercedes-Benz has revealed what will probably be "the most spectacular and powerful official F1 safety car of all time"--the all-new Mercedes-Benz SLS AMG.
The production-ready Mercedes-Benz SLS AMG will be taking over the SL 63 AMG, which was the official safety car in Formula One's 2008 and 2009 seasons.
The Mercedes-Benz SLS AMG will be piloted by ex-DTM racer and long-time safety car driver Bern Mayländer. Mayländer has been the F1 safety car driver since the 2000. Partnering Mayländer as co-driver will be his co-driver from the the Fédération Internationale de l'Automobile (FIA), Pete Tibbets. 
Continue reading below ↓
Recommended Videos
"Together with the entire AMG Team, I am very proud that the new SLS AMG is the official F1 safety car. I'm sure all Mercedes and AMG fans will be excited to see the gullwing model together with the new Mercedes GP Petronas Team at the F1 circuits," Mercedes-AMG GmbH chief executive Volker Mornhinweg said.
The safety car is deployed whenever a hazardous situation occurs on the track, like when accidents or bad weather endanger racing. The safety car runs ahead of the F1 cars to guide them around the circuit until conditions are back to normal and cars are safe to resume racing.
As the F1's safety car, the Mercedes-Benz SLS AMG is not expected to speed through the tracks but you can witness its prowess in the video commercial where it is driven by seven-time world champion Michael Schumacher. Click here to watch it.